Bonnie Garmus was seething when she got back to her desk after a work meeting. It was then she began writing Lessons in Chemistry.
Author Bonnie Garmus has introduced us to the uncompromising and unconventional character Elizabeth Zott in her debut novel Lessons in Chemistry. 
Witty and warm, Lessons in Chemistry is Mad Men with a feminist twist, and here Bonnie takes us through the infuriating moment that led her to write the first chapter and how her life has changed since publishing the debut of 2022. 
How did you develop the character of Elizabeth Zott and why was it so important to create a feminist icon during the time the book was set?
Elizabeth Zott had been a minor character in a novel that I'd shelved many years before, but she came zooming back to me one day after I'd been in a meeting laden with average sexism. Later, when I got back to my desk (still mad!) I wrote the first chapter of Lessons in Chemistry.
As for setting it in the early 60s, I did it because I wanted to reassure myself that we have made progress in terms of sexism (we have, but still have a ways to go) but also because that's when my mother and all of the other so-called "average housewives" were at home. It was my way of saluting that generation of overlooked women. They endured a lot – but they also sparked a massive amount of change.
Are there any traits of Elizabeth Zott that came from yourself, or anybody you know?
I created Elizabeth Zott because I needed someone to look up to and be inspired by – someone who knew who she was and never doubted herself. But many of the traits I've given her are universal: she's marginalised, underestimated, misrepresented as are so many others. I think we're lucky to have several Elizabeth Zott types in the world: Gloria Steinem, Michelle Obama, Greta Thunberg, Alexandria Ocasio-Cortez, Megan Rapinoe, and Ketanji Brown Jackson – but we need even more!
What do you think is behind the book's enormous success, with a TV series announced before the book had even been published?
The book traverses very difficult, serious themes, but it also pairs that darkness with humour (it is so important to be able to laugh at ourselves!) But I also think people are hungry for a heroine who doesn't have magic powers. She's a normal human being who believes in herself, but she also believes in others. She insists we take ourselves seriously, and she demands we stop making excuses for the inexcusable – sexual assault, racism, sexism, food in cans. I think it's a message people want and need to hear.
If there was one characteristic you could take from Elizabeth Zott what would it be and why?
She never worries about her hair.
Why do you think Elizabeth Zott is such an iconic character?
Elizabeth Zott is unapologetic, transgressive, subversive, and yet profoundly rational. She's flawed, but respected. She bases her opinions on fact. She completely ignores society's limits because they have no scientific basis. She dispels myths and lives her life according to the actual laws that govern our world – the laws of chemistry.
How has your life changed since you discovered the news Lessons in Chemistry was going to be published?
I quit my day job.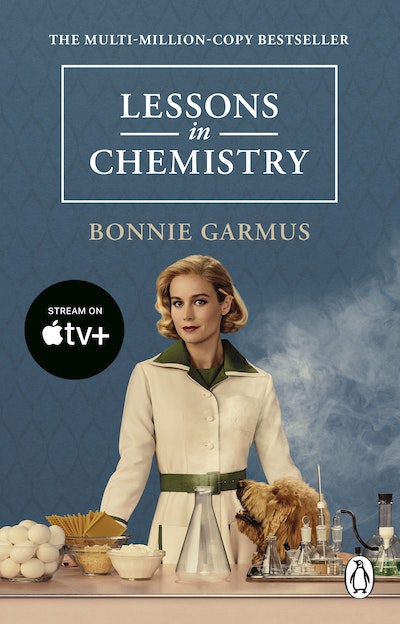 Lessons in Chemistry
Apple TV + tie-in of the multi-million-copy No. 1 Sunday Times, No. 1 New York Times and No. 1 international bestseller and prizewinner
Read more