Help your kid accept tough times with this advice from Embrace Kids.
Embracing our true selves can be tricky. While it's tough to do as an adult, it can be an extremely difficult feat for children.
To help arm parents with the tools they need to instil self-love in their kids, Taryn Brumfitt and Dr Zali Yager joined forces to write Embrace Kids. Coinciding with a documentary of the same name, the book explores what it takes for kids to embrace themselves and how we – as adults – can help.
While it might sound counterintuitive, one of the best ways to instil self-acceptance in your children is to help them embrace discomfort. By learning to sit with hard feelings, kids can develop resilience and learn to accept that life is tough sometimes.
To learn more about the importance of embracing discomfort and get some expert advice on how to encourage your kids to do it, read on.
Why Discomfort is important
It's hard to see your kid unhappy. In fact, most parents go to great lengths to help get their children out of distress. However, learning to deal with the ups and downs is an extremely important part of embracing oneself.
Today, with more instant gratification than ever before, it's easy for children and teens to avoid discomfort. Affirmation from peers is only one social media post away, but by constantly chasing approval in the form of 'likes', the discomfort gets pushed deep down without ever being acknowledged.
While it's not fun to face discomfort, learning how to persevere can teach children that they are strong enough to learn from it. Embracing discomfort allows children to understand that all feelings (even bad ones) are normal, tolerable, and temporary. Not only will this understanding better help them cope with their emotions, but it can also teach them that life is complicated – and that's okay.
Teaching kids to embrace discomfort
Not sure how to teach your kids to embrace discomfort? School psychologist, Dr Forbes, lays it out in Embrace Kids.  
Explain to young people that learning, confidence and resilience can grow when they accept that it's okay to make mistakes.

Negative feelings don't feel good, but they are normal, and they are okay. They will pass.

Sit with distress: by fixing it, removing it or rescuing our kids, they don't learn.

Encourage young people to tolerate these feelings, and reassure them that they will come back from them.

Help kids to problem solve in terms of what they might need to do to manage this feeling. It might be physical activity, it might be talking to somebody, it might be distraction, or a mindfulness meditation. Ask them 'What do you think you need right now?'
More about Embrace Kids
If you found this advice helpful, you might want to check out Embrace Kids. 
Packed with helpful advice and anecdotes, the book helps adults embrace themselves while encouraging their children to do the same. The book covers a slew of important topics including body image, feelings, media, mood and so much more.
The book will be published on 2 August 2022, but you can pre-order it now to secure your copy ahead of time.
---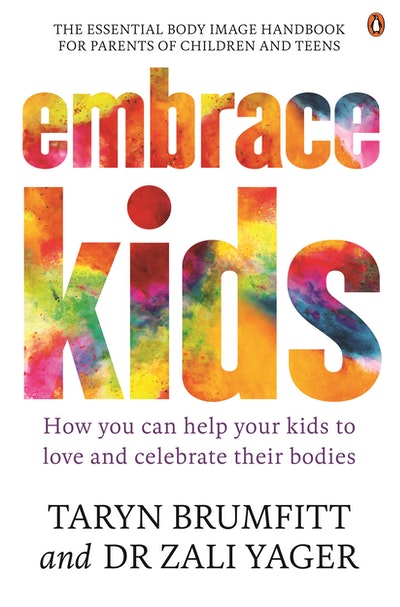 Embrace Kids
Taryn Brumfitt, Zali Yager
The essential body image handbook for parents of children and teens by powerhouse change-maker and body positivity activist Taryn Brumfitt and Dr Zali Yager.
Buy now
Buy now
---