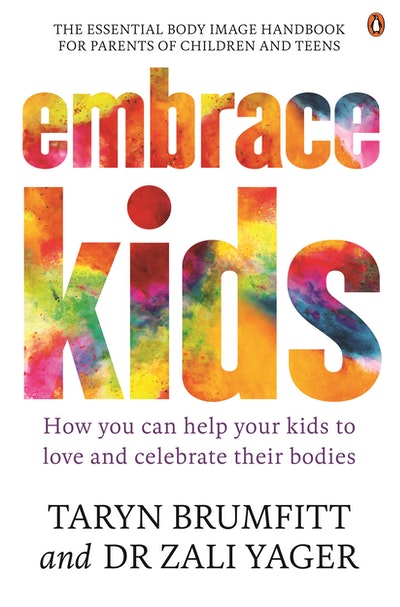 Published:

2 August 2022

ISBN:

9781761046575

Imprint:

Penguin

Format:

Trade Paperback

Pages:

432

RRP:

$34.99
Embrace Kids
From the 2023 Australian of the Year
---
---
---
The essential body image handbook for parents of children and teens by powerhouse change-maker and body positivity activist Taryn Brumfitt and Dr Zali Yager.
Imagine a world where young people don't feel held back by their bodies. Where we appreciate each other for who we are and what we do rather than what we look like.
Body image, and the associated issues of weight, food and physical activity, are hot topics in our families. How did we get to this place of constant criticism about our own bodies, and how can we get out of it?
To coincide with the release of her ground-breaking new documentary Embrace Kids, leading body image activist and powerhouse change-maker Taryn Brumfitt has collaborated with body image expert Dr Zali Yager on one of the most important health issues of our time – helping our children and teens feel comfortable about, and confident in, their bodies.
With chapters for parents on understanding your own journey, appreciating your own body and creating a positive home environment, as well as tackling diet and fashion trends, friendship issues and social media challenges, Embrace Kids is full of evidence-informed suggestions and supportive, practical advice.
This book will teach you everything you need to know to build your kids' body image, to wholeheartedly embrace their uniqueness, and to steer them on a path to body confidence that has the power to liberate them for life.

Published:

2 August 2022

ISBN:

9781761046575

Imprint:

Penguin

Format:

Trade Paperback

Pages:

432

RRP:

$34.99