15 meal planning tips for busy families from The Family Meal Solution.
Not sure what to you cook that you and the kids will enjoy? Not sure you have the time?
Then you might want to check out The Family Meal Solution.
From Allie Gaunt and Jessica Beaton of One Handed Cooks website and community, this cookbook is jam-packed with great tips, ideas, and easy meals that the whole family will love. With a focus on cooking for your present self while simultaneously looking out for your future self, the book provides plenty of helpful tips for making the most of your time spent cooking.
While you might aspire to create gourmet meals every day, that's not a reality for most of us. But with a few simple tips from The Family Meal Solution, you can learn to plan and, therefore, eat better – minimal effort required.
One of the biggest tips in the book?
Meal planning.
By planning and prepping meals in advance, you'll save time and money, making dinnertime a lot less stressful. While meal planning might sound like a daunting task, The Family Meal Solution encourages adopting small changes gradually. Rather than diving headfirst into a full-blown meal planning routine, the book recommends picking up tips that work for your unique family, building your repertoire of meal prep skills along the way. It doesn't need to look like cooking a week's worth of food in one go; it can be as simple as pre-chopping your veggies or baking up a batch of afterschool snacks to freeze and stash for later.
Not too hard, right? If you want to give it a go, these 15 tips from The Family Meal Solution are the perfect place to start.
15 Meal Planning Tips for Busy Families
Clean your fridge and pantry before trying to meal prep
Sanitise your sink, place your fruit and veg inside, and wash it all in one go
Make twice as much food as you need so that you have another batch to enjoy later
Wash and slice produce as soon as you can to ensure you use it
Set aside ten minutes to organise the kitchen once a week
Create a list of family-favourite recipes to avoid indecision
Shop the weekly specials to save money
Buy in bulk to save money (you can always freeze what you don't use immediately)
Stock up on pantry staples like pasta, rice and canned foods for quick and easy meals
Make premixes of spices, dry ingredients etc. to use in the future
Flash freeze fresh baked goods to pack in lunchboxes throughout the week
Keep a 'breakfast box' stocked with bread and spreads that you can pull out for a quick brekkie
Grate extra cheese, and store it in an airtight container to use throughout the week
Double up on sauce recipes, and freeze half to use at a later date
Use a food processor to pre-grate veggies like zucchini and carrots
Want to try a recipe from the cookbook? These tray-bake ginger beef meatballs are so good!
---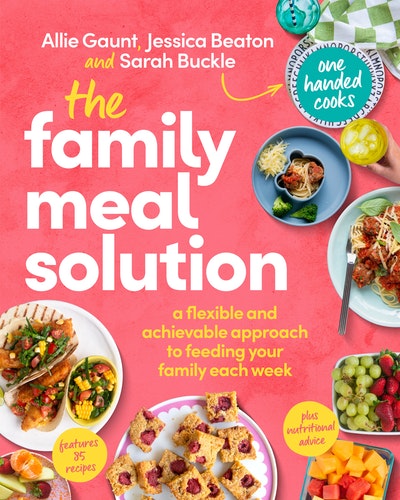 Discover a new way to feed everyone that's designed for real, busy family lives.
Buy now
Buy now
---