We've sealed the deal on these pork sausage rolls by adding a sweet apple mixture to bring them to life.
The kids will enjoy these as a cold sandwich alternative in lunchboxes or as a hot weekend lunch. Plus we love to have them waiting in the freezer ready to be cooked for unexpected guests.
Makes 18
Prep time 20 minutes
Cooking time 50 minutes
1 tablespoon unsalted butter
1 brown onion, finely chopped
100 g streaky bacon, finely chopped (optional)
2 cooking apples, peeled and
diced into small (1 cm) cubes
1 tablespoon brown sugar or maple syrup
½ teaspoon fennel seeds
500 g free-range pork mince
1 tablespoon chopped thyme
3 sheets (25 cm × 25 cm) frozen
puff pastry, just thawed
1 egg, lightly beaten
1 tablespoon sesame seeds (optional)
salt and ground black pepper
Melt the butter in a small saucepan over medium–low heat. Add the onion, bacon (if using) and apple and cook for 3–4 minutes or until softened. Sprinkle over the brown sugar or maple syrup and 1 tablespoon of water and toss to coat. Add the fennel seeds and cover the pan. Cook, stirring often, for a further 10 minutes or until the apple is soft. Set aside to cool. Roughly mash with a potato masher to break up the apple.
Preheat the oven to 200°C (180°C fan-forced) and line a large baking tray with baking paper.
In a large bowl, combine the pork mince, thyme and apple mixture. Season with salt and pepper.
Cut each pastry sheet in half. Place 1/6 of the mixture running lengthways down one of the pastry strips, moulding it to form a long sausage shape. Brush the edges of pastry with water and fold over to enclose the filling. Cut into 3 pieces (or more, depending on your chosen portion sizes) and place on the lined tray, seam side down. Repeat with the remaining mixture and pastry. You can freeze the sausage rolls at this point.
Brush the egg over the tops of the sausage rolls, then sprinkle with the sesame seeds, if using. Bake for 35 minutes or until golden brown and cooked through.
STORAGE: keep in an airtight container in the fridge for up to 2 days. Alternatively, freeze cooked or uncooked sausage rolls in individual portions, wrapped in plastic film, for up to 2 months.
ALLERGIES/INTOLERANCES:Gluten/wheat: use gluten-free pastry.Egg: brush the pastry with your preferred milk instead of the egg.Dairy: use olive oil instead of butter.Sesame: simply omit or use poppy seeds as an alternative.
Hungry for more recipes? Sign up to our foodie email here.
---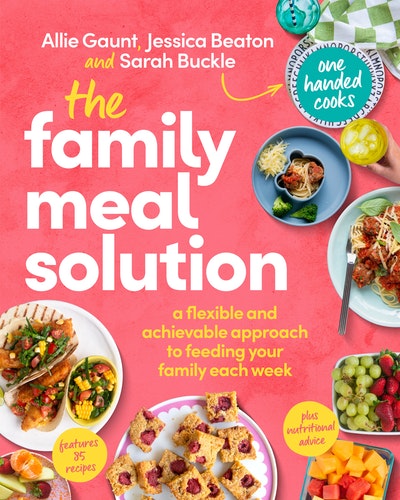 Discover a new way to feed everyone that's designed for real, busy family lives.
Buy now
Buy now
---