A tray-bake twist on the standard stir-fry!
Save even more time and cut down the clean-up by prepping the meatballs, sauce and veggies in advance. Sure to be a hit with the whole family, this meal is a great way to offer veggies that kids enjoy while also introducing and maintaining exposure to veggies they may regularly refuse.
Serves 6
Prep time 20 minutes
Cooking time 30 minutes
2 tablespoons hoisin sauce
¼ cup (60 ml) sweet chilli sauce
¼ cup (60 ml) kecap manis
1⁄3 cup (80 ml) light soy sauce
500 g premium beef mince
1½ tablespoons finely grated ginger
2 cloves garlic, finely chopped
2 eggs
¾ cup (90 g) dried breadcrumbs
1 red capsicum (pepper), sliced
1 yellow capsicum (pepper), sliced
1 carrot, sliced
extra virgin olive oil, for drizzling
400 g packet hokkien noodles, prepared according to packet instructions
200 g snow peas or sugar snap peas, trimmed
Preheat the oven to 220°C (200°C fan-forced). Grease a large rimmed baking tray or roasting pan.
In a small bowl, combine the hoisin, sweet chilli, kecap manis and soy sauce. Set aside.
In a medium bowl, combine the beef mince with the ginger, garlic, eggs and breadcrumbs. Add 2½ tablespoons of the sauce mixture. Mix well to combine and roll level tablespoons of mixture into meatballs.
Place the sliced capsicum and carrot onto the prepared tray or pan, lightly drizzle with a little oil and toss to coat. Top with the meatballs and drizzle over half the remaining sauce mixture. Bake for 20 minutes, or until the meatballs are cooked and golden.
Add the noodles, snow or sugar snap peas and the remaining sauce. Toss gently to combine. Bake for a further 10 minutes, or until the peas are vibrant and tender.
Serve in shallow bowls.
baby serve: offer appropriate elements of the tray bake, such as the meatballs, cooked vegetables and noodles, chopping to a size your baby is capable of picking up to eat. Alternatively, mash some of the meatballs with some cooked rice or mashed vegetables to spoon feed to your baby.
toddler serve: serve elements of the tray bake your toddler enjoys mixed together in a bowl, alongside a plate of a few things they may be learning to like. Alternatively, serve the meatballs, noodles and vegetables deconstructed on a tasting plate.
STORAGE: leftovers can be stored in an airtight container in the fridge for up to 2 days.
FUSSY EATING TIP: if you have a toddler- or child-friendly food-prep knife available, ask your child to help slice the capsicum. Other things they may be able to help with include peeling carrots, cracking eggs and rolling some meatballs.
ALLERGIES/INTOLERANCES:
Gluten/wheat: check the ingredient lists of your sauces and choose gluten-free sauces. Use gluten-free breadcrumbs. Omit the hokkien noodles and toss through cooked rice noodles at step 6.
Egg: replace the eggs with 2 'chia eggs' (p. 21). Substitute cooked rice noodles for hokkien noodles.
Vegetarian: use sliced firm tofu in place of the beef meatballs.
Hungry for more recipes? Sign up to our foodie email here.
---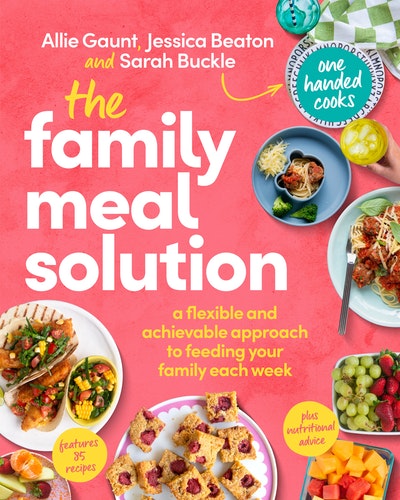 Discover a new way to feed everyone that's designed for real, busy family lives.
Buy now
Buy now
---