When your eyes inevitably begin to glaze over on your 29th episode of Gossip Girl in almost as many hours (yes, we speak from experience), picking up a book is the perfect way to escape.
But, maybe you're not ready to end your stay in the immersive world of your favourite Netflix show. These recommendations will help you find the perfect read based on those two Netflix hits you just can't live without, whether you're a fantasy fan, history buff or hopeless romantic. 
1. Riverdale + Scream = Two Can Keep a Secret
All of the salacious scandal of Riverdale meets teen-centric thriller a la Scream in Karen M. McManus's Two Can Keep a Secret. This standalone murder mystery from the bestselling author of One of Us is Lying centres around two teens, Ellery and Malcom as they try to solve the historic murder of the town's Homecoming Queen and the recent dissapearance of another girl.
More suggestions: Did you know there's a whole series of comics set in the Riverdale universe? Now's the perfect time to binge 'em; the graphic format makes comics super easy to digest for a stress-free read. Discover them here. 
2. Zombieland + Altered Carbon = This Mortal Coil 
What do you get if you cross genetic hacking and futuristic tech with a zombie apocalypse? The pulse-racing ride that is This Mortal Coil. When the world is overcome by a zombie-like plague, Catarina's geneticist father goes missing after working on the cure. Pulling on her own talents as a hacker and with the help of a soldier, Cole, Catarina must finish her father's work. There are three billion lives at stake, two people who can save them, and one final secret that Cat must unlock. A secret that will change everything (cue dramatic music).
3. Sex Education + The Politician = Jack of Hearts (and Other Parts) 
Salacious, scandalous and sex-positive – Jack of Hearts (and Other Parts) is the LGBTQ+ mystery every teen (and adult alike!) needs in their lives. Fans of hilarious Netflix original Sex Education will notice parallels with this incredible story, as protagonist Jack starts up his own sex advice column, not unlike Otis's famed sex clinics. Throw in The Politician-level scandal and we're on our way . . .
More suggestions: Keep your eyes peeled for another exciting novel from Jack of Hearts author L.C. Rosen this year. Camp, out July 2, is a comical and queer take on American summer camps, and follows Randy as he tries to allure himself to his crush, Hudson. 
4. Gossip Girl + Elite = Anna K
Attention, Upper East Siders: there's a new book in town, and we're obsessed. Jenny Lee's Anna K retells a particularly well-known piece of Russian literature, catapulting it into 21st century Manhattan where the fashion is mouth-watering, money is no object and scandal is rife. Gossip Girl fans will feel right at home, as will those loving the hot new Spanish series Elite. Oh, and did we mention Lee has reimagined Anna as gloriously Korean-American? It's time to turn your fave K-Pop songs on and hunker down with this 'dazzlingly opulent' must-read. 
More suggestions: Why not tackle the novel that started it all – Tolstoy's Anna Karenina? We're weak at the knees for this gorgeous clothbound classic edition. 
5. The Crown + Dynasty = American Royals
History books often refer to George Washington as "the man who could have been king." But how would our world be different, if instead of establishing a democratic republic, America had remained a monarchy instead? American Royals takes place in that version of the present day: one where instead of being president, George Washington was their first king, and his descendants still sit on the American throne. It follows all the intrigue and romance of the American royal family, with a feminist twist: focusing on the princess who will be America's very first queen.
6. The Circle + You = Are You Watching?
Ten years ago, Jess's mother was murdered by the Magpie Man. She was the first of his victims but not the last. Now Jess is the star of a YouTube reality series and she's using it to catch the killer once and for all. The whole world is watching her every move – and so is the Magpie Man. One creepy serial killer and a binge-worthy reality show? Are You Watching? has us hooked! 
7. The Hunger Games + The Society = The Grace Year
A world in which 16-year-old girls are sent off to spend a year in the wild, sapping all of their magic until they're no longer a danger to society – welcome to The Grace Year. Author Kim Liggett puts teen girls in the spotlight, much like in fan-fave film The Hunger Games and disturbing Netflix series The Society. Read this one if you're in the mood for a thrilling feminist tale about oppression, female friendships and rivalries and the choices we make when wielding the power. 
8. On My Block + Crash Landing on You = Frankly in Love
The fake dating trope is one we can't get enough of (sue us), satisfied by cult-fave Korean drama Crash Landing on You. Throw in all the drama of On My Block and you've got adorable yet angst-ridden romance Frankly in Love. High school senior Frank is Korean American, and his traditional parents have one wish for him – that he finds a nice Korean girl to settle down with. Of course, the girl he happens to fall for is white – so it's up to him and family friend Joy to convince their parents that they're a couple to cover up their illicit relationships. This book is full of cute romance, but it also deals with some hard hitting stuff, including race relations and family obligation. We're so into it. 
9. Inside the World's Toughest Prisons + To All the Boys I've Loved Before = Inside the Tiger
Okay, okay – hear us out. In perhaps our wackiest pairing, we're throwing together a hard-hitting doco series with Netflix's sweetest, most talked-about teen romcom. Yet, quite startlingly, this pairing truly does give us Inside the Tiger vibes. Hayley Lawrence's celebrated YA contemporary follows Bel, who's still coping with her mother's murder. As part of a class assignment, Bel begins writing letters to Death Row inmate Micah, who's shackled up in a Thai prison . . . and immediately, they're drawn to one another. Will loving him mean losing the people who mean the most to her?
10. Pretty Little Liars + Dare Me = Love Lie Repeat
Another one that's full of mystery, intrigue and teen angst, Love Lie Repeat by Catherine Greer is reminiscent of hit Netflix shows like Pretty Little Liars and the all-new Dare Me. Annie, Ash and Ruby are best friends – they call their unbreakably tight-knit group the Sirens. Together they run wild in the affluent suburbs of Sydney's north shore, but everything's about to change when something rocks them to the core . . . 
11. The King + Cursed = The Guinevere Deception
We're cheating a little here since Cursed isn't available on Netflix yet, but is based on another great young adult novel and is due to hit the streaming service this year. Like Cursed,  The Guinevere Deception reimagines the Arthurian legend with a focus on Guinevere – a magical changeling and the protector of the charismatic King Arthur. Magic, court, deadly jousts, duplicitous knights, and forbidden romances? Sign us up.
Coming soon . . . 
The Witcher + Sabrina = The Dark Tide
We love nothing more than a dark, witchy story – especially one that's rooted in Scottish and Polish folklore like The Dark Tide (out June 2). Every year on St. Walpurga's Eve, Caldella's Witch Queen lures a boy back to her palace. An innocent life to be sacrificed on the full moon to keep the island city from sinking. But then our main gal Lina spends time with Queen Eva and neither are like the other expected. Against their will, the two girls find themselves falling for each other. As water floods Caldella's streets and the dark tide demands its sacrifice, they must choose who to save: themselves, each other, or the island city relying on them both.
Stranger Things + The Mist = Harrow Lake
Welcome to Harrow Lake. Someone's expecting you . . . All of the 80s nostalgia of Stranger Things meets Stephen King's best in Harrow Lake, a bitey new YA thriller from Kat Ellis (out August 18). Lola's dad is a bigshot horror film director, so she's pretty confident nothing scares her. But, when her dad is the victim of a vicious attack, she's shipped off to live in Harrow Lake. Lola quickly realises that not everything in this eerie town is as it seems – and there's something, or someone, stalking her every move.
What are you currently binging on Netflix? 
---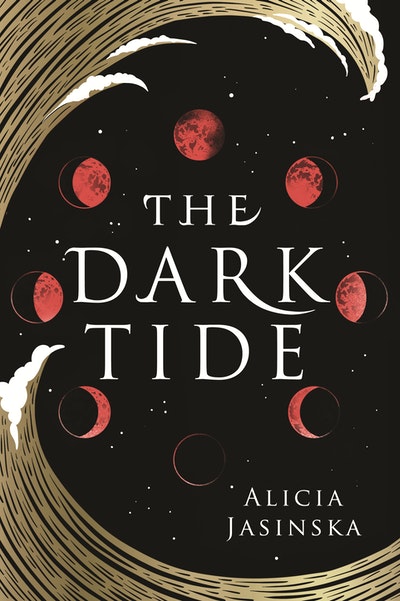 Stephanie Garber's Caravalmeets Kendare Blake's Three Dark Crowns and Sarah J. Maas's A Court of Thorns and Rosesin this gripping, dark fairytale fantasy about two girls who must choose between saving themselves, each other, or their sinking island city.
Buy now
Buy now
---