How to apply the rules of social media influencing to effect change in the arenas of race, human rights, equality and inclusion.
In How to Lose Friends and Influence White People, award-winning journalist Antoinette Lattouf explores how we can all make a difference in the world as champions of change and racial equality.
Filled with gems of wisdom for effectively discussing tricky topics, the book is a powerful guide to being a positive influence – no matter who you're talking to, whether in your day-to-day life or online.
'With the growth and popularity of social media influencers, it's only natural that people are curious about how to become one,' says Lattouf. 'Interestingly, the common principles for social media influencing can be applied more broadly for those seeking influence in other arenas, such as human rights, race, equality and inclusion.'
Though it may sound like an easy feat, growing a following on social media isn't as simple as it seems. 'Influencing can look very glamorous and seamless, but a lot of work goes into earning people's trust. It takes time, effort and patience to not only develop your authentic voice, but to be strategic in the way you project it.'
So, where to begin? To help provide a road-map Lattouf appraoched two 'racial influencers' for advice: Timothy Lo Surdo and Professor Nareen young.
'There are eight common steps touted as sure-fire ways to bask in influencer glory,' the two agree. 'And while Young and Lo Surdo aren't about sporting six packs or spruiking fashion labels, the formula that successful social influencers use on Instagram is eerily applicable to those wanting to have influence in race relations.'
Want to get this kind of influence? Read on to discover the eight steps they suggest.
8 steps to becoming a racial influencer
Be honest about your intention: First and foremost, you need to set an intention. Understand where you're starting, and why you're setting out on this mission. Ask yourself why you want to be a racial influencer and focus on what you hope to achieve. Having a solid intention can help guide you and give you something against which to measure your successes and shortcomings.
Find your niche: When it comes to racial influencing, the magnitude of the challenges you are up against can be overwhelming. Play to your strengths by choosing a niche that aligns with your lived experience. Finding your niche 'means identifying your role in this space and identifying the privileges you have, and the spaces that you occupy that might be more harmful or less accessible to people who are in marginalised communities, and then leaning into those spaces for good,' says Lo Surdo.
Understand your audience: Your audience is the group you wish to influence, so identifying who these people are is critical to planning your advocacy as a racial influencer. This group can be as small or large as you like, ranging from your friends and family to government officials.
Engage with your audience: It might sound easy, but engaging with an audience on social media can prove challenging. Having some tricks up your sleeve for productive communication can go a long way, whether in-person or in the comments section. Use the same rhetorical skills you would when speaking IRL by trying to evoke empathy, connect on a personal level, and find ways to provide laughter when tackling serious subjects.
Apologise when you're wrong or make mistakes: We all slip up sometimes, and it can be a tricky line to walk when jokes and humour are added into the mix. Before throwing out a half-baked apology, though, take the time to sincerely understand where the offence came from. Insincere apologies can set you up to look unreliable in the future, whereas sincerety can provide a reminder that mistakes are an inevitable part of learning.
Be relevant and consistent: Staying relevant and consistent as a racial influencer means living up to your message and encouraging your followers to do the same. 'This is not always a linear process.' Lattouf warns. You might have to revisit your ideas to 'assess why efforts haven't been entirely practical or, in some cases, effective at all.'
Collaborate and value feedback: When you become a racial influencer, you may be approached to act as a spokesperson on topics outside of your lived experience. While it's easy to accidentally widen your scope beyond your niche, keep collaboration in mind. Do what you can to work collaboratively with others and to call on knowledge from those who know more than you do.
Be mindful of burnout: Influencing is not as easy as it seems, and 'racial battle fatigue' is all-too-common after an extended period of advocacy. Whether because of stress, ineffectiveness or trauma, burnout can arise, leaving you feeling isolated and vulnerable. Constantly checking in with yourself and taking on feedback can help stave off an unpleasant feeling of burnout down the line.
For more wisdom from Antoinette Lattouf on the balancing act of advocacy, check out How to Lose Friends and Influence White People. You can also catch her on tour in Victoria, Queensland, and the ACT between June 1-9.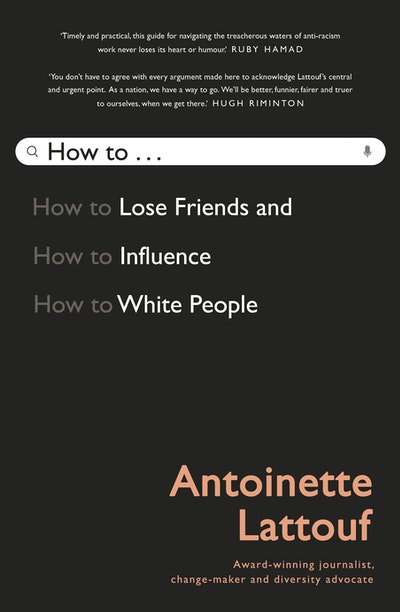 How to Lose Friends and Influence White People
A guide through the balancing act of activist, advocate and ally, remembering that just because others are learning you don't need to be the teacher, from the dynamic and sharp co-founder of Media Diversity Australia, Antoinette Lattouf.
Read more