We caught up with Richard Flanagan to learn more about his new book, Question 7. Find out why he chose the title and how science is a form of creativity.
Where did the title Question 7 come from?
I like titles with numbers – Catch-22, Fahrenheit 451, 1984 – because they mean nothing to you until you read the book. Afterwards, you can never again hear those titles without thinking of the central paradox of each book. And so too, I hope, with Question 7.
This book refers, at times, to your own life and your family history. What was it like reflecting on your past – and how did you decide what to include (and what to leave out) in Question 7?
I didn't really write this book at all. I dreamt it. 
To the extent I interfered with the dream, it was only to remove pieces of writing that were not dreams.
Why did you select the two quotes for the epigraph? 
Because my wonderful publisher, Nikki Christer, felt four was too many. 
I sometimes think I would like to write a novel composed solely of epigraphs. 
Melville came close with a chapter of them, more or less, at the beginning of Moby Dick. 
In form, the book is a bit different from usual (the mini sub-chapters, the poetic repetition etc.). How does this unique form add to the overall story you tell in Question 7? 
We can only hope in a good way.
Science and literature are often thought of as two opposing ends of the spectrum. Did you consciously strive to connect the two in the book, or did that happen naturally? 
Leo Szilard, one of the heroes of Question 7, thought of science as a form of creativity, fundamentally the same as poetry or art. Equally, Rebecca West viewed writing and art as a form of truth. I don't think they need connecting. Rather, we all need reminding that there are many paths to truth. Mine is just one, and there is wisdom in many.
Want to hear from him in person? Learn more about Richard Flanagn's tour and events here.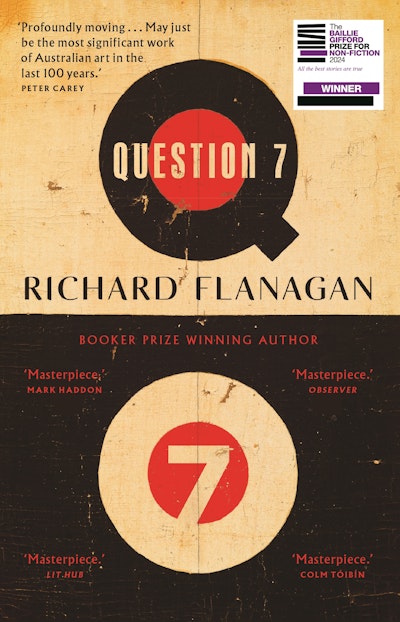 Question 7
Beginning at a love hotel by Japan's Inland Sea and ending by a river in Tasmania, Question 7 is about the choices we make about love and the chain reaction that follows.
Read more