What to say to climate change deniers, courtesy of The Daily Aus.
It's not fun getting into a debate about the climate. And – like it or not – we've all been there at some point.
Whether it's a family dinner with your most old-fashioned relatives or an awkward social situation, sometimes the subject comes up. And not in a good way.
So what do you do when you're forced to defend yourself to climate change deniers?
Thankfully, The Daily Aus has a few pointers in their new book, No Silly Questions, to help you out.
Whether you find yourself defending the abnormality of extreme heat or whether we should even try to combat it, they've got a few simple responses that will shut down any climate nay-sayers.
What to say to climate change deniers
If someone says 'the climate has always changed. It's a cycle.' . . . You can say:
'You're right – the climate has always changed, and will continue to change. What scientists are concerned about is the speed at which it's changing now. There's more confidence than ever that the warming of the climate since around the 1950s is caused primarily by human activity. The years since 2015 were the hottest on record.'
If someone says, 'There's no point in doing anything about climate change because Australia is too small.' . . . You can say: 
'Australia's emissions are indeed 1.3 per cent of the global total – a relatively small percentage. But Australia is only home to 0.3 per cent of the world's population. So we're punching way above our weight per capita, and not in a good way. You also need to remember we produce a lot of coal that is then exported and counts towards other countries' emissions.
If someone says, 'extreme heat, raging bushfires, devastating drought – that's just 'Straya. Nothing to do with climate change!' . . . You can say: 
'Climate change isn't just causing significant, rapid increases in global average temperatures. Climate change is changing our weather systems altogether, making extreme weather worse around the world.'
If someone says 'renewable energy is more expensive than coal.' . . . You can say:
'Nope! Wind power, for example, costs about half as much as energy produced by a new coal plant, according to analysis by Bloomberg. There is a cost associated with setting up new technologies, but another report, by the International Renewable Energy Agency, found that 62 per cent of new renewable energy projects will be cheaper than the cheapest new coal plants.'
Want more helpful insights on everything from the Australian political system to our economy? Check out No Silly Questions and read a snippet, here.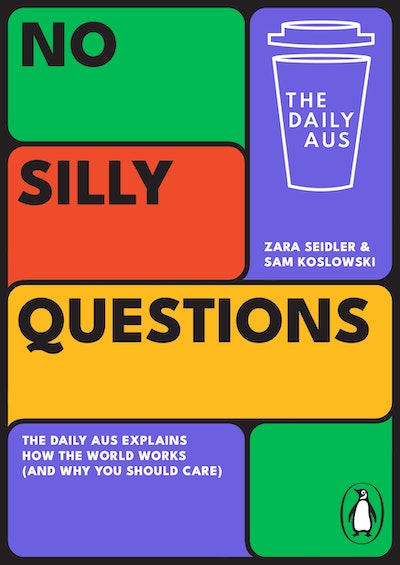 No Silly Questions
Understand the news stories that matter. Be part of the important conversations. And feel confident – whether you're walking into a date, a work event or a voting booth. From the creators of the phenomenally successful news service The Daily Aus comes your ultimate playbook for how the world works.
Read more