A simple, positive, practical toolkit for better mental health, from clinical psychologist and TikTok star Dr Julie Smith.
Drawing on her years of experience as a clinical psychologist, Dr Julie Smith's first book Why Has Nobody Told Me This Before? is a must-have handbook for instantly better mental health. 
Filled with secrets from the therapy room, this book offers simple advice, effective strategies and powerful coping techniques to help readers stay positive and resilient no matter what life throws their way. 
Here Dr Julie Smith shares an exercise to practise your mindfulness and help you boost your low mood. 
Mindfulness
Mindfulness is a state of mind that we can try to cultivate at any time. It means paying attention to the present moment, with awareness of thoughts, feelings and bodily sensations that arrive, without judgement or distraction. It does not rapidly eliminate low mood or change the problems you face. But it does hone your awareness of the details of your experience so that you are more able to choose carefully how you respond. But it can be difficult if you are not sure how to do it. Meditation is like a gym workout for the mind. It provides a space to practise the skills being used.
How to do it
If you are new to mindfulness, guided meditations are a good place to start. There are lots to choose from online, and I have included some on my YouTube channel. There are lots of different techniques, each based on their own traditions, but most of them share the purpose of aiming to create clarity of mind. So try out a few different styles and see which one suits you best.
Gratitude practice 
Gratitude practice is another simple way to get used to turning your attention. Find a small notebook and, once a day, write down three things that you feel grateful for. They can be something big like your loved ones, or it can be a small detail of your day that you appreciate, such as the taste of your coffee as you sit down to work. Now, this sounds almost too simple to be effective, but every time you engage in gratitude, your brain is getting practice at turning its attention to things that create pleasant emotional states. The more practice you get– the easier it becomes to use that in other situations.
Toolkit: Making gratitude a habit
• Write down three things you feel thankful for. They can be the larger, more profound aspects of your life or the tiniest of details from your day. What matters is not what you choose to include, but the practice of turning your attention on purpose.
• Spend a few minutes reflecting on those things and allowing yourself to feel the sensations and emotions that come along with a focus on gratitude.
• Doing this once is nice. Doing it every day is a life practice that builds the mental muscle to choose where you focus your attention and allows you to experience the benefits.
---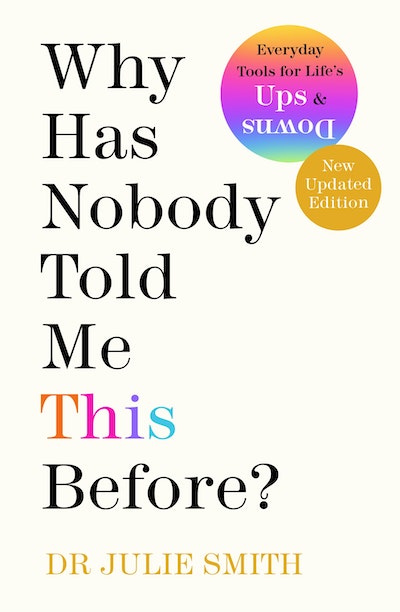 A simple, positive, practical toolkit for better mental health, from clinical psychologist and TikTok star Dr Julie Smith
Buy now
Buy now
---