Join wine merchant John Baker on a treasure-hunting adventure of a lifetime, in search of Stalin's secret multimillion-dollar wine cellar.
If it turns out to be true, a couple of Australian wine merchants and their business partners might be embarking on the Raiders of the Lost Ark adventure of the wine world. Just imagine: 50,000 bottles of some of the most remarkable, rarest wines on the planet. And the bottles in question may have been owned by Nicholas II, the last Tsar of Russia, and passed on to Joseph Stalin himself. The only thing is, the bottles are currently housed in a damp cellar in the newly democratised Eastern European state of Georgia. The wine labels are in a bad state, the backstory is questionable, and the Georgians are asking a cool $1 million USD.
Stalin's Wine Cellar is the story of wine purveyors John Baker and Kevin Hopko's audacious, colourful and potentially dangerous mission to Georgia in hunt of one of the world's greatest liquid treasures. From Double Bay Sydney to Tbilisi Georgia, via the streets of Paris, the vineyards of Bordeaux and iconic Château d'Yquem, our heroes encounter a cast of characters worthy of the most memorable action adventures. In the passage below, over a glass of very fine wine, Baker and Hopko decide to throw caution to the wind, to chase an unlikely dream.
'I've been going through Harry's list of what is supposed to be in the cellar,' Kevin said. 'If the wine turns out to be real – and that remains a big if – it's worth a bloody lot of money.'
'If Stalin's personal collection is in there, as well as the Tsar's wider collection, that is a major selling point,' I said. 'Neville said there was another separate list that outlines Stalin's personal collection. That on its own would be huge, before you even get to the really old, rare classics. I mean, what is Stalin "provenance" worth? Surely a fortune, even to people not interested in wine, and particularly Russians.'
'If we can get the bottles out of Georgia, and to a major auction house,' Kevin said.
'And if we can prove beyond doubt its provenance, and that it's genuine,' I said. 'Especially given we'd be arriving at Sotheby's or wherever with maybe 30,000 wet bottles of wines without labels.'
We sipped for a while.
'And assuming we're happy to be partners with Harry and Neville with his bullshit hardman tactics,' Kevin said.
'Ah, let it go.' I waved a hand. 'He's all right. The guy is in mining. Maybe that's just how it rolls in that industry. You've been bounced around more than that in your time, usually by me.'
'Yeah, but then you pour me good wine, like now, and we make money together.'
'Well, that's the plan with Georgia too, isn't it?'
We sipped for a while, thinking.
'This is nuts,' Kevin finally said. 'You know that, right? Totally nuts.'
'But imagine if they're real!' I said. 'You know how I feel about wine, Kevin. It's an organic, living, breathing thing. It evolves and grows and changes as it matures and particularly when you pull the cork.'
I got up from my seat and started walking up and down the room.
'He's pacing,' Kevin said. 'It always means trouble when Johnny's pacing.'
'Imagine if these wines are legit,' I said. 'They must have been in the actual cellar when Nicholas the Second and his family were executed. They would have seen the rise of Stalin and the fall of the Iron Curtain. They have lived so much history! They have witnessed the whole of twentieth-century Europe and more, lying there, alive in their comfortable cellar. How could we not go and see if they exist?'
'Look, you know me,' Kevin said. 'I can enjoy turning all of that around in my head, I really can. Intellectually, I can really enjoy all that history talk. But ultimately a bottle of wine, for me, is a commodity. I'm more interested in what those historic bottles you're all excited about would fetch at auction. And I believe it's a lot.'
'What's a bottle of 1847 Yquem worth?' I asked, waving my almost empty glass of a much younger Yquem vaguely in his direction. 'One of the greatest wines ever, and one of the rarest. The list says there are three in that cellar. Three! What are they worth on their own? But if you add the history; if you add the fact that the bottle might have been held in the hands of Stalin, or Nicholas the Second… what is it worth then?'
Kevin said, 'In 1985, Christie's sold that Lafite, claimed to have been owned by Thomas Jefferson, for what?'
'One hundred and fifty-seven thousand dollars, US,' I said automatically. We'd all marvelled at that sale price. It remained one of the most expensive bottles of wine ever sold.
'And the provenance of those bottles was sketchy, if I remember correctly,' Kevin said.
I nodded. 'Found bricked up inside a wall in Paris, allegedly. The owner, some flamboyant guy claiming to be a Dutch duke or something, wouldn't say exactly where so nobody could check.' (In fact, the alleged Thomas Jefferson bottles were the subject of several investigations, especially by the American industrialist Bill Koch. They were proven to be fake more than twenty years later.)
'So, we could be walking into something like that,' he said.
'That kind of price tag?'
'Yeah, but also a high level of examination from start to finish.' I said, 'We don't know much about this local guy that Neville is in business with either. Giorgi or George. He owns a goldmine and the winery? Is it his decision to sell or are there other partners we'd have to deal with? I was a bit concerned by Neville's comment that George said he didn't know much about wine but thought some of the bottles might be valuable. That sounds disingenuous to me, or like he's bluffing. If he had really just told Neville the entire backstory of the Tsar's and Stalin's ownership of the wine, then he has to know the wine is valuable.'
'I guess that's all part of the dance,' Kevin said. 'Maybe he was fishing to see if Neville personally knew anything about wine? Or maybe the Georgians genuinely don't know what it would be worth on the open market?'
'Perhaps. Or this could be the biggest wine con in history,' I said.
'Well, we've got phones and we've got email, right?' Kevin said. 'We can start talking to George and ask some of these questions, get a read on things before we commit to getting on a plane.'
'Or,' I said, the adventurer in me rising, 'we could just go and see for ourselves.'
Kevin raised his glass and said, 'It does sound like quite the escapade.'
The next day, I rang Neville and Harry and said we were in.
---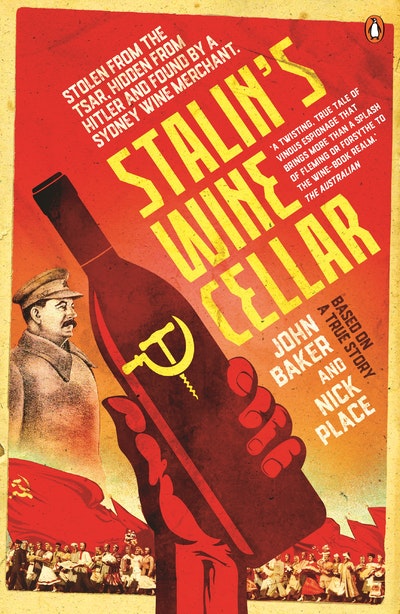 The adventure of a lifetime to buy Stalin's secret multimillion dollar wine cellar located in Georgia; it is the Raiders of the Lost Ark of wine.
Buy now
Buy now
---