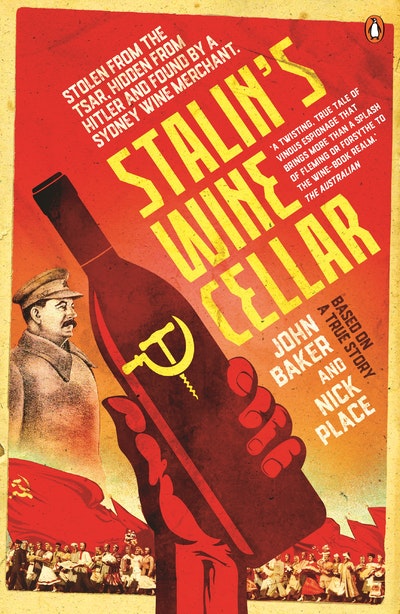 Published:

20 July 2021

ISBN:

9781761043666

Imprint:

Penguin

Format:

Paperback

Pages:

336

RRP:

$24.99
Stalin's Wine Cellar
---
---
---
The adventure of a lifetime to buy Stalin's secret multimillion dollar wine cellar located in Georgia; it is the Raiders of the Lost Ark of wine.
In the late 1990s, John Baker was known as a purveyor of quality rare and old wines. Always entrepreneurial and up for adventure, he was the perfect person for an occasional business partner to approach with a mysterious wine list that was foreign to anything John, or his second-in-command, Kevin Hopko, had ever come across.
The list was discovered to be a comprehensive catalogue of the wine collection of Nicholas II, the last Tsar of Russia. The wine had become the property of the state after the Russian Revolution of 1918, during which Nicholas and his entire family were executed. Now owned by Stalin, the wine was discreetly removed to a remote Georgian winery when Stalin was concerned the advancing Nazi army might overrun Russia, and inevitably loot artefacts and treasures. Half a century later, the wine was rumoured to be hidden underground and off any known map.
John and Kevin embarked on an audacious, colourful and potentially dangerous journey to Georgia to discover if the wines actually existed; if the bottles were authentic and whether the entire collection could be bought and transported to a major London auction house for sale.
Stalin's Wine Cellar is a wild, sometimes rough ride in the glamorous world of high-end wine. From Double Bay Sydney to Tbilisi Georgia, via the streets of Paris, the vineyards of Bordeaux and iconic Château d'Yquem. A multimillion dollar cellar and a breathtaking collection of wine (and one very expensive broken bottle) is the elusive treasure. The cast of characters include Stalin, Hitler, Tsar Nicholas II and a motley bunch of Georgian businessmen/cowboys toting handguns, in the early days of Russian business development that led to the world of Putin and oligarchs.
Published:

20 July 2021

ISBN:

9781761043666

Imprint:

Penguin

Format:

Paperback

Pages:

336

RRP:

$24.99
Praise for Stalin's Wine Cellar
A wonderful yarn.

Geraldine Doogue, Saturday Extra
A cracking account . . . If only more wine books were as much fun as this one.

Sunday Age
A very colourful and fast-paced journey into wine history.

Daily Telegraph
A wild, boys-own adventure. . . It's quite the ripping yarn.

Herald Sun
It's a bit of a thriller, a tale of layered intrigue, a journey through history and an intriguing insight into the verifying of label-less bottles of apparently priceless wine.

The Age/Sydney Morning Herald
I loved Stalin's Wine Cellar, a ripping romp about Sydney wine aficionado John Baker's adventures in trying to acquire a priceless collection of booze in post-Soviet Georgia.

Canberra Times
James Bond was famously au fait with the finest vintages, and it's not hard to imagine him front and centre in this twisting, true tale of vinous espionage that brings more than a splash of Fleming or Forsythe to the wine-book realm. . . a tale heady with fear, frustration, envy, exasperation and, at one point on the streets of Paris, disaster.

The Australian
The words "wine book" and "ripping yarn" aren't normally seen in the same sentence, but Stalin's Wine Cellar is just that.

Max Allen, Good Food
Simply the most riveting wine book I've read for years. If a book about wine could ever be a page-turner, this one is.

Huon Hooke, The Real Review
A wild, sometimes rough, ride in the glam world of high-end wine.

Better Homes & Gardens
The ultimate wine-meets-history tale . . . Read paired with a glass of your favourite wine.

Gourmet Traveller
A seriously rollicking read.

GQ
The wine book of the year for all sorts of reasons.

winepilot.com
A corker of a yarn.

Mosman Daily
A scintillating ride into the glamorous world of high-end wine.

Toowoomba Chronicle
It's part travel memoir, part mystery and part wine almanac. It's a deliciously unique read, too.

Who Weekly
A rollicking saga. John Baker's tale, Stalin's Wine Cellar, is one of the most extraordinary, improbable, and fascinating stories about wine that I have ever read . . . The book is a rollercoaster, written with warmth and humor.

quillandpad.com
Stalin's Wine Cellar is a pretty ripping read with a swaggering narrative voice.

Kitchen Arts & Letters bookstore, New York
Article
Dream chasers
Join wine merchant John Baker on a treasure-hunting adventure of a lifetime, in search of Stalin's secret multimillion-dollar wine cellar.