Mike Carlton shares his favourite historic naval novel, the disgusting meal he learned about while writing The Scrap Iron Flotilla and more.
What inspired you to write about these destroyers?
I'd known their story for a long while – or I thought I had. But when I began the research I was amazed at how much more there was to tell. Nobody had written it. I couldn't wait to get into it. 
How did you collate materials to draw on in telling this story?
It was difficult at first, because I began the research just as the first Covid lockdowns hit. That meant that libraries and archives and places like the War Memorials in Canberra were closed. But this is my fourth book of naval history and, if you know where to look, there is a tremendous wealth of stuff available online. 
I tracked down families of men who had served in the flotilla and they were generous in allowing me access to memoirs, letters, and diaries.
How long did it take you to research & write The Scrap Iron Flotilla? 
About two years all up, I guess. Penguin Random House gave me plenty of time to get it together. I write and research pretty much simultaneously.  
Why are you drawn to naval history?
At the age of 11, I read The Cruel Sea, Nicholas Monserrat's stirring novel of the WW2 Battle of the Atlantic. It fired up an interest in the navy that has never left me. That and the historical naval novels of Patrick O'Brian, which are a work of genius that I have read umpteen times. 
What is the strangest thing you had to Google while researching for the book?
Tinned Maconochie's Stew. When fresh food ran out, the sailors lived on it. I had no idea what it was, but it turned out to be a British concoction first fed to the troops in WWI, a horrible mess of stringy beef and mushy vegetables in a watery jelly. Legend has it that the resultant farts were truly spectacular.    
What was your favourite part of writing The Scrap Iron Flotilla? What was your least favourite?
Writing the action and battle scenes is always fun. The challenge is to make them fresh and vivid, so the reader wants to turn the page. There was no least favourite part. I loved it all.   
Read an extract for a preview of book.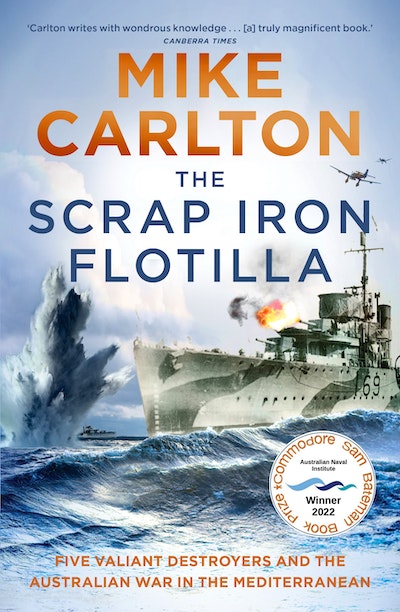 The Scrap Iron Flotilla
Winner of the 2022 Commodore Sam Bateman Book Prize, awarded annually by the Australian Naval Institute to recognise excellence in books making a major contribution to naval and maritime matters
Read more