We sat down with the Jane in Love author to chat all things Austen, 1800s England, and artists with disastrous romantic lives.
When/how did you first discover Jane Austen's novels?
I came across Emma at a second-hand bookshop when I was fifteen. I had little knowledge of the author, but I found it witty, timeless and I adored Mr Knightley. I felt so lucky to have picked it up. After that, I read Pride and Prejudice and Sense and Sensibility. I read her other novels in my 20s. 
How did writing a book differ from writing for film/TV?
Writing a book required me to include far greater sensory detail, to set the scene for the reader in a way not needed in screenwriting. With Jane in Love I created a final work, whereas with screenplays I create a blueprint for something others will add to later. For example, a part of the book is set in 1804, where the character of Jane travels to London. I needed to describe to the reader what the famous capital might have seemed like at that time – the polluted Thames would have smelled rotten as the industrial revolution dawned; London's inhabitants would have churned the streets to mud with their boots. Jane might have expressed shock and horror at the squalid scenes. If I were writing a screenplay I would have described this in a line or two, then left it to the production designer, the director, the actors, to bring the scene to life through their audio-visual choices. With the book I also had greater opportunities for introspection – to describe the characters' thoughts, and express feelings which they keep to themselves.
What depth of research did you undertake for Jane in Love?
I lived in the UK for five years in the 2010s, and I fell in love with the country and its people. I visited Bath four times to research the layout and see the places where Austen lived and visited. (Jane in Love is set in Bath and switches between 1803 and the present day.) I read everything I could get my hands on about Austen herself: biographies, literary criticisms, and the letters she'd written which have survived. I concluded she possessed a terribly gifted intellect, and honed her writing skills in complete isolation, receiving no help from writing instructors and having no contact with fellow writers. She also seemed to me to be a warm yet introverted lady, and a much-beloved aunt, sister and friend.
Any surprising discoveries during the process?
In reading Austen's letters, I sensed great wit and cleverness, but also sadness. I believe she did not like living in Bath and from the surviving letters, novel drafts and interactions with publishers, it appears she wrote very little while she lived there. Her time in Bath was a period of her life when the question of her marrying was still up in the air (she arrived in Bath aged 25). It was only once she returned to Hampshire to live with her mother and sister in a cottage on her brother Edward's estate at age 34, and the question of marriage had been largely put to bed, that I believe her creative output flourished.
Any challenges?
I loved the post-modern challenge of writing a chapter as though from 'Jane's' hand, where the character writes a chapter of fiction. I will never come close to capturing the genius of that woman, but I enjoyed writing a chapter as though from the hand of a nineteenth-century author, a time when novel-writing as an art form came into its own.
What sparked the idea for a time-travelling Jane Austen?
After reading Austen as a teenager, I felt disarmed when I discovered the writer of these clever, beautiful love stories never married or had any children. Considering a career as a writer myself, I grew curious and researched the biographies of other female artists I admired – the Bronte sisters, Louisa May Alcott, Emily Dickinson, Sylvia Plath, and so many more. I discovered these women all either had disastrous romantic lives or none at all. Even women from other artistic disciplines – painters, musicians – so many seemed to fulfil their artistic dreams rather than, or in opposition to, any romantic ones. I wondered, does a female artist need to be unhappy to create art? And, if Austen had to choose between the heart and the pen, what would she choose? That's how Jane in Love was born. The time-travel was a way to set up the central dilemma of the novel – a writer's choice between the heart and the pen. I wanted to see what would happen if Austen was confronted with the reality of what she has become, to see the regard her work now commanded. If it became the choice between one or the other, what would she choose? I also felt fascinated by what Austen might make of the modern day, especially our mating rituals – how much they have changed and how much they have stayed the same from her own time in the early 1800s to now. Also, how society treats women, then and now.
What is your favourite Jane Austen book and why?
Persuasion. Austen wrote it towards the end of her life. To me it feels sadder and quieter than her other works, though it still contains the wit and astute observation of her earlier novels. The hero, Wentworth, differs from other Austen heroes – he has made his fortune through hard work rather than through lands and inheritance. It also contains a couple of astonishing scenes: one where Wentworth silently lifts a misbehaving child off the heroine, Anne's body to help her, which bristles with tenderness; and a second, where he lifts Anne into a carriage might be the most erotic moment of any Austen novel. These two characters, once in love, have been estranged for many years and Anne has given up all hope, believing him to be still angry at her for her rejection of him, or worse, indifferent to her now after time has passed. Then he touches her and lifts her into the carriage. It's a moment of tenderness and knowing, hinting that things aren't over, that real love, while it may lay dormant, never dies.
---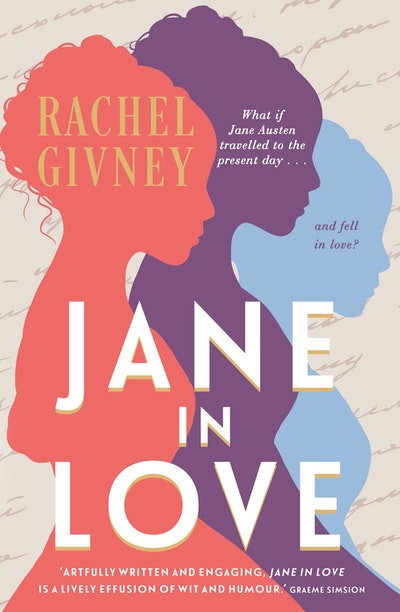 Jane Austen time-travels to the future and falls in love. But will she choose happiness in the present, or her career as a writer in the past?
Buy now
Buy now
---