In Use It or Lose It, Paul McIntyre asks, 'what if exercise were medicine?'
Use It or Lose It is ABC broadcaster Paul McIntyre's essential guide to remaining vital through mid-life and beyond. 'Simply put, good nutrition, regular exercise, relaxation, social interaction and healthy activities are paramount for your body and your brain and your emotional outlook as you get older,' he writes in the book's introduction. And in this handbook for the habits of positive ageing, he reveals practical measures we all can take to keep our bodies and brains in good shape. In the passage below, he introduces the manifold benefits of a powerful yet oft-overlooked preventative medicine: exercise.
Some people think it's inevitable they'll become less energetic and strong as they grow older, but not all those changes to muscle mass, flexibility and fitness are the result of age. They can be the result of under-use. In other words, Use It or Lose It.
For instance, a recent British study from the University of Birmingham and King's College London followed 125 cyclists through their journeys up hill and down dale in the British countryside.1 Although the participants were all aged between fifty-five and seventy-nine, the researchers found they each had the physical attributes of youth, from their cholesterol and testosterone levels to their lean body mass and T-cell count. Professor Stephen Harridge from King's College London says the findings emphasise that 'their bodies have been able to age optimally, free from the problems caused by inactivity. Remove the activity and their health would likely deteriorate.'
The rigorous cycling had emotional and cognitive benefits as well that contributed to the positive ageing of the participants. It involved social interaction as it was performed with a group, and the riders were required to be alert, navigating and obeying road rules and staying aware of vehicles, animals, low-hanging tree branches and their fellow cyclists. I'm not for a minute suggesting you ride your bike across the Nullarbor; rather you find a form of exercise you can stick with for the robust health and emotional satisfaction it brings.
The Benefits of Exercise
'Exercise boosts your endorphins,' says Pip Inge, a Sports and Exercise Medicine Physician. Every day she prescribes physical activity as a means of combating everything from osteoarthritis to anxiety and depression: 'Getting outdoors, getting sunshine and participating in physical activity can make a huge difference to how you experience the world.'
The evidence also indicates that it's never too late to start exercising. In fact, people who go from doing nothing to doing something benefit the most from physical activity, even if it's as simple as putting one foot in front of the other and going for a walk.
As I've mentioned, a major part of what makes exercise so beneficial is the social engagement it offers. 'You can go for a walk with friends, be part of a team sport or just take your dog for a run,' says Pip. 'When you exercise everything feels better.'
Before you sigh and roll your eyes again, reflect on your approach to physical activity. It shouldn't be seen as a 'hardship', urges Pip. Instead it needs to become routine, because 'the more you enjoy it the more likely you are to keep it up'. Likewise, as you incorporate exercise into your day – from walking to the shop to gardening for an hour on the weekend to playing bowls – it will become established as a habit. It may take a couple of months until you feel the full benefits of regular, moderate-intensity exercise, but once you're used to the change you'll be a true convert.
If Exercise Were Medicine…
It would be the most effective, the safest and the cheapest treatment ever formulated.
Exercise helps your body by:
Managing and lowering blood pressure and insulin levels

Preventing obesity and diabetes, breast and colon cancers

Preventing muscle wastage

Maintaining cardiovascular and bone health

Maintaining range of movement in the joints

Improving sleep
Exercise helps your brain by:
Increasing brain volume

Increasing cognitive function

Improving low mood and mental health

Providing opportunities for social engagement
Essentially, all exercise is good exercise and the more you do, the fitter and healthier you'll become.
---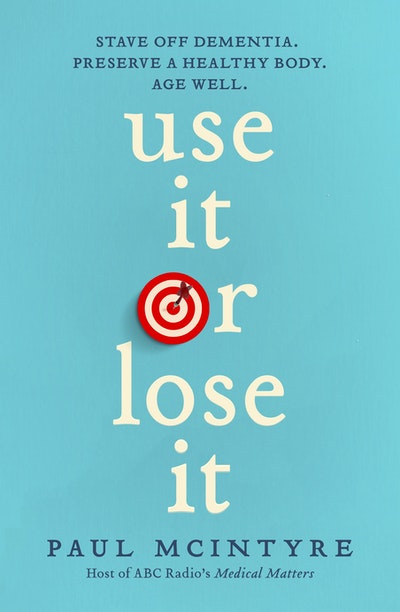 We all want to age well, but what does that really mean? Should we be playing endless Sudoku to stimulate our brains, or power-walking our way to eternal youth?
Buy now
Buy now
---