Meet Sodor's many visitors.
Everyone knows and loves Thomas the Tank Engine, the cheeky little engine who always tries to do his best. Thomas has many friends who live on the Island of Sodor, but these engines have also welcomed visitors from around the world. They made lots of friends when contestants for the Great Railway Show came to town. Let's meet some of them!
 
1. Ashima | India


Ashima is a fearless mountain engine from India, where she works on steep and dangerous tracks. She has beautiful decorations, but would rather shunt than show off! Thomas wanted a bright paint job like Ashima's but ended up a spattered mess. Ashima gently told him "be yourself". Ashima has a bright pink cab and side tank and a silver cowcatcher.
 
2. Etienne | France

Coloured the same as the flag of his country, Etienne brings a touch of French style to the tracks. With a twirl of his moustache and a crackle of his electric cable, elegant Etienne crosses the line in first place at The Great Race! He also sets a new rail speed record.
3. Yong Bao | China

Yong Bao received his red paint as a reward for preventing an accident. Red is the colour of celebration in China, where this brave engine comes from. Yong Bao has a dragon decoration and a bright red cowcatcher.
4. Hugo | Germany



Hugo is a high-speed passenger train from Germany. He looks like an airship, and goes so fast he almost seems to be flying! Silver paint and a huge propeller give this engine a very futuristic look. The arrival of Hugo caused a stir. A rumour went around that fast new engines like him would replace all the others.
 

Fun fact: The breeze from Hugo's propeller blows The Fat Controller's hat off!
 
To learn more about Thomas the Tank Engine and his friends, including favourites like Edward, Henry, Gordon, James and Percy, discover Thomas & Friends™ Character Encyclopedia.
---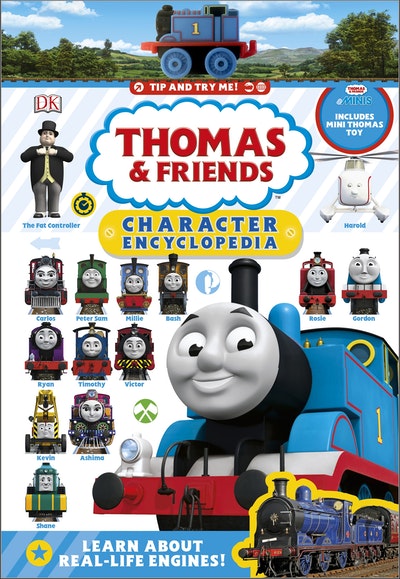 The definitive guide to all your favourite friends from Thomas the Tank Engine - along with the real life trains and vehicles!
Buy now
Buy now
---