Clever croissants and outer space stats.
You've never seen your LEGO® bricks like this before! Get ready to discover stacks of LEGO facts and brilliant details from LEGO® Absolutely Everything You Need to Know. These clever croissants, outer space stats and awesome bits of LEGO history are sure to make your day.
 
Did you know . . . ?
 
1. Classic combo
Six classic 2x4 LEGO bricks of the same colour can be combined in a mind-blowing 915,103,765 different ways!
2. Never tired
There were more than 730,000,000 LEGO tyres produced in 2016, making the LEGO Group one of the world's biggest tyre manufacturers.
3. Powerful pastries
Finding a familiar piece and then using it in an unexpected way is called nice part use, or "NPU," by some LEGO fans. For example, croissants make a tasty architectural detail above a row of feather pieces in 2014's Parisian Restaurant (set 10243) from the LEGO® Creator Expert Modular Buildings theme.
4. Officer Easter egg
The Traffic Cop in the LEGO® minifigures line can issue a parking ticket, and the signature on it is that of a real-life LEGO designer!
5. Fun for everyone
In 2009, there were thought to be 62 LEGO bricks for every person in the world. Today, the estimate stands at 102!
6. Extraordinary orbits
A LEGO model of the space shuttle Discovery travelled 8,536,186km in 2010, while on board the real NASA space shuttle Discovery.
7. Stylish strands
Until 1983, there were only two minifigure haircuts: pigtails and side parting. There have been more than 200 styles since.
8. Staying current
Until 2011, LEGO currency came in 10, 20, 30 and 40 pieces. In sets produced after this they were in 1, 2, 5, and 10 pieces.
9. Clean sweep
An "out of order" launderette washing machine is actually a back way into the bank vault for a spot of literal money laundering in 2016's Brick Bank (set 10251).
10. Snack stat
LEGO minifigures have been enjoying hot-dog sausages since 1998, but they didn't get a bun to go with them until 2016!
11. The power of play
LEGO Group founder Ole Kirk Kristiansen came up with the LEGO name by combining the Danish words "leg godt" meaning "play well". That's Ole below, with his son, Godtfred, and grandson, Kjeld, in 1951!
12. Door details
The car door handles on the MINI Cooper (set 10242) from 2014 are more usually used as minifigure ice skates.
13. All aboard!
In the 1980s, most LEGO trains came with sticker sheets featuring the logos of different national rail operators, so you could customize your train according to your country!
14. Tropical treats
The LEGO® Friends theme was the first to use a decorated minifigure head as a pineapple in LEGO sets.
15. Inspired ideas
Thanks to the LEGO® Ideas theme, lucky LEGO fan builders can see their coolest creations turned into official LEGO sets for everyone to enjoy! For a project to be considered by the LEGO Review Board as a possible set, it needs 10,000 supporters.
LEGO, the LEGO logo, the Minifigure and the Brick and Knob configurations are trademarks of the LEGO Group. ©2017 The LEGO Group. Manufactured by Dorling Kindersley, 80 Strand, London, WC2R 0RL, UK under license from the LEGO Group.
---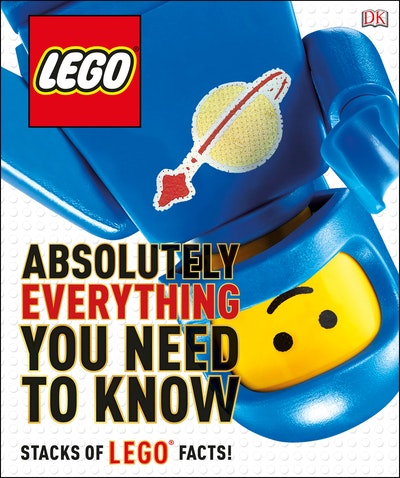 The ultimate collection of LEGO® facts and figures in brick-sized bites of trivia
Buy now
Buy now
---