This delightful recipe from Maggie Beer's Summer Harvest Recipes is sure to delight your guests.
I prefer not to pit cherries when making a tart such as this, as the stone helps keep the shape and flavour of the fruit intact. Be sure to warn your guests, though, before they tuck in.
Serves 6
500 g fresh dark cherries
1 tablespoon castor sugar
2 tablespoons kirsch
CUSTARD
2 large eggs
¼ cup (55 g) castor sugar
¼ cup (50 g) plain flour
½ cup (125 ml) crème fraîche
or sour cream
½ cup (125 ml) cream
grated rind of 1 lemon
butter, for baking
icing sugar, for dusting
Preheat the oven to 200°C. Place the cherries in a shallow baking dish and sprinkle the castor sugar and kirsch over them. Bake for 5–6 minutes or until the cherries are cooked but still firm. Set the cherries aside and reserve the cooking juices.
For the custard, beat the eggs in an electric mixer, then add the castor sugar and beat until frothy. Carefully add the flour and combine, then add 1 tablespoon of the reserved cherry cooking juices, the crème fraîche, cream and lemon rind.
Dot a gratin or small baking dish with a little butter (I use a 30 cm oval copper baking dish), then spread half the custard over the base of the dish. Spoon in the cooked cherries to cover the custard, then add the remaining custard. Bake for 25–30 minutes; the top will be golden and the cherries will appear as little mounds in the custard. Serve warm, dusted with icing sugar.
Hungry for more recipes? Sign up to our foodie email here.
---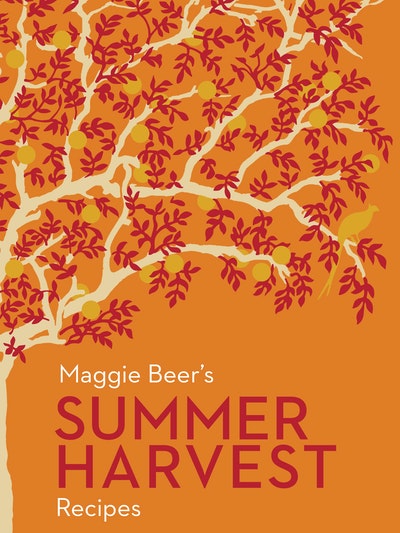 All of the summer recipes from Maggie's Harvest, featuring delicious recipes that make the best of seasonal summer produce.
Buy now
Buy now
---