I just can't cook without a good stock, and a chook stock is the one I use most of all.
While there are a few good stocks on the market, usually made by small producers and these days we make one commercially too, for me nothing touches the homemade. There is something incredibly rewarding about having a pot of stock simmering on the stove, especially knowing that, either reduced or frozen, it might keep you going for a month. It takes so little work and adds so much to your cooking that I urge you to do it.
The better the quality of the original chook the better your stock will be. The skin and bones (with a generous amount of meat still attached) of a mature, well-brought-up bird has not only better flavour but more gelatinous quality. It's truly important not to overcook a stock; your benchmark should be that the meat on the bones is still sweet. An overcooked stock has all the goodness cooked out of it, and the bones have a chalky flavour.
I tend to make my stock in a large batch and then freeze it in 1-litre containers. Using fresh 'bright' vegetables rather than limp leftovers, and roasting the bones and veg before simmering them, gives the stock a wonderful golden colour and a deeper flavour. You only need use enough water to cover the bones and veg by about 7 cm in your stockpot (this way in most cases your stock won't need reducing). Never allow your stock to boil, just bring it to a good simmer, and don't skim it as you'll take the fat – and the flavour – off with it (you can remove the fat easily after the cooked stock has been refrigerated.)
Don't let the stock sit in the pan once it is cooked: strain it straight away, then let it cool before refrigerating.
Makes about 2L of stock
1 large boiling chicken (about 2.2 kg),
cut into pieces (if you are using bones
only, you will need 3 kg)
2 large onions, unpeeled and halved
1 large carrot, roughly chopped
extra virgin olive oil, for cooking
100 ml white wine (optional)
1 large leek, trimmed, cleaned and
roughly chopped
1 stick celery, roughly chopped
1 bay leaf
6 sprigs thyme
6 stalks flat-leaf parsley
1 head garlic, halved widthways
2 very ripe tomatoes, roughly chopped
Preheat the oven to 200°C. Place the chicken pieces, onion and carrot in a roasting pan and drizzle with a little olive oil. Roast for 20 minutes or until chicken and vegetables are golden brown.
Transfer the chicken and vegetables to a large stockpot, then deglaze the roasting pan with wine over high heat, if using. Add the wine with the remaining vegetables and herbs to the pot, and cover with about 2.5 litres water. Simmer, uncovered, for 3–4 hours.
Strain the stock straight away through a sieve into a bowl, then cool by immersing the bowl in a sink of cold water. Refrigerate the stock to let any fat settle on the surface, then remove the fat. The stock will keep for up to 4 days in the refrigerator or for 3 months in the freezer.
To reduce the stock, boil in a saucepan over high heat until it is reduced by three-quarters. When the reduced stock is chilled in the refrigerator, it should set as a jelly; if not, reduce again. Jellied stock will keep in the refrigerator for 2–3 days, and in the freezer for 3 months.
Hungry for more recipes? Sign up to our foodie email here.
---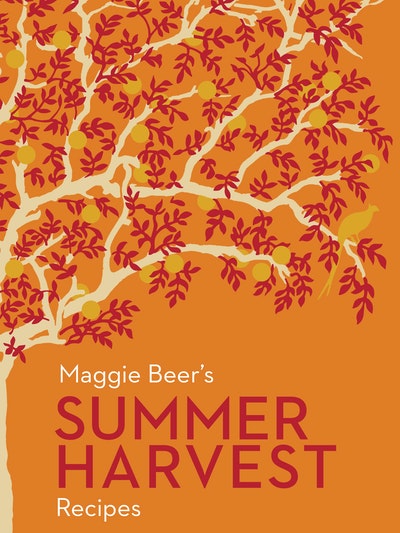 All of the summer recipes from Maggie's Harvest, featuring delicious recipes that make the best of seasonal summer produce.
Buy now
Buy now
---