Try this decadent recipe from Maggie's Kitchen by Maggie Beer.
I do love a good pavlova. My talented team at the Farm Shop makes them at the drop of a hat, so when I suggested we try cooking a chocolate one, we were a little surprised to find it needed a process of trial and error to get it right – funnily enough, everyone was happy to be involved and there was no shortage of volunteers for taking the 'failed' ones home. At first I made the error of overdoing the bitter chocolate component, from a texture rather than flavour point of view. Then it was so rich that it needed something to balance it, hence the addition of vino cotto (but balsamic would work equally as well). The result is richness personified. I like my pavlovas gooey in the centre and I love the chocolatey molten mass, but if you prefer a drier meringue, leave it in the turned-off oven with the door slightly ajar until there is no heat left at all in either the oven or meringue.
I pile raspberries onto the cream at the height of summer, when they are at their very best. However, if I make this in late autumn and it's hotter than we expect, raspberries will be well past their prime, so I use beautiful fresh figs instead – like with all my cooking, it's about going with the seasonal flow.
CHOCOLATE VINO COTTO PAVLOVA
Serves 6-8
Ingredients 
6 free-range egg whites, at room temperature
1 1/2 cups caster sugar
1/4 cup dutch-process cocoa powder
1 tablespoon vino cotto, plus extra for drizzling
40g finely grated dark couverture chocolate (70 per cent cocoa solids), plus extra coarsely grated (optional), to serve
extra virgin olive oil, for brushing
5-6 figs, halved or 300g raspberries
300 ml crème fraîche or double cream
 
METHOD
Preheat conventional oven to 180°C (350°F).
Line a 24 cm baking tray with baking paper. Draw a 23 cm circle on the paper, then set aside.
Beat egg whites in a dry, clean bowl with hand-held electric beaters until soft peaks form. Slowly beat in sugar, a spoonful at a time, continuing to beat until the meringue is stiff and shiny. Sift in cocoa, then add vino cotto and finely grated chocolate and fold gently until cocoa has amalgamated.
Mound meringue mixture onto the baking paper within the marked circle, then smooth the sides and top with a spatula. Place baking tray on the centre shelf of the oven, then immediately reduce temperature to 150°C (300°F) and cook for 60-75 minutes. The pavlova should be crisp around the edges and dry on top, but when you prod the centre it should feel 'squidgy'. Turn oven off, open the door slightly, then leave meringue to cool completely in the oven.
Brush a hot char-grill pan with olive oil, then quickly grill fig halves, cut-sides down, until lightly caramelised and grill marks appear. Remove from heat and leave to cool.
Invert meringue onto a large, flat plate. Pile cream over centre of meringue, then place figs over the top and drizzle with vino cotto (or use fresh raspberries instead if they are in season). Scatter with coarsely grated chocolate if you like, then serve.
---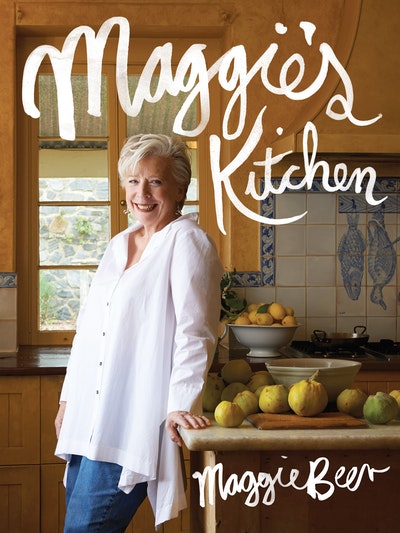 Featuring the seasonal produce that has become synonymous with the name Maggie Beer - sweet quinces, verjuice, Barossa chooks and extra virgin olive oil - this collection will remind us daily of the joys of cooking and the pleasures of the table.
Buy now
Buy now
---