This is the perfect recipe not only for indoors but also for the barbecue.
Drumsticks are another go-to in our house; we think they're the best bit of the chicken. These are coated in garlic, sriracha sauce and plenty of honey to make them sticky, and roasted till the skin is crispy. This is the perfect recipe not only for indoors but also for the barbecue, especially when served with a delicious potato salad. The drumsticks are portable when cold, so are also ideal for a picnic lunch.
Serves 5
Prep  15 mins
Cook 30-35 mins
For the drumsticks
10 drumsticks (700g), skin on
3 tablespoons oil, plus extra for greasing the tray
3 cloves of garlic, minced
4 tablespoons soy sauce
4 tablespoons sriracha sauce
3 tablespoons runny honey
½ teaspoon ground star anise
2 tablespoons cornflour
For the potato salad
567g tin of new potatoes, halved
1 carrot, peeled and grated
6 tablespoons mayo
2 pickled eggs, grated
1 heaped tablespoon wholegrain mustard
1 tablespoon honey
a large handful of chopped fresh chives
a good pinch of salt
chopped fresh coriander, to serve
Start by making the chicken. Put the drumsticks in a large pan and pour water over the top till they are submerged. Pop onto the heat and bring up to the boil, leave to simmer for 5 minutes and then drain. Set aside.
Preheat the oven to 200°C/fan 180°C. Grease a baking tray lightly with oil.
Put the oil, garlic, soy, sriracha, honey, star anise and cornflour in a large bowl and mix well. Pat the chicken pieces dry and mix into the sauce. Lay onto the tray in an even layer and bake for 30 minutes, making sure to turn halfway through.
Make the salad by putting the drained potatoes in a bowl with the grated carrot and mixing together. In a smaller bowl, mix together the mayo, grated egg, wholegrain mustard and honey. Pour the dressing into the potato bowl and mix till coated. Add the chives and salt and mix.
Once ready, sprinkle the chicken with chopped coriander, if you like, and it is ready to serve with the potato salad.
Hungry for more recipes? Sign up to our foodie email here
---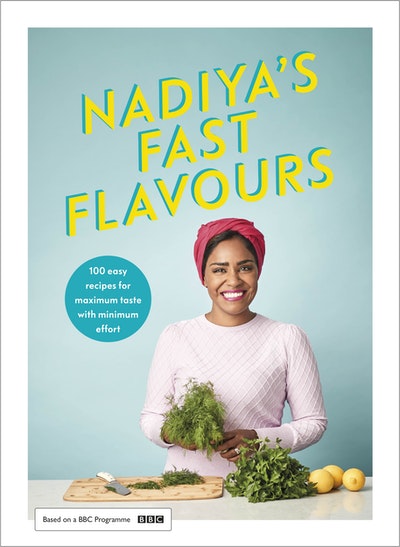 Nadiya's brand new tie-in cookbook to accompany her next BBC2 cookery series airing in autumn 2021
Buy now
Buy now
---