This is toad in the hole, Asian style!
Serves 4
Prep 30 minutes, plus chilling
Cook 50 minutes
For the seekh kebab
500g lamb/beef mince
1 small red onion, very finely diced
a small handful of coriander, chopped
2 tablespoons garam masala
1 tablespoon gram flour/cornflour
1 teaspoon salt
1 medium egg
For the tray
90g clarified butter
1 tablespoon coriander seeds, crushed
2 medium red onions, quartered
1 medium red pepper, cored and cut into chunks
2 tomatoes, quartered
For the batter
140g plain flour
½ teaspoon salt
2 medium eggs
175ml whole milk
This is toad in the hole, Asian style! I'm a big fan of the original, but even with my favourite recipes sometimes I like to mix things up and do what I call 'desi style', so instead of sausages this contains meatballs, made from mince that's spiced gently and cooked with chunks of onions, then enveloped in a simple Yorkshire pudding-type batter.
Start by making the seekh kebab mixture. Add the mince to a bowl with the onion, coriander, garam masala, flour, salt and egg, then get your hands in and mix the whole lot together until you have an even mixture.
Divide into 12 equal mounds. Using wet hands, create small even neat rounds, pop them onto a plate and leave to chill in the fridge while you prep the rest of the recipe.
Preheat the oven to 220°C/fan 200°C/gas 7. Put the ghee into a medium ovenproof roasting dish (about 25 x 30cm) and pop into the oven to melt. This should only take 5 minutes.
Drop in the coriander seeds, onion, red pepper and tomatoes, mix through, then return to the oven to cook for 10 minutes. The perfect time to make your batter.
Add the flour to a bowl with the salt and mix. Make a well in the centre, add the eggs and milk then, using a whisk, bring the thick batter together.
Take the roasting dish out of the oven and carefully place the kebabs in it. Put back into the oven for 10 minutes – just enough to seal the mince.
Take the tray out again and gently reposition everything so there are 3 kebabs per portion and all the veg are nicely placed, before pouring in the batter.
Bake for 20–25 minutes. The batter will puff up and envelop the kebabs as it cooks. Leave for 10 minutes before serving.
Taken from Nadiya Bakes by Nadiya Hussain (Michael Joseph). Photos by Chris Terry.
---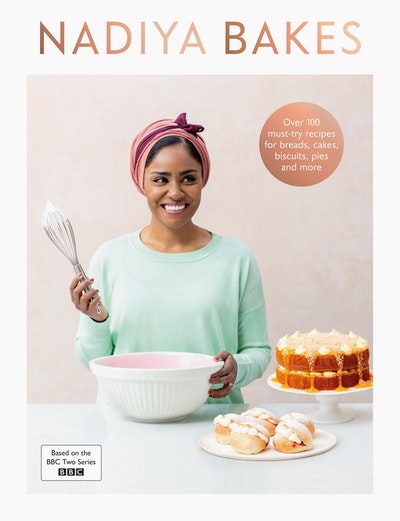 Nadiya's brand new tie-in cookbook to accompany her autumn 2020 BBC2 cookery series
Buy now
Buy now
---