A sweet, oaty, hazelnutty base filled with a banana ice cream 'cheesecake' layer, then topped with blueberry compote. Yum!
Serves 8–12
Prep 30 minutes, plus chilling and freezing
Cook 15 minutes
For the base
160g porridge oats
160g roasted whole hazelnuts
60ml coconut oil, plus extra for greasing
For the tin
185g golden syrup
a pinch of salt
For the filling
7 bananas, chopped and frozen, about 580g
2 tablespoons golden syrup
½ teaspoon ground cinnamon
1 tablespoon cocoa powder
For the compote
250g fresh or frozen blueberries
½ lemon, zest and juice
100g caster sugar
Cheesecake in any form is a winner for me and this is a simple no-bake ice cream version, which also happens to be vegan. Its sweet, oaty, hazelnutty base is filled with a banana ice cream 'cheesecake' layer, then topped with a warm blueberry compote.
 Start by lining and lightly greasing the base and sides of a 20cm round loose-bottom tin, 7.5cm deep.
Make the base of the cheesecake by toasting the oats and the hazelnuts in a large frying pan on a medium heat for about 5 minutes until they just start to turn a golden brown, making sure to stir all the time to keep the oats moving. Pop them straight into a food processor and blitz to a fine crumb.
Now add the coconut oil and the golden syrup and blitz again till it all clumps together.
Throw the mixture into the prepped tin and, using the back of a spoon, press into the base and 2.5cm of the sides. Leave the base to chill while you make the filling.
Make the topping by taking out the frozen chopped bananas and adding to a food processor with the golden syrup, cinnamon and cocoa. As tempted as you might be to begin whizzing, walk away for 5 minutes and allow the bananas to defrost just very slightly so that they process more easily, then blitz till you have what looks like a soft-scoop ice cream.
Quickly spoon the mixture on top of the prepped base and pop into the freezer till you are ready to eat.
When you are ready to eat, make the compote by adding the blueberries, lemon zest and juice and sugar to a pan and stirring over a medium heat till the blueberries have just softened. This should only take a few minutes. You can make the compote well in advance and, if you do, keep it chilled in the fridge until serving.
Take the cheesecake out of the freezer, slide it out of the cake tin and put it onto your serving dish. Add the warm compote on top and leave for just a few minutes before slicing and enjoying.
TAKEN FROM NADIYA BAKES BY NADIYA HUSSAIN (MICHAEL JOSEPH). PHOTOS BY CHRIS TERRY.
---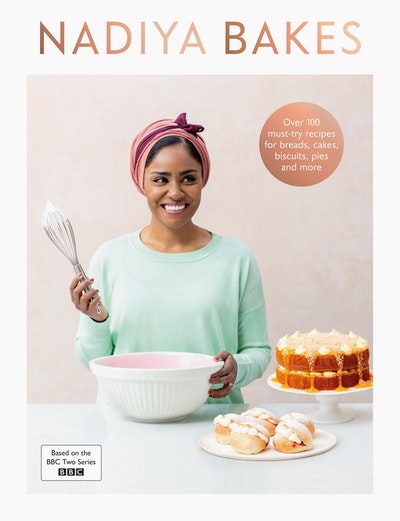 Nadiya's brand new tie-in cookbook to accompany her autumn 2020 BBC2 cookery series
Buy now
Buy now
---