A delicious rice dish from Matt Preston's World of Flavour.
Serves 4
Prep 20 minutes (plus cooling)
Cook 25 minutes
Myth
Rice is just an ingredient in Korean food.
My Truth
Rice isn't just rice, or ssal, in Korea. Cook it and it becomes bap, which means so much more than just 'cooked rice'. It has value akin to that of bread in some cultures – like the Korean equivalent of the staff of life – and bap has become synonymous not just with a whole meal but also the feeling of wellbeing and hospitality that comes with it. Rice is Korean food. There is no 'just' about it.
Bibimbap – literally 'mixed rice' in Hangul script – has been mentioned in print since the late sixteenth century. It was initially known by a number of Chinese names, one of which rather charmingly translates as 'dizzy rice'. The first recording of the name bibimbap was not until the first half of the nineteenth century, in a collection of writing on various cultural topics by Minister Yi Gyu-bo of Korea that lists over a dozen different bibimbaps, including salted shrimp, marinated crab and soybean sprout. The first recipe for the dish appeared later in that century.
It's basically a farmer's leftovers meal that uses up cooked rice, veg, meat and banchan, those copious Korean side dishes (such as, most famously, kimchi), with other traditional flavours like gochujang chilli paste mixed in. Served cold, warm or in a searing-hot stone bowl, the 'mixed' element can be as much about combining the ingredients and dressing the rice as it is about mixing the deliciously crunchy toasted rice at the bottom of a hot bowl with the rest of the dish.
Bearing in mind Minister Yi Gyu-bo's nineteenth-century soybean-sprout bibimbap, it seemed perfectly logical to add mung beans and other sprouts to ours, positioning it less as a crunchy hot bowl (which is hard to do well at home) and more as a predecessor to the modern trend of 'bowl food' alongside the Hawaiian poke bowl.
There are only two rules to remember with this bibimbap – first, it must be served piping hot, and second, the egg yolk must be runny enough to mix through the bowl. If you want, you can just add an egg yolk instead of cooking a runny fried egg.
¼ cup (60 ml) rice wine vinegar
½ teaspoon caster sugar
½ teaspoon sea salt, plus extra to season
4 Dutch (baby) carrots, thinly sliced lengthways or shaved with a vegetable peeler
1 cup (200 g) sushi rice (or Arborio in a pinch)
2 tablespoons barbecue sauce
1 tablespoon gochujang chilli paste
2 teaspoons sesame oil
100 ml vegetable oil
300 g shiitake mushrooms
2 garlic cloves, sliced
4 eggs
250 g mixed sprouts (I used mung, chickpea, onion and lentil)
100 g bean sprouts
1 tablespoon sesame seeds, toasted
150 g sugar snap peas, blanched
¼ cup (60 ml) soy sauce
gochugaru or Japanese togarashi chilli flakes, to serve (see Tip)
Tip
You'll find gochugaru or togarashi chilli flakes in Asian grocery shops. The Koreans are justifiably very proud of their gochugaru, as the heat and flavour in it is much more mellow than everyday supermarket chilli powder.
Preheat oven to 200°C (180°C fan-forced) and line a baking tray with baking paper.
Combine the vinegar, sugar and salt in a bowl. Add the carrots and toss to combine. Set aside to pickle while you prep the rest.
Place the rice and 1½ cups (375 ml) water in a saucepan and place over medium heat. Bring to a simmer, cover, then reduce the heat to low and cook for 10 minutes or until rice is tender and water has been absorbed. Uncover and set aside to cool.
Combine the barbecue sauce, gochujang, sesame oil and 1 tablespoon of the vegetable oil in a bowl. Season with salt. Add the mushrooms and toss to coat, then arrange on the lined tray. Roast for 15 minutes or until tender and slightly charred.
While the mushrooms are roasting, heat the remaining ⅓ cup (80 ml) vegetable oil in a non-stick frying pan over medium-low heat. Add the garlic and cook for 1–2minutes, or until golden and the oil is perfumed. Crack in the eggs and cook until whites are just set but yolks are runny.
Combine the rice with the sprouts and sesame seeds, and divide among serving bowls. Top with the fried eggs, mushrooms, pickled carrot and sugar snaps. Drizzle with soy sauce and sprinkle with gochugaru or chilli flakes.
---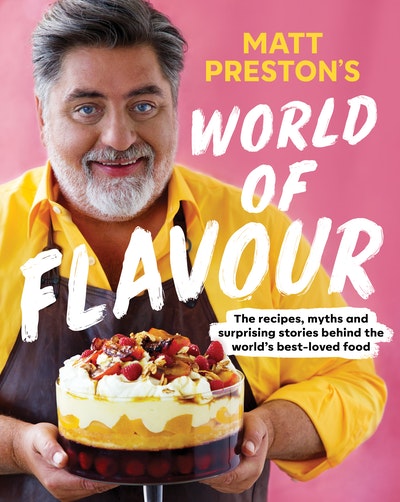 Cook up delicious food from around the world right in your kitchen, with Matt as your wise and entertaining guide.
Buy now
Buy now
---