A traditional Swedish bun recipe with a hint of caraway from The Little Swedish Kitchen.
One of the first words I learnt in Swedish was bullar, or buns. Not only am I a firm believer that the best way to learn a language is through food, but also because it's a word that crops up time and time again when talking about Swedish cuisine. Buns are very popular: you have the infamous; kanelbullar (cinnamon buns, which are celebrated in Sweden on 4 October every year); kardemummabullar (cardamom buns); fastlagsbullar (fasting buns); vaniljbullar (vanilla custard buns); lussebullar (saffron buns) . . . I could have written a whole chapter on buns alone.
My aunt-in-law told me when I handed her yet another batch of freshly baked buns (she lives next door and is a very willing recipe taster) that Swedes just can't get enough of buns, and neither can I. I've gone for a rustic approach here, with a rye and spelt flour combination. Apple, cheese and caraway is one of my favourite flavour combinations, but you can easily replace the warm aniseed notes of caraway with some chopped walnuts instead.
APPLE AND CHEESE SPELT BUNS
Makes 12
Vegetarian
Prep time: 30 mins
Proving time: 6 hours or overnight
Baking time: 15-20 mins
INGREDIENTS
For the leaven:
10g fresh yeast or 1 tsp instant dry yeast
280ml whole milk at room temperature
140g spelt flour
For the bun dough:
200g spelt flour, plus extra for dusting
110g rye flour
1tsp fine sea salt
50g butter, melted
30g honey
1 medium egg
For the filling:
1 egg, beaten, for egg wash
200g grated Västerbotten or mature Cheddar cheese
2 tbsp caraway seeds
1 ½ medium apples, cored, quartered and diced into 5mm pieces
METHOD
To make the leaven, dissolve the yeast in the milk. Sift in the 140g of spelt flour to make a paste, then whisk until the mix is smooth. Leave covered with a damp tea towel in a warm place for about 1 hour until it has risen and dropped.
Next, mix together the 200g spelt flour, the rye flour and the salt. Make a well in the middle and add the remaining ingredients, plus the leaven. Mix together until you have a sticky dough, then turn out on to a lightly floured surface and knead until the dough is soft and smooth. Your fingerprint should bounce back when you poke it. Cover with a damp tea towel and leave to rise in a warm place for 4 hours until doubled in size.
When the dough has risen, dust your work surface with flour. Roll the dough into a large rectangle until 0.5cm thick (about 45cm long x 35cm wide). Brush with egg wash, then sprinkle on the cheese and caraway seeds and scatter over the apple cubes.
Line two baking trays with baking paper.
Fold the dough into thirds lengthwise, first lifting a third of the dough towards the middle, then folding the top third down so it aligns with the bottom edge of the dough.
Cut the dough into strips about 3cm wide. Cut each of the strips to split them down the middle but stop about 2cm from the top, just like you're making a pair of trousers. Twist one of the strips, then the other strip. Then twist them both together. Twist into a bun shape and place seam side down on one of the lined trays.
Repeat with the remaining dough, then brush with egg wash and leave to prove for about 1 hour.
Preheat the oven to 220°C/fan 200°C/gas 7. Egg wash the buns once more, then put into the oven on the bottom shelf for 15-20 minutes or until golden and cooked through. Remove from the oven and place on a wire rack to cool.
Best eaten slightly warm and fresh on the day.
 
Get ahead
The dough can be left overnight in the fridge after its 4-hour proving time.
You can also freeze the baked buns. Reheat at 170°C/fan 150°C/gas 3 for 15 minutes.
---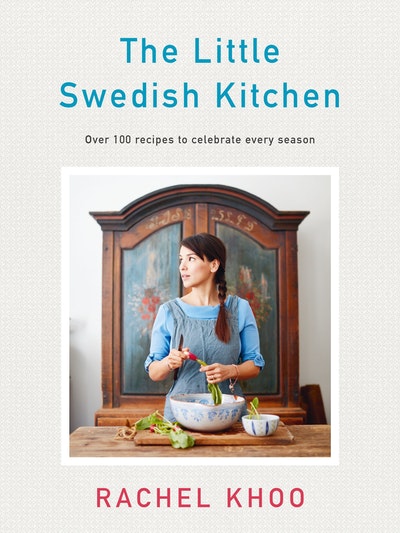 The bestselling author of The Little Paris Kitchen shares over 100 joyful, seasonal recipes from her new Swedish kitchen
Buy now
Buy now
---