Fill your home with the aroma of festive spices this Christmas.
This is the most popular biscuit we bake. You know when they are almost done because the kitchen is filled with the most enticing aroma of warm spices and golden syrup. Children love the idea of baking them, attracted by the idea of making something they have read about in their bedtime books and also something they have creative control over, modelling the final shapes with their little hands. So much so that gingerbread-making parties have become quite an activity on cold winter's afternoons.

Gingerbread Men
Makes about 10 (The total number of gingerbread men will vary, depending on the size of the cutter.)
INGREDIENTS
120 g butter
100 g caster sugar, plus extra for sprinkling (optional)
2 egg yolks
40 g golden syrup (about 1 heaped tablespoon)
280 g plain flour
1 teaspoon baking powder
½ teaspoon bicarbonate of soda
1 teaspoon ground ginger
2 teaspoons ground cinnamon
1 teaspoon mixed spice
½ teaspoon table salt
egg white, for brushing (optional)
Icing:
1 egg white
200 g icing sugar
1 tablespoon lemon juice

METHOD
In a large bowl, cream the butter and sugar until pale and creamy, but not fluffy. Add the egg yolks and golden syrup and mix well.
Place the flour, baking powder, bicarbonate of soda, ground spices and salt in a large bowl and mix with a whisk. Add to the butter mixture and mix well until it forms a uniform dough. Roll into a ball, cover with plastic film and allow to rest in the fridge for at least 1 hour.
Preheat the oven to 170°C/150°C fan. Line a large baking tray with baking paper.
Place the dough on a lightly floured surface and, using a lightly floured rolling pin, roll it out until it is 4 mm thick. Using a lightly floured cutter, cut the dough into gingerbread men shapes. Bring any unused dough together and roll out again, without over-working it. Cut it into more shapes.

Place the gingerbread men on the prepared tray, leaving about 2 cm between each one.
Bake for about 15 minutes or until the gingerbread darkens and the smell of spices permeates the kitchen. Cool on the tray for a few minutes, then transfer to a wire rack to cool completely.
To make the icing, beat the egg white with a whisk until soft peaks form. Gradually sift in the icing sugar and then slowly add the lemon juice and blend until smooth.
Place the icing in a piping bag fitted with a thin nozzle and use to decorate the gingerbread men.
Gingerbread men will keep in an airtight container for several months.
TIP: If you are not going to decorate them with icing, brush the gingerbread men with a little egg white and sprinkle with extra sugar.
---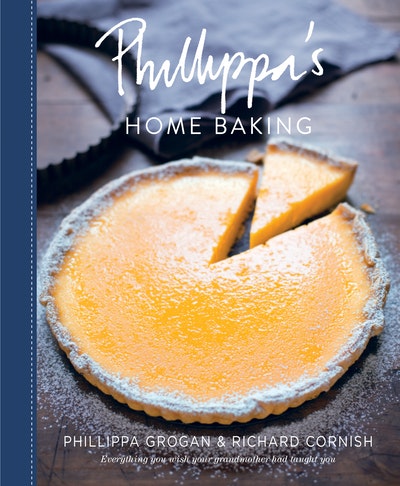 In this inspiring and generous book, written with Richard Cornish, Phillippa shares more than 140 reliable recipes from Australia, New Zealand and beyond, gathered from family, friends and her travels. What's more, she hands on her precious baking wisdom, from baker to baker, to guarantee you'll enjoy all the rewards of successful home baking for your loved ones.
Buy now
Buy now
---