Try this egg- and butter-free cake recipe from Phillippa's Home Baking.
This is one of the easiest cake recipes I know. I found the original version when I was sticky-beaking through a friend's kitchen shelves and found a school community cookbook that looked interesting enough for me to try and track down. I trust these recipes because someone has invested a lot of time, love and pride into making sure the recipe works, because failure in front of the whole school community is to be avoided at all costs! This cake is interesting because the batter is made without butter or eggs and has a lovely deep-purple hue when baked.
RASPBERRY COCONUT TEACAKE
Serves 8–10
Ingredients
135g desiccated coconut
375ml milk
200g fresh or frozen raspberries
300g caster sugar
225g self-raising flour
butter, to serve (optional)
 
Method
Preheat the oven to 180°C/160°C fan. Line the base of a 21cm × 11cm loaf tin with baking paper and butter and flour the sides.
Place the coconut, milk, raspberries, sugar and flour in a bowl and mix with a whisk or wooden spoon to form a smooth batter. (You could also do this in a freestanding mixer with a paddle.)
Pour or spoon the batter into the tin and bake on the centre shelf of the oven for 1¼ hours or until a skewer inserted in the centre comes out clean. Remove from the oven and rest in the tin for 5 minutes, then turn out the cake onto a wire rack to cool completely. Cut into slices and serve plain or with butter.
The cake will keep in an airtight container for up to 4 days.
If you would like to ice the cake, as we have in the photograph, blend together the juice of 5 sieved raspberries, 100g icing sugar and a teaspoon or so of boiling water to achieve a runny consistency. Drizzle over the cooled cake and finish with a handful of toasted coconut.
---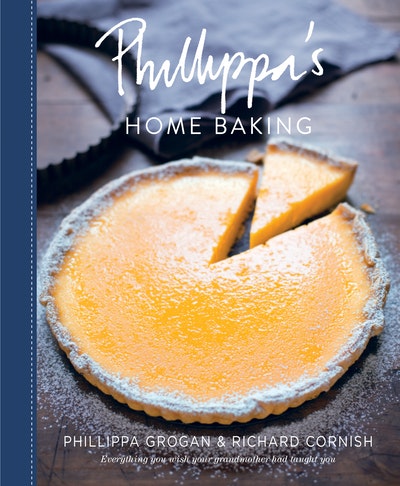 In this inspiring and generous book, written with Richard Cornish, Phillippa shares more than 140 reliable recipes from Australia, New Zealand and beyond, gathered from family, friends and her travels. What's more, she hands on her precious baking wisdom, from baker to baker, to guarantee you'll enjoy all the rewards of successful home baking for your loved ones.
Buy now
Buy now
---