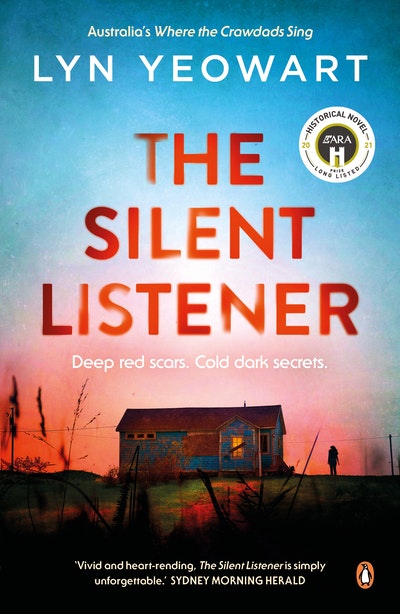 Published:

1 February 2022

ISBN:

9781761046735

Imprint:

Penguin

Format:

Paperback

Pages:

480

RRP:

$19.99
The Silent Listener
---
---
---
'A wickedly dark debut - haunting and unputdownable.' Christian White, author of The Nowhere Child
'The Silent Listener is simply unforgettable.' Sydney Morning Herald
'A tale of suspense and revenge, beautifully written.' The Age
'A deftly wrought suspense novel from a remarkable new literary talent . . . A book that should be atop of everyone's reading list.' J. P. Pomare, author of Call Me Evie
A missing 9-year-old girl... An old man murdered when he had only days to live... An 'accident' from long ago that no one talks about.
Joy Henderson's family is drowning in fear, secrets and lies. Even as a child, she's aware of her father's two sides: much-loved pillar of the community in public, diabolical monster behind closed doors.
Twenty years later, when Joy returns to the family's remote farm to care for him on his deathbed, she decides it's time that everyone knows the truth...
With her sister Ruth whispering dark words of revenge, Joy sets about making sure that her father pays dearly for his past.
But the best laid plans never unfold quite the way you expect them to…
Set in rural Australia - where the weather, the isolation, and the secrets are extreme – The Silent Listener is a book that grips you from its opening sentence to its unforgettable ending.
****

'A book that should be atop of everyone's reading list. The prose is spectacular, and the characters so richly imagined. This is a novel about inherited violence and redemption packaged as a cracking psychological thriller.' J. P. Pomare, author of Call Me Evie
'Intense, intricate, emotionally devastating. This is proper Australian gothica.' Liam Pieper, author of Sweetness and Light
'Totally addictive.' Books+Publishing
'A cracking thriller with heart. It intrigues, it twists and turns, it deftly combines the muddy domestic details of life on a Victorian farm with a black, Gothic sensibility of lies and violence and the heartbreaking fantasy world of a young child.' Jane Sullivan
'Any book that keeps the reader up past midnight, gorging on words, has a lot going for it. The Silent Listener is just such a book; it's almost impossible to stop reading.' Canberra Times
'Steeped in atmosphere and with taut, intricate plotting, The Silent Listener, contrary to its title, had me audibly gasping throughout.' Benjamin Stevenson, author of Either Side of Midnight

Published:

1 February 2022

ISBN:

9781761046735

Imprint:

Penguin

Format:

Paperback

Pages:

480

RRP:

$19.99
Praise for The Silent Listener
Any book that keeps the reader up past midnight, gorging on words, has a lot going for it. The Silent Listener is just such a book; it's almost impossible to stop reading.

Canberra Times
An ingenious form of storytelling archaeology: down through layers of family trauma, the truths are finally brought to light.

Jock Serong, author of The Rules of Backyard Cricket
An accomplished debut … [an] intriguing and assured new voice in Australian crime writing.

Good Reading
Intense, horrific, utterly devastating and totally addictive . . . it will stay with you long after you've read the final word.

Books and Publishing
With this intense, powerful and deeply disturbing novel, Yeowart has made a chillingly memorable first impression.

The Big Issue
A heart-breaking, terrifying and stunningly accomplished novel that had me holding my breath. Yeowart instantly pulled me into the life of a rural family dominated by an angry, insecure despot from its unnerving beginnings to its shocking end.

Kirsten Alexander, author of Half Moon Lake