The Future Women team reflect on the themes of Untold Resilience and extraordinary women interviewed for the book.
Courage, love, hope, equality, wisdom, empathy, legacy, survival, solidarity and resilience: things each of us reach, yearn and strive for. And they're just some of the themes explored via the stories of the diverse and fascinating women we get to know in in Untold Resilience. Here the Future Women crew highlight some of the powerful human qualities revealed through the stories told in this timely and uplifting book.
Courage: 'Phoebe Wynn-Pope is a human being of exemplary character whose determination to help others saw her spend years living in war and disaster zones. Phoebe is not one for the comfortable life but rather the kind of person who "runs towards the fire". Driven by empathy and compassion, her courage is something to behold.' – Jamila Rizvi

Love: 'Donna Meehan is the embodiment of love because she remains loving and hopeful in spite of it all. In spite of being ripped away from her family at five, in spite of facing systemic racism. Love for her people is the fuel she uses to drive her work in the community and love for herself is the force she leans on to take a break.' – Emily J Brooks

Hope: 'Alice Moshi fled war-torn Iraq with six daughters never losing hope they would one day be safe. Even after the death of her husband, when she teetered on the brink of a breakdown, Alice found hope and a path forward and led her family to safety.' – Helen McCabe

Equality: 'Val Reilly is a survivor. She doesn't have time for self-pity and has never asked "Why me?" Instead, she fought for her safety, her children and her future. Val courageously paved her own path during a time when women were not considered equals.' – Becky Hansen

Wisdom: 'Faye Snaith is 92 years old and her lessons for life are pretty simple really. Be happy with what you've got and if it's raining, don't go outside and get wet. She proves that mindfulness is nothing fancy – and also timeless. That's the world according to Faye.' – Kristine Ziwica

Empathy: 'Dorothy McRae-McMahon manages to be both a gentle and fierce defender of LGBTQIA+ Australians. She is a woman with enormous capacity for empathy who has built communities and shown kindness in the face of incredible cruelty and hate. Her story is a strong reminder of the incredible grassroots work women do to improve the lives of others.' – Venetia Vecellio

Legacy: 'Audrey Fernandes-Satar's family lived most of her life as outsiders plagued by discrimination. She fought back with a quiet resistance, never accepting that she was inferior. Education was empowerment and she's made it her life's work – an invaluable legacy for her children and students.' – Emily Joyce

Survival: 'Be Ha has shown courage beyond my wildest imagination. Her journey from Vietnam to Australia was not only dangerous but emotionally devastating, as Be left so many of her family members behind. Her determination and bravery will stay with me forever. Her survival is a triumph.' – Jamila Rizvi

Solidarity: 'I love imagining Lilia's tenderness with the elderly people she worked with when she first came to Australia from Yugoslavia, what is now Croatia. Lila didn't know a word of English, but she led with empathy and gentleness and hard work.' – Kate Leaver

Resilience: 'For nine-year-old Dottie Hobson, to be resilient was to survive. Removed from her home, she –and the Kuuku Ya'u people – suffered an immeasurable loss of culture. We can all learn from what she did next: she stood up, with honour and with heart, for what she, and so many like her, had lost.' – Patti Andrews
---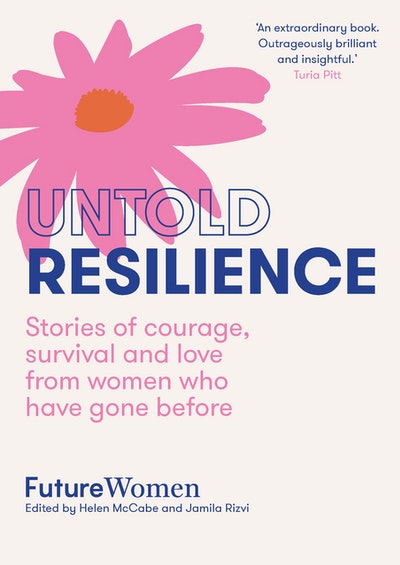 A timely and uplifting book of true stories from 19 women whose resilience has seen them survive extraordinary global and personal tragedy.
Buy now
Buy now
---