The Island on the Edge of the World author on the inspiration behind the novel.
Tell us about the genesis of your protagonist, Charlie. 
I come from a family of hairdressers: my mom, myself, and my son Noah. Hairdressers are great listeners. They can get themselves mixed up in all sorts of dramas. Most are problem solvers, are empathetic, and have a keen intuition (at least the good ones do, or they won't be in business very long.) And, honestly, most are kind of quirky.
When we meet Charlie, she has taken over the Bea's Hive salon from her hairdresser grandmother, Bea. Both characters feel so familiar to me. Telling a story from a perspective of a hairdresser is as natural as breathing.
I see a little of the young me in Charlie, and I hope that I become just like Bea, my eccentric psychic, when I grow up. I am looking forward to both Bea and Charlie joining us in more books.
What is the genesis of this story?
One day I received a phone call from my son Zach in Northern Virginia. I could hear that sound in his voice, the one where you know your child has gotten himself into trouble. He began to tell me about a girl he'd started to date. I figured it wasn't too serious yet, as this was the first time I was hearing about her. He told me how smart she was, how nice she was, all the things a mother wants to hear.
He told me that Aretha was not from the United States, that she was from Nigeria. He told me about her family; that her father was a four-star general in the Nigerian army and had died, that she had eleven brothers and sisters spread between the USA, Turkey, the UK, and Nigeria. That her mother had come to the United States to visit her older sister and while there, passed away, leaving Aretha without a mother or father. Aretha was granted a visa to attend her mother's funeral in the US, and, afterward, her sister didn't want her to go back to live alone in Nigeria, so they enrolled her in school, and she stayed on with a student visa.
Then finally, Zach told me that Aretha was pregnant. It took me a minute to process this information but, always striving to be a supportive mom and, more importantly, wanting my sons to be responsible for their actions, I did my best to be understanding. But I was not prepared for the rest of the story.
'It is possible,' Zach said, 'that before the baby is born, Aretha will have to go back to Nigeria.' He added that her sister had applied for a permanent visa for her, but that can take years, and she was still waiting for an interview. My mind began to whirl. She might have to go back to Nigeria? Will she ever be able to return to the United States? Will I ever see my grandchild? Should Zach marry her right away to keep her in the country? Is Zach ready to be a father? I decided I needed to get answers to my questions, so I booked a flight to Northern Virginia.
Long story short, six years later they are happily married, expecting their third child.
But I kept going back to the 'what ifs'. After our sweet baby Silas was born, I couldn't help but think about how far would I go to find my grandchild. Would I go to the ends of the earth? The answer was a firm yes. I still have anxiety attacks thinking of all the other possibilities that could have occurred. What if Aretha had gone back to Nigeria not knowing she was pregnant? Or what if she had gone back deciding she didn't want Zach in her life? What if I never had the chance to hold my beautiful grandson in my arms? I continued to be haunted by this, to the point of the anxiety, and it became the inspiration for the plot of this novel.
Why Haiti?
While searching for a location for this particular story, I was put in touch with an American woman who has been doing work in Haiti for 25 years. She's visited the country 50 times. We talked, and she convinced me that it was the perfect location, that this was an excellent opportunity to tell the story behind the Haitian orphanage situation, as well as shedding some light on the unintended consequences of many of the humanitarian efforts directed at the country.
My biggest takeaway after talking with her? Leading with your heart isn't necessarily the best way to create positive change. It made me question the way I'd been approaching some of my own humanitarian efforts. And after visiting Haiti? Well, I've learned just how complicated things can be. Haiti is such a misunderstood country. But hopefully this story will help people see things just a little more clearly, and inspire them to do some good in a way that actually does good. 
---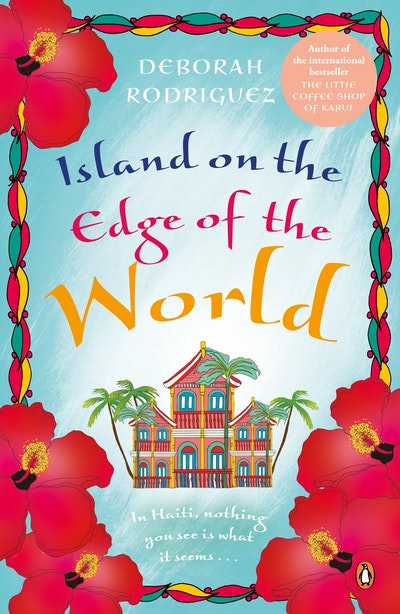 The stunning new novel from Deborah Rodriguez transports us to troubled, mysterious and tropical Haiti for a story of friendship, love and survival.
Buy now
Buy now
---