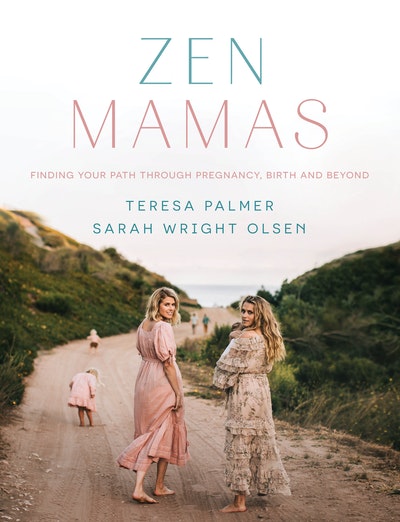 Published:

15 April 2020

ISBN:

9781760892807

Imprint:

Ebury Illustrated

Format:

Paperback

Pages:

296

RRP:

$34.99
Zen Mamas
Finding your path through pregnancy, birth and beyond
---
---
---
The founders of the popular blog Your Zen Mama share their experiences and tips on becoming a mother – while trying to stay Zen! – in this practical and beautiful book.
Being Zen(ish) is what we call it – and it's the ish that we endorse!
Teresa Palmer and Sarah Wright Olsen are two mums from opposite sides of the world who are doing their best to raise happy, empathetic children while working, travelling and maintaining their sanity. With six kids between them, the founders of the much-loved Your Zen Mama blog know as well as anyone that motherhood doesn't exist in the highlight reel of life, and that finding even a fleeting semblance of calm amongst the epic ebbs and flows of being a parent is usually all you can hope for!
So, forget perfection and prepare to get real, vulnerable and dirty (mostly from guacamole) with Sarah and Teresa as they delve into their journeys of motherhood and share some of the knowledge they've collected over the years from the Your Zen Mama community, from their expert mentors and through being in the trenches of parenthood themselves. From prepping for pregnancy all the way through to birth, the first twelve weeks with your newborn and figuring out the kind of parent you want to be long-term, they share their personal struggles, joyful moments and hard-won realisations.
Whether it's dealing with fertility challenges or pregnancy loss, riding out a long and complicated labour or juggling multiple kids (and work!), these mamas have been through it – and have written this gorgeous book to help you find your own glimpses of Zen along the way, too.
Published:

15 April 2020

ISBN:

9781760892807

Imprint:

Ebury Illustrated

Format:

Paperback

Pages:

296

RRP:

$34.99
A beautiful, honest, well-rounded look at conception, pregnancy, motherhood and everything in-between

Kiddo
A refreshingly non-preachy approach to pregnancy, birth and beyond [...] There's no annoying "you should be doing this" or anxiety-inducing "you must reach these milestone" checklists. Just compassionate, informed advice, peppered with heartfelt (sometimes heartbreaking) accounts of Teresa and Sarah's own pregnancies

The Wayward
This inspiring and informative book makes an ideal present for those mums seeking to find a semblance of "calm, acceptance and presence among the inevitable pandemonium"

Canberra Weekly
A candid and practical guide on remaining Zen while embracing motherhood [...] the perfect companion to keep you company through this uncertain time

Holidays with Kids
Article
Stolen moments
Even if 'Zen' is unattainable right now, you can still strive for 'Zen(ish)'.