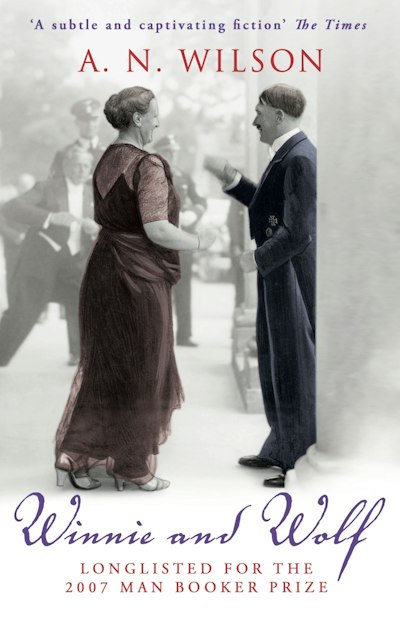 Published:

8 June 2011

ISBN:

9781446493045

Imprint:

Cornerstone Digital

Format:

EBook

Pages:

368
Winnie And Wolf
---
---
---
Longlisted for the Man Booker Prize 2007
'An outstanding novel, brilliantly imaginative and hypnotically readable'
Selina Hastings, Books of the Year, Sunday Telegraph
Winnie and Wolf is the story of the extraordinary relationship between Winifred Wagner and Adolf Hitler that took place during the years 1923-40, as seen through the eyes of the secretary at the Wagner house in Bayreuth.
Winifred, an English girl, brought up in an orphanage in East Grinstead, married at the age of eighteen to the son of Germany's most controversial genius, is a passionate Germanophile, a Wagnerian dreamer, a Teutonic patriot.
In the debacle of the post-Versailles world, the Wagner family hope for the coming, not of a warrior, a fearless Siegfried, but of a Parsifal, a mystic idealist, a redeemer-figure. In 1923, they meet their Parsifal - a wild-eyed Viennese opera-fanatic in a trilby hat, a mac and a badly fitting suit. Hitler has already made a name for himself in some sections of German society through rabble-rousing and street corner speeches. It is Winifred, though, who believes she can really see his poetry. Almost at once they drop formalities and call one another 'Du' rather than 'Sie'. She is Winnie and he is Wolf.
Like Winnie, Hitler was an outsider. Like her, he was haunted by the impossibility of reconciling the pursuit of love and the pursuit of power; the ultimate inevitability, if you pursued power, of destruction. Both had known the humiliations of poverty. Both felt angry and excluded by society. Both found each other in an unusual kinship that expressed itself through a love of opera.
Published:

8 June 2011

ISBN:

9781446493045

Imprint:

Cornerstone Digital

Format:

EBook

Pages:

368
Praise for Winnie And Wolf
An extraordinary work whose achievements are almost Wagnerian in scale

Daily Mail
A subtle and captivating fiction

The Times
A bold, ambitious piece of fiction

Terry Eagleton, Guardian
This novel should carry a warning: its appeal will be greatest for fans either of Wagner and European history, or of politics and philosophy

Sunday Times
Winnie and Wolf is a novel rich in philosophical reference - Nietzsche, Heidegger, Wittgenstein, thorny as you like - and ruminative pleasures

Evening Standard
Winnie and Wolf tells a convincing story; it is an emotionally fraught account of German Kultur at war and peace... A.N. Wilson's art is to create a richly chromatic drama of a Romantic Germany, darkened by the atonal experiments of Schoenberg, Hindemith, and Leverkühn, and the murderous ideas of Wolf

Times Literary Supplement
What Nazism owed to the British Empire fascinates Wilson, and his invention of Hitler's Americanised offspring invites us to relive the macabre history while acknowledging our own uncomfortable complicity in it... Bravely ambitious

Independent
Deeply clever and gripping... Vividly presented and immaculately researched

Spectator
Wilson's achievement is startling... Most contemporary English fiction looks rather etiolated and pointless by comparison

Hywel Williams, Guardian
A thoroughly engrossing read... A.N. Wilson offers a plethora of fascinating ideas on politics, philosophy and, above all, the music of Wagner... Winnie and Wolf vividly brings to life a place, a time and an extraordinary family

Mail on Sunday
It would be hard to name a more ambitious recent work of fiction... Wilson brilliantly evokes Wagner's music

Financial Times
Wilson has done his research impeccably and he writes superbly well

Literary Review