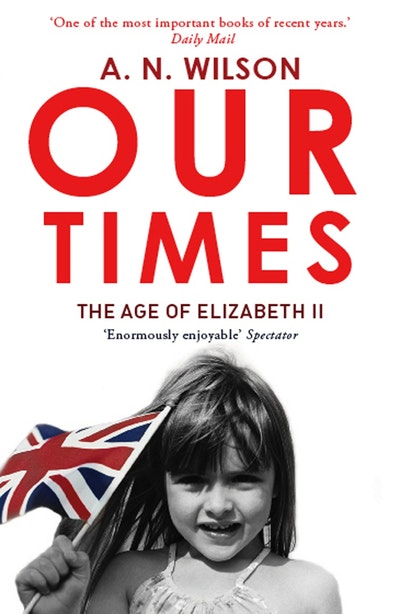 Published:

30 September 2011

ISBN:

9781446493014

Imprint:

Cornerstone Digital

Format:

EBook

Pages:

528
Our Times
---
---
---
The third part in A.N. Wilson's magisterial history of Britain, which includes the critically acclaimed and bestselling The Victorians and After the Victorians, brings the reader up to the present day.
When Queen Elizabeth II was crowned in 1953, many proclaimed the start of a new Elizabethan Age. Few had any inkling, however, of the stupendous changes that would take place over the next 50 years, in Britain and around the world.
In Our Times, A.N. Wilson takes the reader on an exhilarating journey from that day to this. With his acute eye not just for the broad social and cultural sweep but also for the telling detail, he brilliantly distils half a century of unprecedented social and political change.
Here are the defining events and characters of the modern age, from the Suez crisis to Vietnam, The Beatles to Princess Diana, the miners' strike to the Cold War. Here are the Angry Young Men, the satirists of Beyond the Fringe, Ruth Ellis and the abolition of hanging, the rise of pop culture and celebrity, industrial unrest and the Winter of Discontent, the Thatcher era and the eventual collapse of the Soviet Union. This book will propel you from post-war austerity - an age of deference in which men wore hats and women wore gloves - through the alterations in our social landscape to the multi-cultural Britain of today. Despite the appalling tyrannies that have taken place in the world, Wilson argues that in the last fifty years Britain has known a period of prosperity and peace without precedent in its history.
With Our Times, A.N. Wilson triumphantly concludes the acclaimed trilogy which includes The Victorians and After the Victorians. It makes compelling reading for anyone interested in the forces that have shaped our world.
Published:

30 September 2011

ISBN:

9781446493014

Imprint:

Cornerstone Digital

Format:

EBook

Pages:

528
A very funny, extremely opinionated, always provocative and often thoughtful read... Wilson is endlessly entertaining

Dominic Sandbrook, Observer
One of the most important books of recent years

Daily Mail
This is an enormously enjoyable book, a non-systematic, chatty and wilful piece of work, slaloming through familiar terrain with brio and dash rather than statistics and documents

Sam Leith, Spectator
The story is told with a verve that catches the excitement of a turbulent era

Roy Hattersley, The Times
A sweeping, masterly distillation of the past 55 years in Britain, acknowledging the incredible changes since the Queen took the throne in 1953 ... while also lamenting what has been lost

Books of the Year, Daily Mail
This is the final volume in A.N. Wilson's trilogy tracing the course of Britain from the accession of Queen Victoria to the present day. The whole work, finished in just six years, is a monument to its author's industry, erudition and skill. It is hard to think of a professional scholar who could have accomplished this grand feat, let alone spiced the narrative with such pungent wit and piquant anecdotes

Piers Brendon, Sunday Times
Now that the trilogy is complete, it can be said with satisfaction that the verve, erudition and wit that distinguished the earlier books are undimmed in this latest work... He has written a fine work of popular history, and the fact that it is consistently entertaining in no way obscures the underlying seriousness

Literary Review
Wilson accurately skewers the follies of all and sundry

Will Self, Evening Standard
A brilliant panorama of the past 55 years... Where Wilson excels is in the mixture of fact, gossip and waspish thumbnail character sketches... Overall, Wilson's analysis of our age is inspired

Piers Paul Read, Standpoint
Wilson has produced a scintillating, coruscating indictment of British national collapse since the 19th century ... Under Wilson's pen, such a history is richly told

Tristram Hunt, Guardian