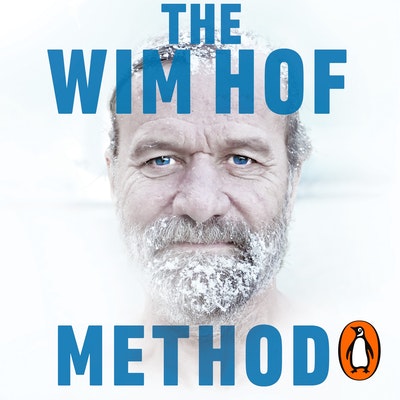 Published:

24 September 2020

ISBN:

9781473583436

Imprint:

Ebury Digital

Format:

Audio Download

RRP:

$24.99
The Wim Hof Method
Activate Your Potential, Transcend Your Limits
---
---
---
The world-renowned guru known for his record-breaking endurance of cold temperatures, details a science-backed, heart-centered approach to improving your mind, body and performance.
The 'Iceman' Wim Hof shares his remarkable life story and powerful method for supercharging your strength, health and happiness.
Wim Hof has become a modern icon for his astounding achievements, breaking world records withstanding extreme temperatures and running barefoot marathons over deserts and ice fields. Most of all, he's shown us that these feats are not superhuman – but that all of us have the ability to be stronger, healthier and happier than we've ever imagined.
In The Wim Hof Method, this trailblazer of human potential shares his simple three-pillar approach that anyone can use to improve health and performance – and see real results within just a few days. Refined over forty years and championed by scientists across the globe, you'll learn how to harness three key elements of Cold, Breathing and Mindset to master mind over matter and achieve the impossible.
Published:

24 September 2020

ISBN:

9781473583436

Imprint:

Ebury Digital

Format:

Audio Download

RRP:

$24.99
Praise for The Wim Hof Method
Wim Hof's program has become an essential part of my daily regimen for self-care and grounding. I warmly recommend it

Dr Gabor Maté, author of When the Body Says No
Wim Hof's program has become an essential part of my daily regimen for self-care and grounding. I warmly recommend it

Dr Gabor Maté, author of When the Body Says No
Wim Hof's program has become an essential part of my daily regimen for self-care and grounding. I warmly recommend it

Dr Gabor Maté, author of When the Body Says No
Take the journey with Wim through his stories, the science, and the method to discover that you are capable of more than you thought possible

Lewis Howes, New York Times bestselling author of and host of The School of Greatness
Take the journey with Wim through his stories, the science, and the method to discover that you are capable of more than you thought possible

Lewis Howes, New York Times bestselling author of and host of The School of Greatness
Take the journey with Wim through his stories, the science, and the method to discover that you are capable of more than you thought possible

Lewis Howes, New York Times bestselling author of and host of The School of Greatness
This book will change your life

Ben Fogle
This book will change your life

Ben Fogle
This book will change your life

Ben Fogle
Wim is a legend of the power ice has to heal and empower

Bear Grylls
Wim is a legend of the power ice has to heal and empower

Bear Grylls
Wim is a legend of the power ice has to heal and empower

Bear Grylls
Get inside the mind of Wim Hof and learn why millions of people worldwide feel the freeze and do it anyway. Breathe in, chill out, and enjoy the ride

Patrick McKeown, author of The Oxygen Advantage
Get inside the mind of Wim Hof and learn why millions of people worldwide feel the freeze and do it anyway. Breathe in, chill out, and enjoy the ride

Patrick McKeown, author of The Oxygen Advantage
Get inside the mind of Wim Hof and learn why millions of people worldwide feel the freeze and do it anyway. Breathe in, chill out, and enjoy the ride

Patrick McKeown, author of The Oxygen Advantage
A fascinating look at Wim's incredible life and method

Fearne Cotton
A fascinating look at Wim's incredible life and method

Fearne Cotton
A fascinating look at Wim's incredible life and method

Fearne Cotton
This book fortifies that the mind is the most powerful tool we possess, however very few use it like Mr Wim Hof. A positive and persuasive read

Ant Middleton
This book fortifies that the mind is the most powerful tool we possess, however very few use it like Mr Wim Hof. A positive and persuasive read

Ant Middleton
This book fortifies that the mind is the most powerful tool we possess, however very few use it like Mr Wim Hof. A positive and persuasive read

Ant Middleton
A valuable guide to anyone looking to take better control of the health, heat, and untapped potential locked away within us all

James Nestor, bestselling author of Breath
A valuable guide to anyone looking to take better control of the health, heat, and untapped potential locked away within us all

James Nestor, bestselling author of Breath
A valuable guide to anyone looking to take better control of the health, heat, and untapped potential locked away within us all

James Nestor, bestselling author of Breath
Wim Hof is a man of extraordinary talents who demonstrates great control of involuntary physiological functions, developed by learning to tolerate exposure to cold and by working with the breath ... recommended reading for everyone interested in human potentials

Andrew Weil, director of the University of Arizona Andrew Weil Center for Integrative Medicine, author of 8 Weeks to Optimum Health
Wim Hof is a man of extraordinary talents who demonstrates great control of involuntary physiological functions, developed by learning to tolerate exposure to cold and by working with the breath ... recommended reading for everyone interested in human potentials

Andrew Weil, director of the University of Arizona Andrew Weil Center for Integrative Medicine, author of 8 Weeks to Optimum Health
Wim Hof is a man of extraordinary talents who demonstrates great control of involuntary physiological functions, developed by learning to tolerate exposure to cold and by working with the breath ... recommended reading for everyone interested in human potentials

Andrew Weil, director of the University of Arizona Andrew Weil Center for Integrative Medicine, author of 8 Weeks to Optimum Health
If you had to read one book on how to feel great, this is it. I'm so glad Wim's techniques have been summarized in such an easy-to-digest way. I've been doing his method religiously because it works

Jesse Itzler, bestselling author, entrepreneur and endurance athlete
If you had to read one book on how to feel great, this is it. I'm so glad Wim's techniques have been summarized in such an easy-to-digest way. I've been doing his method religiously because it works

Jesse Itzler, bestselling author, entrepreneur and endurance athlete
If you had to read one book on how to feel great, this is it. I'm so glad Wim's techniques have been summarized in such an easy-to-digest way. I've been doing his method religiously because it works

Jesse Itzler, bestselling author, entrepreneur and endurance athlete
Article