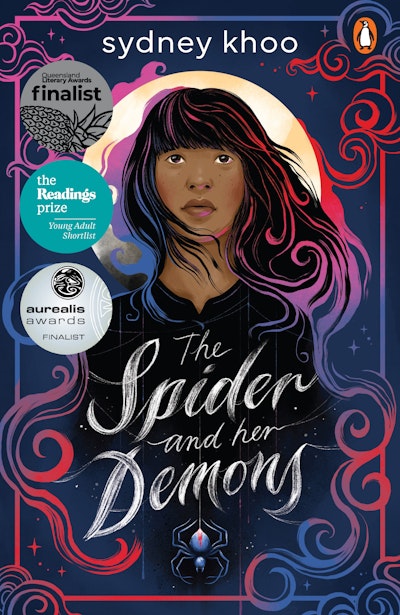 Published:

15 August 2023

ISBN:

9781760148720

Imprint:

Penguin eBooks

Format:

EBook

Pages:

368
The Spider and Her Demons
---
---
---
Uncover an extraordinary world of demons and witches, where the ones you love can hurt you the most and hiding your true self can get you killed.
Moving and funny by turns, this is a story about what it takes to make peace with your demons – literal or otherwise. An urban fantasy spin on growing up as a second-generation immigrant, struggling under the overwhelming pressure to make others proud, while feeling trapped inside your own body.
Between surviving high school and working at her aunt's dumpling shop, all Zhi wants is to find time for her friends . . . and make sure no one finds out she's half spider-demon.
But when she accidentally kills and eats a man in front of the most popular girl in school, she discovers she might not be the scariest thing in the shadows.
sydney khoo is a recipient of Penguin Random House Australia's Write It fellowship program, which aspires to find, nurture and develop unpublished writers across all genres, with a focus on underrepresented sections of our community.
Published:

15 August 2023

ISBN:

9781760148720

Imprint:

Penguin eBooks

Format:

EBook

Pages:

368
Praise for The Spider and Her Demons
. . . a rollicking, heartfelt ride through Sydney from the point of view of a teenage monster who's just trying to figure out her life. Crammed full of surprises, moving insights, and playful references, The Spider and Her Demons is a brilliantly fresh story from an exciting new voice in fantasy! I only wish I'd had a book like this when I was growing up. It's amazing to see a Chinese Malaysian diaspora main character in an Australian fantasy

Vanessa Len, author of Only a Monster
. . . there are complex and tender friendships, hilarious group chats, many flavours of bubble tea, and a gripping adventure about demons and witches. This is the queer, South-East Asian diaspora fantasy-horror tale we desperately need. khoo is stunning

Grace Chan, award-winning author of Every Version of You
. . . an action-packed and affecting coming-of-age story about the universal desire to be seen and understood, the exhaustion of being an outsider, and the magical power of our chosen families. The teenage protagonist, Zhi, also happens to be part-human, part-spider— what could be better?

Tracey Lien — Internationally Bestselling Author of All That's Left Unsaid
A mesmerising debut, where the search for identity and belonging is woven through a riveting story of witches and demons, tender friendships and fearsome enemies, and what it means to love someone as they are

Ayesha Inoon, author of Untethered
In the realm of young adult literature, a fresh voice has emerged to champion diversity, representation, and a touch of enchantment . . . As readers embark on the journey with Zhi Leong Yao, they will find a tale that speaks to their own struggles with identity, acceptance, and the search for belonging.

Emma Pei Yin, Being Asian Australia
. . . a rollicking but down-to-earth urban fantasy debut

Tracey Hwang, Readings reviews
Outstanding! sydney khoo's riveting story of a young teenager hiding her true spider self is an original and innovative foray into YA fiction and manages to explore teenage issues of body image, self esteem and gender identity without ever using any of those words.

Helen Eddy, ReadPlus
. . . a mesmerising urban fantasy [and] a powerful testament to the transformative capacity of storytelling, making it an essential read for young adults navigating the intricate challenges of self-discovery and acceptance.

Leanne Caune, Glamadelaide
. . . a fun piece of genre fiction! I genuinely think The Spider and Her Demons is a landmark publication, both in terms of how it brings underrepresented groups and intersections to the page and in how it brings all this into a fun fantasy romp

The Afictionado