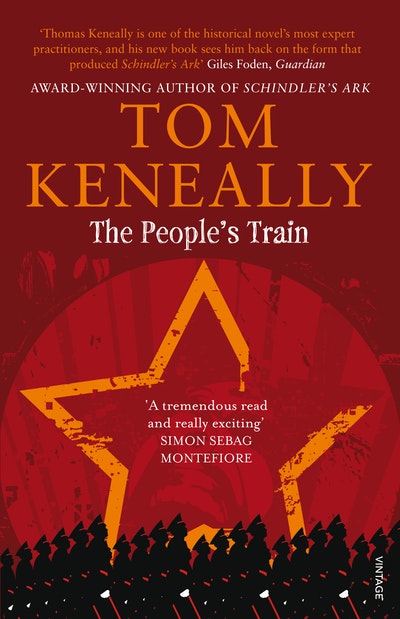 Published:

1 July 2010

ISBN:

9781741667455

Imprint:

Vintage Australia

Format:

Paperback

Pages:

416

RRP:

$19.99
The People's Train
---
---
---
'Thomas Keneally is one of the historical novel's most expert practitioners, and his new book sees him back on the form that produced Schindler's Ark. Giles Foden, Guardian
'Thomas Keneally is one of the historical novel's most expert practitioners, and his new book sees him back on the form that produced Schindler's Ark. Giles Foden, Guardian
Artem Samsurov, a charismatic protege of Lenin and an ardent socialist, reaches sanctuary in Australia after escaping his Siberian labour camp and making a long, perilous journey via Japan. But Brisbane in 1911 turns out not to be quite the workers' paradise he was expecting, or the bickering local Russian emigres a model of brotherhood.
As Artem helps organise a strike and gets dangerously entangled in the death of another exile, he discovers that corruption, repression and injustice are almost as prevalent in Brisbane as at home. Yet he finds fellow spirits in a fiery old suffragette and a distractingly attractive married woman, who undermines his belief that a revolutionary cannot spare the time for relationships. When the revolution dawns and he returns to Russia, will his ideals hold true?
Based on a true story, The People's Train brings the past alive and makes it resonate in the present. With all the empathy and storytelling skills that he brought to bear in Schindler's Ark, Tom Keneally takes us to the heart of the Russian Revolution through the dramatic life of an unknown, inspiring figure. Like Schindler, Samsurov was no saint, but he was an individual who played a vital role in world-changing events.
Published:

1 July 2010

ISBN:

9781741667455

Imprint:

Vintage Australia

Format:

Paperback

Pages:

416

RRP:

$19.99
Praise for The People's Train
Praise for The Widow and Her Hero
FICTION JUDGING PANEL COMMENTS FROM PRIME MINISTERS LITERARY AWARDS 2008
In the fifth decade of his career, Tom Keneally's powers of renewal and his unflagging appetite for story-telling distinguish his latest novel, The Widow and Her Hero. He turns to his favoured historical period - the Second World War, where a number of his works are set - and in particular to the commando raids against Japenese shipping in Singapore in 1943 and 1944. This master class fiction work is an interrogation of the nature of heroism, perhaps unproblematic for men in action, but of deep ambivalence for the women left behind.
Praise for THE TYRANT'S NOVEL:
Commonwealth Writer's Prize
Shortlisted • 2010 • Commonwealth Writer's Prize
Miles Franklin Literary Award
Longlisted • 2010 • Miles Franklin Literary Award
Video
At home with Tom Keneally
Please enjoy Tom Keneally's author talk on his latest novel The Dickens Boy. To find out more visit https://www.penguin.com.au/books/the-dickens-boy-9781760893194 We'd love to hear your thoughts via #PRHLongWeekend. Thomas Keneally was born in 1935 and his first novel was published in 1964. Since then he has written a considerable number of novels and non-fiction works. His novels include The Chant of Jimmie Blacksmith, Schindler's List and The People's Train. He has won the Miles Franklin Award, the Booker Prize, the Los Angeles Times Prize, the Mondello International Prize and has been made a Literary Lion of the New York Public Library, a Fellow of the American Academy, recipient of the University of California gold medal, and is now the subject of a 55 cent Australian stamp. He has held various academic posts in the United States, but lives in Sydney.