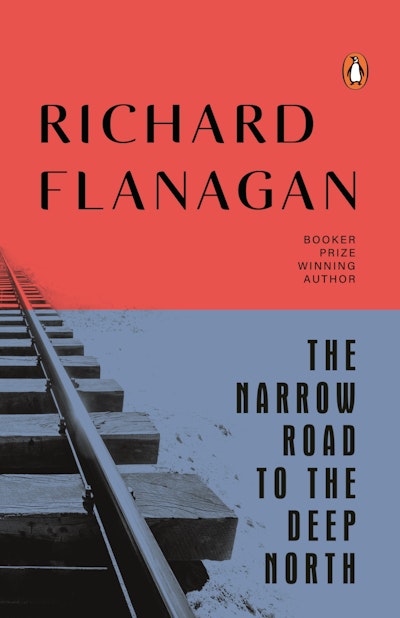 Published:

12 April 2023

ISBN:

9781761048142

Imprint:

Penguin

Format:

Paperback

Pages:

480

RRP:

$22.99
The Narrow Road to the Deep North
---
---
---
'A masterpiece . . . The Narrow Road is an extraordinary piece of writing and a high point in an already distinguished career.' - Michael Williams, The Guardian
A novel of the cruelty of war, and tenuousness of life and the impossibility of love.
August, 1943. In the despair of a Japanese POW camp on the Thai-Burma death railway, Australian surgeon Dorrigo Evans is haunted by his love affair with his uncle's young wife two years earlier. Struggling to save the men under his command from starvation, from cholera, from beatings, he receives a letter that will change his life forever.
This savagely beautiful novel is a story about the many forms of love and death, of war and truth, as one man comes of age, prospers, only to discover all that he has lost.
'The Narrow Road to the Deep North is a big, magnificent novel of passion and horror and tragic irony. Its scope, its themes and its people all seem to grow richer and deeper in significance with the progress of the story, as it moves to its extraordinary resolution. It's by far the best new novel I've read in ages.' - Patrick McGarth
'Beyond comparison . . . an immense achievement . . . Wilfred Owen wrote of his Great War verse: "My subject is war, and the pity of war. The poetry is in the pity." Flanagan's triumph is to find poetry without any pity at all.' - Geordie Williamson, The Australian
'A story of war and star-crossed lovers, the novel is also a profound meditation on life and time, memory and forgetting . . . a magnificent achievement.' - Katharine England, Adelaide Advertiser

Published:

12 April 2023

ISBN:

9781761048142

Imprint:

Penguin

Format:

Paperback

Pages:

480

RRP:

$22.99
Praise for The Narrow Road to the Deep North
This is the book that Richard Flanagan was born to write, and which now takes its place in the canon of world literature. The two great themes from the origin of literature are love and war: this is a magnificent novel of love and war. Written in prose of extraordinary elegance and force, it bridges East and West, past and present, with a story of guilt and heroism. Some years, very good books win the Man Booker Prize but this year a masterpiece has won it.

A.C. Grayling, Chair of Judges, Man Booker Prize 2014
Considered by many to be the finest Australian novelist of his generation . . . A journey of loss and discovery, this is a novel replete with scenes that stay with the reader long after the final page. In clear prose that is never sentimental or overwritten, Mr Flanagan explores human reactions, large and small. The Narrow Road to the Deep North was the book Mr Flanagan was born to write.

The Economist
Nothing could have prepared us for this immense achievement...The Narrow Road to the Deep North is beyond comparison...Intensely moving...Wilfred Owen wrote of his Great War verse: "My subject is war, and the pity of war. The poetry is in the pity." Flanagan's triumph is to find poetry without any pity at all.

Geordie Williamson, The Australian
A story of war and star-crossed lovers, the novel is also a profound meditation on life and time, memory and forgetting . . . a magnificent achievement.

Katharine England, Adelaide Advertiser
Profound . . . It's not just the big characters, but also the minor ones who strike their perfect notes.

Herald Sun (Melbourne)
It is a huge novel, ambitious, driven, multi-stranded . . . The novel's fictional characters, Australian and Japanese, shimmer with life; they are familiar yet finally unknowable, compromised, betrayed, fallible and credible . . . A grand, paradoxical dance that is both macabre and life affirming.

Morag Fraser, The Sydney Morning Herald
A masterpiece . . . A symphony of tenderness and love, a moving and powerful story that captures the weight and breadth of a live. A Narrow Road is an extraordinary piece of writing and a high point in an already distinguished career

Michael Williams, The Guardian
Flanagan's prose is richly innovative . . . He evokes Evans's affair with Amy, and his subsequent soulless wanderings, with an intensity and beauty that is as poetic as the classical Japanese literature that peppers this novel.

Melissa Katsoulis, The Times (London)
Despite the novel's epic sprawl it retains the delicate vignettes that characterise Flanagan's work, those beautiful brush strokes of poignancy and veracity that remain in the reader's mind long afterwards.

The West Australian
Richard Flanagan is an extraordinary writer and this sixth novel is a masterpiece.

Australian Women's Weekly
The opposing emotions of love and hate are brilliantly drawn together here by Flanagan in this, his sixth novel. Detailing human suffering and fellow feeling here is a work of extraordinary depth and Flanagan at his best.

Martin Stevenson, Launceston Examiner, TAS
A novel of extraordinary power, deftly told and hugely affecting. A classic in the making.

Alex Preston, The Observer
There isn't a dud note in Richard Flanagan's Homeric new novel . . . Flanagan's feel for language, history's persistent undercurrent, and subtle detail sets his fiction apart. There isn't a false note in this book . . . A storyteller's work of art.

Eileen Battersby, The Irish Times
A masterly novel. A tour de force

Viv Groskop, BBC Radio 4 Saturday Review
A supple meditation on memory, trauma, and empathy that is also a sublime war novel . . . Pellucid, epic, and sincerely touching.

Publishers Weekly
Flanagan is an outstanding writer. A beauty clings to the underneath of his sentences, even when he is describing hell on earth. It's a big, difficult, absorbing and wise novel, lightly told and hard to forget

Claire Alfree, Metro
The luminous imagination of Richard Flanagan is among the most precious of Australian literary treasures.

Michael Byrne, Newcastle Herald
In an already sparkling career (few novels get as close to perfection as Wanting), this might be his biggest, best, most moving work yet.

Daniel Herborn, Sun Herald/Sydney Morning Herald (Morag Fraser The Age)
Flanagan's novel (has) grace and unfathomability. Flanagan's writing courses like a river, sometimes black with mud, sludge and corpses, sometimes bright with moonlight. The stories of these casualties of fate catch at the soul

Catherine Taylor, The Telegraph (London)
The Narrow Road to the Deep North is a big, magnificent novel of passion and horror and tragic irony. Its scope, its themes and its people all seem to grow richer and deeper in significance with the progress of the story, as it moves to its extraordinary resolution. It's by far the best new novel I've read in ages.

Patrick McGrath, author of Constance
A bold, formal and traditional narrative in the tradition of Patrick White's fiction, The Narrow Road to the Deep North, a powerful war novel by the Tasmanian-born Flanagan, is one of the finest novels published in English this year

Eileen Battersby, Irish Times
The poetry in this novel isn't just by Japanese poets. It is in the prose: strong, muscular, rhythmic, sometimes biblical in its resonances, and charged with a hypnotic power . . . Flanagan's father (a survivor of the Death Railway) died on the day this devastatingly beautiful novel was published. His son could not have done him a greater honour

Christina Patterson, The Sunday Times
Man Booker Prize
Winner • 2014 • Man Booker Prize
Prime Minister's Literary Award
Joint winner • 2014 • Prime Minister's Literary Award
Queensland Literary Awards
Winner • 2014 • University of Queensland Fiction Book Award
The Indie Awards
Winner • 2014 • Independent Booksellers Award
Western Australian Premier's Book Awards
Winner • 2014 • Western Australia Premier's Book Award
Colin Roderick Award
Shortlisted • 2014 • Colin Roderick Award
NSW Premier's Literary Awards
Shortlisted • 2014 • Christina Stead Prize for Fiction
Margaret Scott Prize
Winner • 2015 • Margaret Scott Prize - Tasmanian Premier's Literary Prizes
International IMPAC Dublin Literary Award
Shortlisted • 2015 • International IMPAC Dublin Literary Award
Tasmania Book Prize
Longlisted • 2015 • Tamania Book Prize - Premier's Literary Prizes
Article
Article