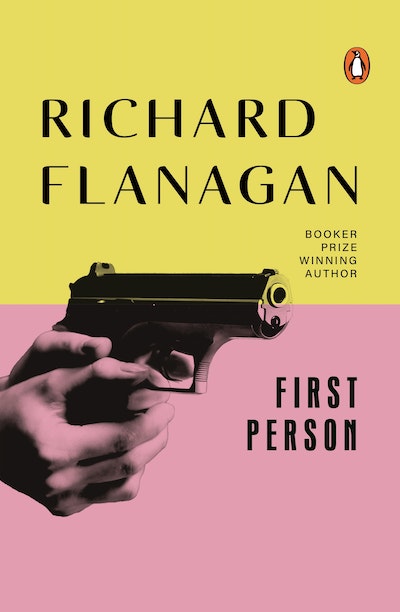 Published:

16 May 2023

ISBN:

9781761048128

Imprint:

Penguin

Format:

Paperback

Pages:

400

RRP:

$22.99
First Person
---
---
---
'Flanagan's best work to date.' – Readings Magazine


What is the truth? In this blistering story of a ghost writer haunted by his demonic subject, the Man Booker Prize winner turns to lies, crime and literature with devastating effect.
About to go to trial for defrauding the banks of millions, con man and corporate criminal Siegfried Heidl offers broke writer Kif Kehlmann a deal he can't refuse: $10,000 for Kehlmann to ghost write his memoir in six weeks.
As the deadline draws closer and Heidl grows increasingly erratic, Kehlmann becomes unsure if he is ghost writing a memoir or if Heidl is rewriting him – his life, his future.
As tension slowly mounts, boundaries and identities blur, everything that was certain grows uncertain, and the young writer finds himself no longer sure if he is Kif Kehlmann – or a murderous criminal.
'At a time when truth is daily contorted, debauched or ignored, we require Flanagan's artful reminder of the wreckage caused by our unwillingness to say what happened.' – Washington Post
'Both comic and frightening . . . Touched with the virtuosity that shone so brightly in The Narrow Road to the Deep North that are pure Flanagan . . . Studded with sharp, breath-catching observations about the finite nature of life.' – Financial Times
'Powerful, funny, disturbing, moving . . . Flanagan candidly and honestly confronts the raw truths of the writing life and the family life, material and spiritual poverty, love and despair and desire.' – Australian
'A triumph . . . a parable for the age of Trump . . . As harrowing a book as any I've read.' – Weekend Australian
'Brilliant . . . full of hilarious asides, this sonorous, blackly comic novel offers searing insight into our times.' – Booklist (US)
Published:

16 May 2023

ISBN:

9781761048128

Imprint:

Penguin

Format:

Paperback

Pages:

400

RRP:

$22.99
Flanagan's best work to date.

Readings magazine
. . . a tour de force from one of our greatest contemporary writers.

The Australian Women's Weekly
The real joy of [First Person] is the intensity of its honesty and its writing. This is a book of demonic possession, of obsession, and there's a zinger of thought, of expression, in every paragraph.

Phillip Adams, The Australian
Undeniably fascinating . . . a real page turner.

Peter Kenneally, The Sydney Morning Herald
A smart, slippery novel . . . Electric.

Daily Mail
Scathingly funny . . . but this is also a profound and thought-provoking novel that explores the nature of truth, lies, and fiction.

The Bookseller
First Person is studded with sharp, breath-catching observations about the finite nature of life.

Financial Times
As unsettling as it is inspired.

Esquire (UK)
Flanagan has written a Kurtz for our time

Sydney Review of Books
First Person is both comic and frightening. At times I caught a glimpse of Money-era Martin Amis in Flanagan's satirical asides on the Australian publishing industry… And there's a hint, too, of an epochal gloom that is redolent of the The Great Gatsby. Yet there are also passages touched with the virtuosity that shone so brightly in The Narrow Road that are pure Flanagan… Studded with sharp, breath-catching observations about the finite nature of life

Financial Times
A black comedy about the unreliability of memory and the warped values of modern publishing . . . the beauty of First Person is the way it blossoms into a much richer novel than that outline scenario suggests . . . readable and thought-provoking

Mail on Sunday
The brilliance of the novel is the portrayal of [Heidl's and Kif's] interaction, their clashes and ultimate union . . . Flanagan is the sort of writer you wish you could be.

Otago Daily Times
The narrator of this novel is an angsty aspiring novelist who is summoned from Tasmania to Melbourne for a ghostwriting assignment. His subject, an infamous con man called Ziggy, is infuriatingly evasive. "I have been missing since I was born," he offers by way of an origin story. As the ghostwriter contends with underworld escapades, farcical publishing-industry posturing, and his gnomic subject, he becomes obsessed with the boundary between fiction and reality. Flanagan cannot quite make Ziggy's magnetism or sinister influence plausible, but the novel, with its switchbacking recollections and cyclical dialogue, its penetrating scenes of birth and, eventually, death, is enigmatic and mesmerizing.

The New Yorker
Prime Minister's Literary Awards
Shortlisted • 2018 • Fiction
Voss Literary Prize
Longlisted • 2018 • Voss Literary Prize
International Dublin Literary Award
Longlisted • 2019 • International Dublin Literary Award
Article
Eyecatchers
Vintage Creative Director Suzanne Dean discusses creating the artwork for First Person.