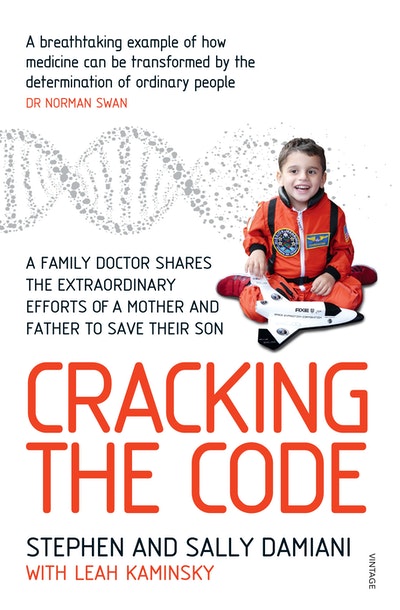 Published:

1 April 2015

ISBN:

9780857984678

Imprint:

Random House Australia

Format:

EBook

Pages:

272
Cracking the Code
---
---
As seen on Australian Story on the ABC
A family doctor shares a mother and father's determination to save their son
This story of a father's search to find a diagnosis, and ultimately a cure, for his son's mystery disease is an inspiration that has set the world of genetic medicine and research abuzz with the possibilities for the future. After Cracking the Code screened on Australian Story Stephen Damiani and his extraordinary ordinary family, have been inundated with messages of support for Mission Massimo.
Stephen has a background in construction economics and risk management. He teamed with geneticist Ryan Taft to map his family's genome in an attempt to discover the cause of his son's illness and in the process developed a diagnostic tool that will revolutionise diagnoses and treatments of diseases as complex and rare as Massimo's leukodystrophy to widespread diseases such as diabetes and cardiovascular disease.
Previously, trying to find a specific gene mutation that might be responsible for a disease was a million times harder than finding a needle in a haystack. Stephen's suggestion that Ryan align the genomes, or DNA blueprints, of himself, his wife Sally as well as Massimo, to find any unique variations and thereby create a smaller haystack was previously untried. Stephen convinced Massimo's neurologist, Dr Rick Leventer at Melbourne's RCH, that it was just a case of technology, statistics, data, and money, but that it could be done.
Once Taft was able to locate and isolate the specific genetic mutation of Massimo's DARS gene, the hunt was on to find other children with the same genetic mutation so that the diagnoses could be confirmed. With the help of Dr Adeline Vanderver at the Children's National Hospital in Washington DC, along with Prof. Marjo van der Knaap and Dr Nicole Wolf in Amsterdam, they were able to locate several other children with DARS mutations and have now moved on to the next phase of Mission Massimo: finding a cure.
Cracking the Code is simultaneously a wonderful family memoir and the story of some mind-blowing discoveries in medicine.
Published:

1 April 2015

ISBN:

9780857984678

Imprint:

Random House Australia

Format:

EBook

Pages:

272
Praise for Cracking the Code
More than a cracking read. It's a layperson's entree into an extraordinary new health frontier where medical systems, resources and imagination struggle to keep pace with the frenetic progress of the technology and the science. It's also a family history and a fly-on-the-wall view of a remarkable Australian couple in crisis.

John Ross, The Australian
Cracking the Code is taut and fascinating.

Dianne Dempsey, The Sydney Morning Herald
Cracking the Code is a remarkable memoir about the Damiani's unrelenting quest to identofy and ultimately cure their young son Massimo's mystery disease.

Zelda Cawthorne, The Australian Jewish News
Cracking the Code is a testament to parental love, soaring ambition, relentless persistence and unquenchable hope. The fortunate combination of a gifted amateur and a young specialist DNA scientist solved the secret of a previously unclassified serious genetic disorder. Possible treatment beckons and gene therapy springs up as a more distant dream. The book is both an inspiration and a jolly good yarn.

Sir Gustav Nossal, University of Melbourne
This compelling story about Massimo Damiani is clear proof that knowledge is power. In this case the knowledge was derived from reading Massimo's genome to reveal a rare genetic change that was responsible for his physical regression and gradual loss of function. It is a story told by Massimo's extraordinary parents and their family doctor on how they pushed beyond the limits of medical practice after a year with no progress into the new world of genomics that allows us to read and understand our genetic software at a level not thought possible by most even a short while ago. With our new computational power and instrumentation what was done for Massimo can now be the very first step in medicine not the last. A great story about a very lucky boy with great parents who pushed the boundaries of medical discovery.

Craig Venter
An utterly compelling read. Cracking the Code is a rollercoaster read of often brutal honesty and determination that makes you wonder, at every page, at the boundless focus and drive of parental love, and at how far science might take us tomorrow. It's the extraordinary story of one family's decision that the sci-fi promise of personal genetic medicine was ready to be realised, and of their will to make this so.

Ashley Hay
This stimulating and enlightening book outlines how many conditions will be diagnosed in the future by tracking our genetic information.

Judith Grace, Good Reading
Leah Kaminsky, herself a doctor as well as an award-winning author, has done a wonderful job in telling this story. The narrative drives forward, the complex medical issues are well explained, and the love and determination of Massimo's family shines through.

Bill Condie, Cosmos magazine
The Damiani family's story has been described as a breathtaking example of how medicine can be transformed by the determination of ordinary people. Four years ago, Stephen and Sally Damiani's baby son Massimo succumbed to a mystery disease. In the space of a few weeks, the toddler lost the ability to eat and crawl. The prognosis was bleak and the cause mystifying. Stephen Damiani, who has a background in construction economics and risk management, teamed up with a young geneticist to map the family's genome in an attempt to discover the cause of his son's illness. In the process, his seemingly impossible quest for answers has made a discovery that's astonished the international medical community and has implications for us all.

Norman Swan, Health Report, ABC Radio National
We have come to call this the Massimo Effect. The direct knock-on effect of massimo was the diagnosis of more than 100 children in less than two years, with an incredible range of illnesses, from epilepsy to cognitive brain disorders. We have also identified some new disease-causing genes we never knew existed.

Ryan Taft, Director, Scientific Research, Illumina
In Cracking the Code, the Damianis tell the remarkable, gripping story of their son, afflicted with a rare disease, in which they took charge. This is medicine of the future, when each individual and family has access to the critical information—and the power to improve their course of health.

Eric J. Topol, MD, Professor of Genomics, The Scripps Research Institute