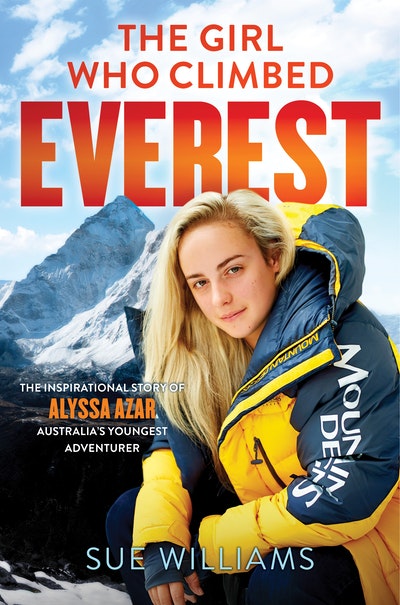 Published:

19 September 2016

ISBN:

9780143799573

Imprint:

Michael Joseph

Format:

Trade Paperback

Pages:

304

RRP:

$32.99
The Girl Who Climbed Everest: The inspirational story of Alyssa Azar, Australia's Youngest Adventurer
Extract
It happens just three days into one of the world's most gruelling treks.
Eight-year-old Alyssa Azar is almost halfway along the rugged Kokoda Track in the remote wilds of Papua New Guinea, and she knows that when she completes it – if she completes it – she'll have the world record as the youngest person ever to do so. But suddenly, she stops dead. The mud beneath her walking boots oozes up over her ankle gaiters as she sinks into the quagmire and lifts first one foot, then the other, to try to free them, but makes no attempt to continue.
The local porters look at her curiously. Over the past week they've learnt to expect the unexpected from this tiny little white girl, with her gap-toothed grin and mop of blonde hair tied into a rough ponytail. When she'd first been introduced to them as the youngest member of a new expedition along the historic trail, they'd shaken their heads in disapproval. She was far too young, and much too small, to embark on such an arduous challenge.
But she's already taken them by surprise many times, striding along the track through dense rainforest, heaving herself up giant steps hewn into the mountains that most fully grown adults have trouble with, scrambling up the steep sides of valleys and trotting down the other side. A couple of times, as they reach for her arms to try to guide her across a raging river crossing, or help her along a particularly precarious mountain ridge, she politely but firmly asks them to leave her be. She already has dark bruises on both elbows where the guides, terrified of losing such fragile cargo, grabbed her so hard she winced. She wants to do this with as little help as possible.
Alyssa seems to be coping well. In every village they pass through she causes a sensation. Little children hide behind their mothers as they regard her shyly; it's the first time they've ever seen a girl their own age who doesn't share the same dark skin. Then, as she smiles back at them, they grow in courage, running over to touch her face and hair to check that she isn't some kind of doll. Alyssa laughs and plays with them while the other trekkers in the party rest.
But now, in the middle of the track, she has stopped and the guides stand back to see what's going on. She looks over to her dad, Glenn, who is quickly catching her up. 'What's up?' he asks casually as he draws level, trying to keep any note of alarm out of his voice.
If she's hurt herself, or suddenly decided she doesn't want to go on, he doesn't know what they'll do. The only way back to civilisation is either to return the 40 km they've already slogged along, or continue onwards through the 56 km of mountainous country ahead of them. In his mind he's already hauling her onto his shoulders and carrying her on the marathon that lies in wait. But she doesn't look as if she's injured, exhausted or ready to give up. He's expected tears before now, either because the trek is much harder than she imagined, or because the conditions are so tough, with the oppressively steamy heat during the day and mind-numbing cold at night. But Alyssa has shown no signs at all of not being able to cope.
'Dad?' she asks softly.
He moves closer to her. 'Yes, mate?'
'Dad,' she repeats, 'I was just wondering . . . Have you ever climbed Everest?'
Glenn looks at his daughter with astonishment. He has no idea she's even heard of Everest, let alone been thinking about it as they've all been struggling up this part of the track.
He shakes his head. 'No,' he says. 'No, I haven't.'
Alyssa beams. 'Oh, okay,' she replies. He has no idea why she looks so pleased. 'I just wondered . . .'
And then she pulls her boots out of some of the thickest, stickiest mud on the planet and stomps off, leaving her dad, motionless, behind. As he watches the tiny figure disappear through the thick leaves and branches of the overhanging forest, he feels, as well as his usual pride, a vague sense of foreboding.
---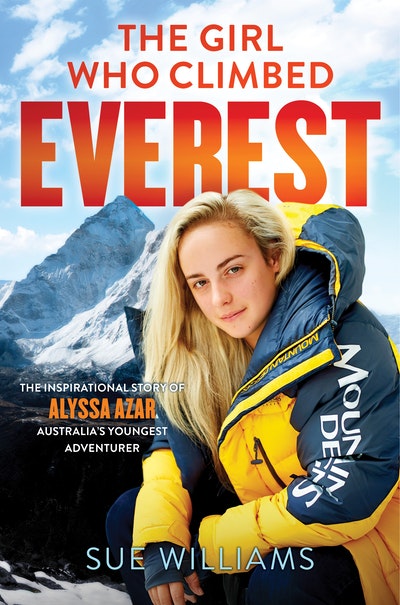 The Girl Who Climbed Everest is the inspiring story of Alyssa Azar, an ordinary girl from country Queensland who worked to ascend the world's highest peak – the youngest Australian ever to have achieved this extraordinary feat.
Buy now
Buy now
---