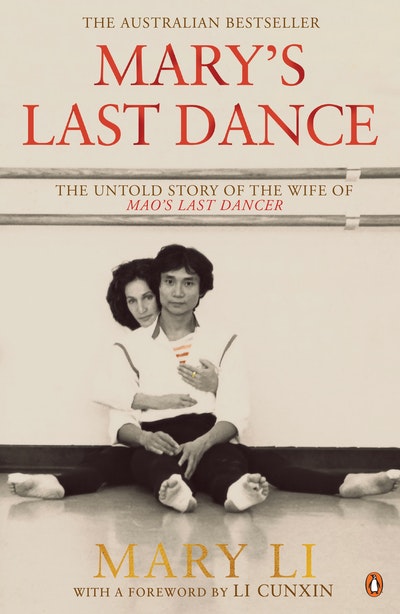 Published:

19 October 2021

ISBN:

9781761041914

Imprint:

Penguin

Format:

Paperback

Pages:

480

RRP:

$22.99
Mary's Last Dance
The untold story of the wife of Mao's Last Dancer
Extract
Foreword
by Li Cunxin
I was born into utter poverty in Mao's Communist China, one of seven sons of hardworking peasant parents in the north-east. It was a troubled period in China's history – tens of millions of people died of famine and disease between 1958 and 1961. My family struggled desperately for survival.
Then, one fateful day, a delegation of Madame Mao's cultural advisers from the Beijing Dance Academy came into my classroom to select students to study ballet. As they were about to walk out, my teacher stopped the last gentleman and said, 'What about that one?' And that one was me.
That magical moment changed my life forever. From millions of children across China, only forty-four were selected. The seven years of harsh training taught me discipline and resilience. Upon graduation in 1979, I was awarded one of the first cultural exchange scholarships to study in America. This opportunity propelled me to become a ballet star. I danced all around the world, in front of presidents, prime ministers and royalty, and on the most prestigious stages.
In 1985, Mary McKendry, a principal dancer of London Festival Ballet (now English National Ballet), came into my life when she joined Houston Ballet. The chemistry and magic that ignited between us was immediate, and we became favourite partners on stage and fell in love away from the spotlight. Mary was a dream to dance with. Her artistry, passion, work ethic and pursuit of perfection matched my own.
Although her childhood in Rockhampton, Queensland, was vastly different from the childhood I experienced in Communist China, there were similarities. Both of us were part of large, loving families. Mary was one of eight children born to a talented architect father and an artistic mother. She was trained by a brilliant ballet teacher in Rockhampton, and was subsequently accepted into the Royal Ballet School in London at the age of sixteen. Like me, she had to overcome homesickness, self-doubt and heartbreaking setbacks but was helped by some special, gifted mentors.
In each other we found our soulmate, both on stage and in life, and we chose to share our lives together. When our first child, Sophie, was born, she became the joy of our lives. Our world was blissful and perfect. Then something unexpected happened that knocked Mary's life and career completely off course. I was heartbroken for her as I knew how much she loved ballet, which had been her deepest passion since she was an eight-year-old girl. Suddenly her beloved ballet was no more, and our perfect world crashed down. The road we travelled was full of difficulties, heartaches and shattered dreams, and we needed all the courage, determination and strength we could muster to overcome those challenges.
After many years devoted to the care of our family, Mary finally reconnected with ballet. She began working with leading dancers at the Australian Ballet and is currently principal répétiteur and ballet mistress at Queensland Ballet. She is a highly respected teacher and coach who is thrilled to continue her journey in ballet by helping the stars of today and tomorrow.
Mary is an incredible mother to our three children, Sophie, Tom and Bridie. Not only is she the bedrock of our family, but she has also changed me completely as a man. Her sophistication, joy of life, passion for ballet, strength of character, and love for me and our children have shaped me into the man I am. She is the strength behind my success.
In 2000 I started writing the story of my life, which became Mao's Last Dancer. Little did I know then that it would touch so many hearts. To my surprise it became a bestseller, and then a celebrated film.
Ever since the publication of my book and the release of the film, people have been intrigued to know more of Mary's story. She has been pursued by publishing houses but declined all approaches until Sophie encouraged her and volunteered to help. It has been fascinating to see their roles reversed from when our daughter was younger – Sophie is actually helping her mother now! Piecing together Mary's story has been a special bonding experience for them.
It's so gratifying to see Mary giving voice to her own story. I laughed and cried when I read the first 100-page draft manuscript. Her story is not only a companion to Mao's Last Dancer but a sequel to it. So here is Mary's story, and what happened next in our lives . . .
Li Cunxin
August 2020
BEFORE
PART ONE
Rockhampton
1958–75
I was the most unlikely candidate to be a ballerina if ever there was one . . .
1
Sometimes, even the most impossible dream can come true. When I look back on my childhood I wonder how I managed to get from that wild and wonderful town called Rockhampton to the Royal Ballet School in London. It seemed so unlikely. Back then, Rocky was a town where there was nothing much to do besides family and friendship, and nothing much to think about except the idea of stepping out into a bigger world.
I took that step, and I have my mother, Coralie, to thank for that. Oh, my mother, dear Coralie. She was so refined. She married my dad, Neil George McKendry, and then having eight children in eleven years made refinement and gentility somewhat difficult.
Coralie Tighe grew up with her older brother, Hugh, and much younger sister, Anne, in 1930s and 1940s Kalinga, a humble suburb of Brisbane. She was taught by nuns at Corpus Christi College, Nundah, where she played piano and developed a great love of music, dance and art, which was part of her mother, Bridie's, family heritage. Coralie learned ballet when she was younger, but the nuns didn't think that was very ladylike. Instead, she was encouraged to spend more time on piano and music theory, which she continued right up until her Licentiate in Music.
After attending St Rita's College, Clayfield, Coralie worked for the Australian Broadcasting Commission as a stenotypist in the centre of Brisbane – a job she adored. She was genteel in nature and would go off to work on the train every day, beautiful and stylish, showing off her 22-inch waist in the latest fashion. Perhaps this was what caught Neil George's eye when they had a chance meeting on the train one morning.
They say opposites attract, and Coralie quickly fell for Neil George's confident personality, Irish sense of humour and sparkling blue eyes. She learned that he was from Allora, a tiny town of 200 people two hours west of Brisbane. He and his brother, Jack (affectionately known as Jock), were brought up by Josephine, their widowed mother, who owned the local pub. After graduating from Nudgee College, Brisbane, Neil George studied architecture at Queensland University – an unexpected choice for a country boy back then.
Coralie and Neil George began their married life in 1955. Back then young married women had to give up their work and attend to house duties, so that was the end of Coralie's much-loved career. They rented a run-down cottage in the inner-western suburb of Rainworth. Neil George started his day at four in the morning to do a milk run to help with the finances before heading to uni for the rest of the day. He would return to paint the rooms at night and work on fixing up the place.
It wasn't long before Coralie became pregnant. Contraceptives were never mentioned in those days so Catholic couples were encouraged to use the rhythm method of birth control, but surely that is one of the Catholic mysteries given how many continued to have numerous children quite happily. By the time she was twenty-five, Coralie had three children. I was the third, and the first girl, born on 7 September 1958.
For a young woman in the 1950s, life with three children under the age of three was a struggle, so Neil George, ever the dreamer, talked about moving to India where they could have all the children they wanted and as many amahs as were needed to help. Of course it was his fascination with India's incredible architecture and history and his indomitable sense of adventure that had a lot to do with this. I don't think Coralie quite knew what she was getting into by marrying my father. Although the India dream didn't transpire, Coralie was certainly in for an adventure for the rest of their married life.
Upon graduating from university in 1960, Neil was offered a job with an architecture firm in the central Queensland town of Rockhampton. He had never much liked big-city life with its stuffiness, so he jumped at the chance. This would still be an adventure! He and Coralie had been five years married; Gerry was four, Michael was three and I was two. There had been a miscarriage after me, and another baby was on the way. The plan was to move to Rocky where he would earn a decent salary, build a nice house, and the children would have a safe, happy and carefree childhood in a small town where everyone knew and looked out for each other.
So Mum, Dad, Ger, Mick and me – along with Mum's bump – moved to Talford Street, not far from the centre of Rockhampton. Our rented home in Rocky was a little blue weatherboard cottage with a small porch at the front and steep back stairs leading into the garden. It was hardly big enough, with its three tiny bedrooms and small family space, but it would do until Dad could build us our great big family home.
Back then, Rocky had a population of around 30 000. Many hailed from down south, having moved there to join the gold rush. Situated on either side of the Fitzroy River, Rocky was a major port for the region and in the mid-1880s serviced one of the biggest goldmines in the world, Mount Morgan, 39 kilometres to the west.
The town had a colonial feel with its broad walkways and wide ornate verandahs, providing much-needed shade. The main street was called East Street, and it consisted of two small department stores, a few cafes, some banks, and a grand stone-and-brick post office with a clock tower built in Rocky's heyday in the late nineteenth century. Also built during the gold rush was the beautiful Customs House on Quay Street. Made of local sandstone, with a huge copper dome and semicircular portico, it sat elegantly overlooking the river. Dotted around town were numerous pubs and churches, including the impressive St Joseph's Cathedral.
The city boasted beautiful botanic gardens, which also included a zoo full of chimpanzees, crocodiles, koalas, kangaroos, wombats, echidnas, dingoes, native Australian birds, and a snake house. Past the zoo enclosure was our favourite: a simple playground including a whirly-girdy. You couldn't get on it unless you were fast and fierce, because the boys would make it spin so furiously. But I always managed. I loved it. There was also a slippery slide, which all the children jumped on, no matter how many. It was made of steel, so on the many hot Rocky days it burnt your bum on the way down, but we didn't care – it was all part of the fun. I can't remember how many children ended up with broken teeth, arms or legs. My brother Ger broke his wrist on the whirly-girdy once. It seemed all the parents expected their children to have something broken at some time.
---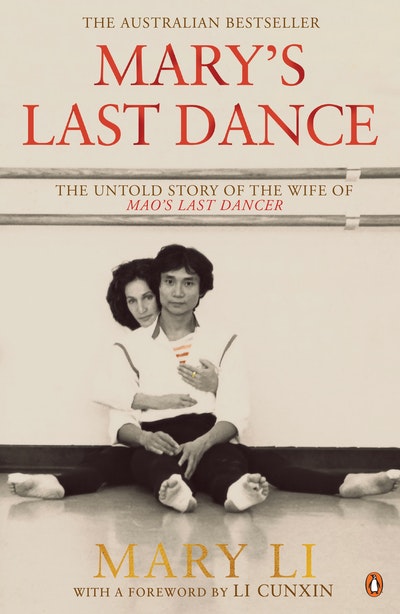 Millions fell in love with Mao's Last Dancer. Finally here is Mary's story...
Buy now
Buy now
---