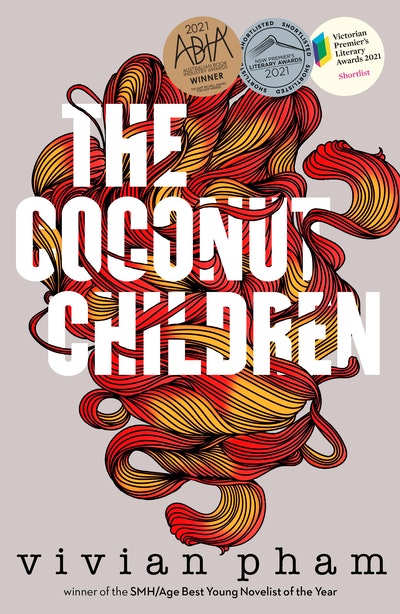 Published:

14 September 2021

ISBN:

9781761045998

Imprint:

Penguin

Format:

Paperback

Pages:

304

RRP:

$22.99
The Coconut Children
---
---
---
From the winner of the SMH/Age Best Young Novelist of the Year and the Matt Richell Award for New Writer of the Year.
Growing up can feel like a death sentence
Life in the troubled neighbourhood of Cabramatta demands too much too young. But Sonny wouldn't really know.
Watching the world from her bedroom window, she exists only in second-hand romance novels and falls for any fast-food employee who happens to spare her a glance.
Everything changes with the return of Vince, a boy who became a legend after he was hauled away in handcuffs. Sonny and Vince used to be childhood friends. But with all that happened in-between, childhood seems so long ago. It will take two years of juvie, an inebriated grandmother and an unexpected discovery for them to meet again.
The Coconut Children is an urgent, moving and wise debut from a young and gifted storyteller.

Published:

14 September 2021

ISBN:

9781761045998

Imprint:

Penguin

Format:

Paperback

Pages:

304

RRP:

$22.99
Praise for The Coconut Children
Pham's non-judgmental portraits of parents living with trauma and children struggling to comprehend their parents' choices is nuanced and wise; work one would expect from a writer far beyond Pham's very young years. Each of us eagerly await the future development of this remarkable new voice and firework of a talent.

Judges, Best Young Australian Novelist, The Sydney Morning Herald
The Coconut Children is rich and incredible, and unmistakeably wholly formed. Reading new author Vivian Pham's work is like discovering a pack of perfectly ripened strawberries and a bottle of beer at the back of the fridge. It's unlikely, it doesn't happen often, and when it does, you just have to embrace the whole experience. Reading Pham is like reading a young Salman Rushdie or a Zadie Smith. Her inventiveness with language and her keen read on the strata of society make The Coconut Children essential reading

Michalia Arathimos, Overland
It's rare that a debut novel is so brazenly confident it swaggers but Vivian Pham's The Coconut Children is one such book. Set in Cabramatta in the late 1990s, it's an impressive synthesis of place and character, and the dialogue and set pieces between teenage sweethearts Sonny Vuong and Vincent Tran crackle with energy. In this pocket of western Sydney beset with poverty and its concomitant bedfellows, crime and violence, Pham draws deep from her own experiences, but the book is also adorned with poetic flourishes and irradiated with humour and warmth. Full of colour and detail and written with the bravura of adolescence that young Pham herself has barely left behind, The Coconut Children marks a new literary talent.

Thuy On, The Australian, Books of the Year
You'd have to go back to Carson McCullers's debut to find such an accomplished and original voice in a writer so young. I've seen Vivian Pham stun an audience of 2000 with her oratory and original thinking on colonialism and the burden of history, and now she stuns on the page in this deeply felt and intimate coming-of-age novel. She shows a new Australia here, tied to her place and time but touching on universal themes of longing – and the alternately profound and ludicrous angst of youth. Vivian Pham is one of the indispensable voices of her generation.

Dave Eggers
This is an outstanding debut about love, memory, community and finding your place in a beautiful and heartbreaking world. Pham is a master at showing that all people are complex, contradictory and difficult to define. The characters in The Coconut Children will linger on in your mind like a great open-ended question.

Felicity Castagna, author of No More Boats, shortlisted for the Miles Franklin Award
In lyric slivers as sharp as the 'blade of water' refugees cross in the novel's preface, Pham maps the shape and grain of fierce and fragile resilience against intergenerational trauma, secrets and desire. The momentum of this novel, its originality, energy and verve, are extraordinary. Vivian Pham is, without doubt, a major new talent.

Felicity Plunkett
To read Vivian Pham is to read the future of Australian writing. What a brilliant, self-contained bolt of pure teenage genius. Be prepared to be awed over what Gen Z can deliver.

Benjamin Law
You can smell and taste this book – a vivid picture of Cabramatta in all its late millennium glory and grit. Vivian Pham goes straight to the important things in life – food, family, friendship, freedom, sex, love and death. The writing is full of grace and courage – fierce, frank and funny. And the tale keeps twisting 'til the end.

Paul Kelly
The Coconut Children is an incredible achievement. Pham writes with a poetic intensity and maturity that belies her young age. Pham delivers a frank insight into the complicated lives of these endearing characters and weaves plenty of humour throughout. An amazing debut!

Naomi Vagg, Good Reading Magazine
This gentle yet raw debut novel made my heart ache. The tiny details about these Vietnamese-Australian lives – fruit eaten with chili salt, green tiger balm as a cure-all for any injury – are sketched with such tenderness. Vince and Sonny's relationship unfurls so delicately, capturing the longing and hesitation, urgent yet slow, of first love. Tougher topics are tackled in this novel, too, from intergenerational trauma to domestic violence. Pham expertly captures how class tension plays out in the streets and behind closed doors. She's a writer of formidable skill – her words flow like poetry, building a vivid world that pulses with difficult, honest beauty. A wise and moving depiction of the infinite possibility that exists most desperately in the hearts of teenagers searching for themselves in a world that demands to define them.

Giselle Au-Nhien Nguyen, Readings blog
Vivian Pham is one of those incredibly talented and bright young people whose list of achievements at an early age will make you seriously wonder what you have been doing with your life. Reading The Coconut Children, a story set in the late 1990s in the Vietnamese diaspora living in Sydney's Cabramatta, it's easy to see why people are so excited about this bold new voice. So please, take note of this author as she begins her luminous career: she has written our Fiction Book of the Month.

Alison Huber, Readings blog
The Coconut Children, is an emotional, hilarious treasure, holding the wisdom and wicked humour of a gnarled old woman.

Stephanie Wood, Good Weekend
There are people in our lives who will mean different things at different stages, sometimes in ways that we never would have expected. Sonny and Vince have been friends since childhood, but after they drift – her towards romance novels, and he towards juvie – they become complete strangers to each other. Vivian Pham's debut novel is a unique coming of age story that illuminates the violence we as a species commit towards each other, but also the kindness, and the enduring value of human connection.

Angelita, Better Read Than Dead
Parts of the book ripped my heart out, while others pieced the tatters back together. Anyone who remembers what it's like to be young will see a piece of themselves reflected in each character. Our stories may be different but we're bound by the shared human experience of getting older. The book is about so many things, and I believe everyone who reads it will take something different from it. For me, it's the soul-destroying reality of living out your teenage years in a world that shows no mercy. It's the pain of figuring out who you are while coming to terms with who your parents aren't. It's experiencing love for the first time and fearlessly pursuing it, regardless of the consequences. It's realising you can't protect your family from the pain you've endured.

Lucy Cocoran, whimn
The Coconut Children is an all time, new favourite read for me. I was reminded of Looking For Alibrandi, but with more metaphors. Pham is a fabulous Vietnamese-Australian author who writes in an authentic voice that, quite honestly, you probably haven't heard before. That alone is reason enough to give it a go, but it's also well written, with a story that keeps you captivated the whole way through.

Clare Aston, Buzzfeed
The novel sensitively depicts the impacts of drug use, domestic violence and sexual trauma - the aftershocks of surviving the American/Vietnam War. Pham conveys just enough detail to bear witness; the brutality surrounding and within these families is not spectacle but a cold fact of life. Lush and lyrical, irreverent yet poignant, Pham's prose crackles with energy. The Coconut Children is an effervescent debut filled with vivid characters, where a single gesture, a single look, encapsulates a world.

Shu-Ling Chua, The Saturday Paper
For all its darkness and violence, the novel is graced with humour, vivid characterisation and an unerring sense of place and time. Pham juxtaposes surprisingly delicate moments amid the grit: bright respite, like the straggling flowers on the rail embankments that catch Sonny's eye, or the tender Vietnamese ballads of loss sung at karaoke by Vincent's rag-tag posse. The Coconut Children is about having second and third chances, about a defiance of hereditary malaise and a reminder, too, that ''sometimes, having hope is as simple as letting yourself forget who you've been before''.

Thuy On, The Sydney Morning Herald
A sharply observed, urgent and wise coming-of-age novel. This is a book about love, memory, community and two teenagers finding their plane in their world, whilst fighting against the chains of intergenerational trauma.

Emily, Dymocks Marketing Coordinator, Dymocks Books
The Coconut Children has generated great interest in the publishing world. It is brilliant, evocative and powerful, written with a distinctly new voice.

Kerrie O'Brien, The Sun Herald
A brilliant debut from a new Australian literary talent. A hopeful and moving coming of age story.

happymag.tv
A deeply affecting coming-of-age story. Pham adroitly evokes the emblems of suburban living, specifically Cabramatta. There is a meticulous level of detail in every sentence, elevating the ordinary into the sublime and imbuing the narrative with a magical quality. The Coconut Children is a book about what it is like to navigate a world that's not made for you, but it retains levity and a crucial sense of hope throughout.

Sonia Nair, Australian Book Review
While Pham's tale starts slowly and simply, it builds into a moving and emotionally gripping story that has the reader desperate for a happily ever after ending for Sonny and Vince.

Carina Bruce, The Herald Sun
Along comes Vivian Pham, the 19-year-old daughter of a Vietnamese refugee, with a debut novel so searingly beautiful that any cynicism about the telling of trauma is forced to take a back seat. Her unlikely teenage love story, set on the hard-scrabble streets of 1990s Cabramatta, is so tightly embroidered with lyrical observations, I stopped marking passages that snagged my breath. Open the novel randomly and they fall into your lap. But a gift with words is only one tool in Pham's skill set. What gives this novel real power is her adept construction of her narrative; the exquisite descriptions captivate just long enough for the plot to sidle up and deliver a brutal gut punch.

Christine Jackman, The Australian
Sydney Morning Herald Best Young Australian Novelists
Winner • 2021 • Sydney Morning Herald Best Young Australian Novelists
NSW Premier's Literary Awards
Shortlisted • 2021 • Multicultural NSW Award
The Voss Literary Prize
Shortlisted • 2021 • The Voss Literary Prize
Victorian Premier's Literary Awards
Shortlisted • 2021 • Fiction
Article
Article
2021 ABIA winners
Vivian Pham and Penguin Random House honoured in Australian Book Industry Awards.