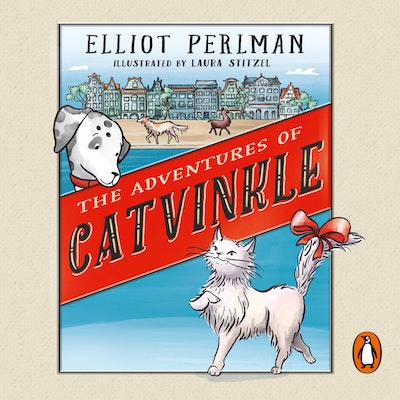 Published:

29 September 2020

ISBN:

9781761040887

Imprint:

Penguin Random House Australia Audio

Format:

Audio Download

Length:

3 hr 44 min

Narrator:

Susan Bamford Caleo

RRP:

$15.99
The Adventures of Catvinkle
---
---
---
Elliot Perlman's first book for children is a tail-spin of a tale that will have you howling with laughter!
When a pampered cat has to share her home with a lost dog, sparks are set to fly. To her surprise, Catvinkle starts to like Ula. She even tells Ula her three secrets. But a cat and a dog can't be friends – can they?
A tail-spin of a tale that will make you howl with laughter – and remind you that if you aren't open to adventure, you might never meet your best friend.
Published:

29 September 2020

ISBN:

9781761040887

Imprint:

Penguin Random House Australia Audio

Format:

Audio Download

Length:

3 hr 44 min

Narrator:

Susan Bamford Caleo

RRP:

$15.99
Praise for The Adventures of Catvinkle
Readers familiar with Perlman's intellectually and physically hefty novels might be surprised by this gently charming book for children . . . This is exactly the sort of book I loved being given as a child, a book you can cherish as a physical object as well as for its content.

Sydney Morning Herald
This is the sort that becomes an instant children's classic, that you enjoy as much as the little ones you know, and that you start giving as a gift because of its inherent, feel-good message

Sunday Age (M Magazine)
The themes of social inclusion, anti-racism and anti-bullying are treated gently in this delightful, easy-to-read story . . . There are many quirky, humorous moments . . . A huge bonus are the simple, whimsical, line-drawings by Laura Stitzel.

Pauline Hosking, Magpies
A charming and whimsical tale . . . There are gentle lessons in here about empathy, bravery and friendship, but it's also simply a delightful and easy-to-read story with laugh-out-loud dialogue that doesn't talk down to its readers. Although the book is aimed at nine- to eleven-year-olds, parents will enjoy reading this book with younger children too.

Hannah Cartmel, Books + Publishing
This book made me laugh out loud and has wonderful stories of adventure, bravery and friendship.

Gemma, age 10, Kids' Reading Guide 2018-2019
This whimsical and heart-warming story filled with lots of laughs and larger than life characters tells the story of a cat and dog while also exploring important themes around friendship and exclusion, ultimately reminding children that even the most unlikely of people can become great friends . . . A gorgeous book guaranteed to give great joy, you could easily curl up with your little one to read it together. Equally, independent readers 8+ years will love it.

betterreading.com.au
The girls and I have greatly enjoyed The Adventures of Catvinkle this last week, in fact I would go so far as to say that it has been our favourite read aloud for bedtime books in a long time. Two-time Miles Franklin-shortlisted author Elliot Perlman has turned his considerable talent to children's books and his skill with language and prose is evident.

Megan Daley, childrensbooksdaily.com
Children aged 8 to 11 years will enjoy this novel for its characters, plot, humour and ideas, and it will also be critically admired. It's a wise, thoughtful book that is also engaging and fun . . . The writing and structure of The Adventures of Catvinkle is intelligent and dense yet told with a light touch. Elliot's first objective is to make children and their parents laugh and smile. He wants to entertain them and keep them turning the pages.

Joy Lawn, childrensbooksdaily.com
A very beautiful hardback keepsake. It's Perlman's first book for children and will be perfect to read aloud or for a quiet reading interlude during all the festivities.

Margaret Hamilton, Pinerolo Newsletter
The subtle themes of anti-racism, anti-bullying, acceptance, tolerance, friendship and loyalty are delivered in a wonderfully funny story . . . Readers from around eight years upwards will delight in this magical story of animals whose lives seem to mirror those of humans.

Sue Warren, losangzopa.wordpress.com
It all sounds outlandish but the story works well and all the escapades are entertaining and fun . . . This is a fun story written for 8 to 11 year olds.

Jane Moore, ReadPlus
Perlman has been shortlisted twice for the Miles Franklin Literary Award and his skill with putting words onto paper is very evident - this story, while intended for young independent readers, engages adults so it makes a perfect bedtime read-aloud to younger children too.

Barbara Braxton, Teacher Librarian, thebottomshelf.edublogs.org
Filled with the most amazing (and in some cases downright crazy) dog and cat characters you'll find outside The Aristocats, this is brilliant writing for younger readers from Elliot, with more than a few tongue in cheek moments poking fun at the great and good (which we of course love to bits) . . . Awesome, original and a brilliant read!

readitdaddy.blogspot.com
Featuring an inventive cast of characters, from cats and dogs to a backgammon-playing llama, this quirky chapter book with black-and-white illustrations celebrates diversity and encourages inclusivity. At its core is the fundamental message that friendship should be extended to everyone, no matter who they are or where they come from.

Booktrust.org.uk
The Children's Peace Literature Award
Shortlisted • 2019 • Young Readers
CBCA Book of the Year Awards
Notable Book • 2019 • Younger Readers
Article
Article
Teachers' notes