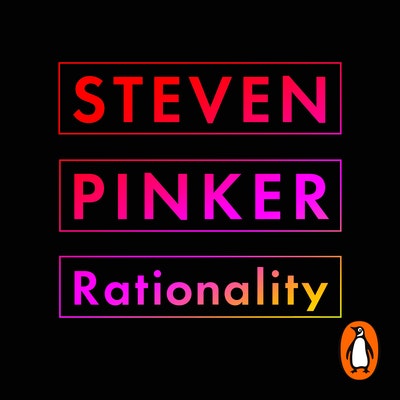 Published:

28 September 2021

ISBN:

9780241530924

Imprint:

Penguin Audio

Format:

Audio Download

RRP:

$32.00
Rationality
What It Is, Why It Seems Scarce, Why It Matters
---
---
---
A user's guide to rationality in an age of unreason
Can reading a book make you more rational? Can it help you understand why there is so much irrationality in the world? These are the goals of Rationality, Steven Pinker's follow-up to Enlightenment Now.
In the twenty-first century, humanity is reaching new heights of scientific understanding - and at the same time appears to be losing its mind. How can a species that developed vaccines for Covid-19 in less than a year produce so much fake news, quack cures and conspiracy theorizing?
Pinker rejects the cynical cliché that humans are an irrational species - cavemen out of time saddled with biases, fallacies and illusions. After all, we discovered the laws of nature, lengthened and enriched our lives and set the benchmarks for rationality itself. Instead, he explains that we think in ways that are sensible in the low-tech contexts in which we spend most of our lives, but fail to take advantage of the powerful tools of reasoning we have built up over the millennia: logic, critical thinking, probability, correlation and causation, and decision-making. These tools are not a standard part of our educational curricula, and have never been presented clearly and entertainingly in a single book - until now.
Rationality also explores its opposite: how the rational pursuit of self-interest, sectarian solidarity and uplifting mythology by individuals can add up to crippling irrationality in a society. Collective rationality depends on norms that are explicitly designed to promote objectivity and truth.
Rationality matters. It leads to better choices in our lives and in the public sphere, and is the ultimate driver of social justice and moral progress. Brimming with insight and humour, Rationality will enlighten, inspire and empower.
Published:

28 September 2021

ISBN:

9780241530924

Imprint:

Penguin Audio

Format:

Audio Download

RRP:

$32.00
A reader-friendly primer in better thinking through the cultivation of that rarest of rarities: a sound argument.

Kirkus
A reader-friendly primer in better thinking through the cultivation of that rarest of rarities: a sound argument.

Kirkus
A reader-friendly primer in better thinking through the cultivation of that rarest of rarities: a sound argument.

Kirkus
Steven Pinker is among the best science writers in history, and with Rationality he applies his talents to one of the most important and misunderstood human abilities - tracking reality with a brain that was designed to do so under some circumstances but not others. If you've ever considered taking drugs to make yourself smarter, read Rationality instead. It's cheaper, more entertaining, and more effective.

Jonathan Haidt, NYU-Stern School of Business and author of The Righteous Mind
Steven Pinker is among the best science writers in history, and with Rationality he applies his talents to one of the most important and misunderstood human abilities - tracking reality with a brain that was designed to do so under some circumstances but not others. If you've ever considered taking drugs to make yourself smarter, read Rationality instead. It's cheaper, more entertaining, and more effective.

Jonathan Haidt, NYU-Stern School of Business and author of The Righteous Mind
Steven Pinker is among the best science writers in history, and with Rationality he applies his talents to one of the most important and misunderstood human abilities - tracking reality with a brain that was designed to do so under some circumstances but not others. If you've ever considered taking drugs to make yourself smarter, read Rationality instead. It's cheaper, more entertaining, and more effective.

Jonathan Haidt, NYU-Stern School of Business and author of The Righteous Mind
Rationality is a terrific book, much-needed for our time. In addition to drawing together the tools for overcoming obstacles to rational thinking, Pinker breaks new ground with the evidence he provides linking rationality and moral progress.

Peter Singer
Rationality is a terrific book, much-needed for our time. In addition to drawing together the tools for overcoming obstacles to rational thinking, Pinker breaks new ground with the evidence he provides linking rationality and moral progress.

Peter Singer
Rationality is a terrific book, much-needed for our time. In addition to drawing together the tools for overcoming obstacles to rational thinking, Pinker breaks new ground with the evidence he provides linking rationality and moral progress.

Peter Singer
Steven Pinker is the high priest of rationalism ... [This book] is an impassioned and zippy introduction to the tools of rational thought ... Pinker wants probability theory and psychological biases to be taught in schools and universities. Punchy, funny and invigorating, this could be the textbook.

James McConnachie, Sunday Times
Steven Pinker is the high priest of rationalism ... [This book] is an impassioned and zippy introduction to the tools of rational thought ... Pinker wants probability theory and psychological biases to be taught in schools and universities. Punchy, funny and invigorating, this could be the textbook.

James McConnachie, Sunday Times
Steven Pinker is the high priest of rationalism ... [This book] is an impassioned and zippy introduction to the tools of rational thought ... Pinker wants probability theory and psychological biases to be taught in schools and universities. Punchy, funny and invigorating, this could be the textbook.

James McConnachie, Sunday Times
Almost every sentence in Rationality is crisp and intelligible, which is quite a feat, given that explaining logic to humans is like teaching them Sanskrit. Pinker suggests various ways to run our collective affairs more rationally.

Simon Kuper, New Statesman
Almost every sentence in Rationality is crisp and intelligible, which is quite a feat, given that explaining logic to humans is like teaching them Sanskrit. Pinker suggests various ways to run our collective affairs more rationally.

Simon Kuper, New Statesman
Almost every sentence in Rationality is crisp and intelligible, which is quite a feat, given that explaining logic to humans is like teaching them Sanskrit. Pinker suggests various ways to run our collective affairs more rationally.

Simon Kuper, New Statesman
The Enlightenment torchbearer is eloquent in his defence of clear thinking ... [reason] is a tool that human beings have to learn to use with care, something this book will help any reader to do.

Julian Baggini, Financial Times
The Enlightenment torchbearer is eloquent in his defence of clear thinking ... [reason] is a tool that human beings have to learn to use with care, something this book will help any reader to do.

Julian Baggini, Financial Times
The Enlightenment torchbearer is eloquent in his defence of clear thinking ... [reason] is a tool that human beings have to learn to use with care, something this book will help any reader to do.

Julian Baggini, Financial Times
Rationality ­- like all of Pinker's work - [is] a paen to human potential... what Pinker really trades in are profoundly refreshing, energising sets of explanations for why we do and think the way we do ... harnessing reason is not just useful in all kinds of ways both personal and universal, but a wondrous property of being human.

Zoe Strimpel, Daily Telegraph
Rationality ­- like all of Pinker's work - [is] a paen to human potential... what Pinker really trades in are profoundly refreshing, energising sets of explanations for why we do and think the way we do ... harnessing reason is not just useful in all kinds of ways both personal and universal, but a wondrous property of being human.

Zoe Strimpel, Daily Telegraph
Rationality ­- like all of Pinker's work - [is] a paen to human potential... what Pinker really trades in are profoundly refreshing, energising sets of explanations for why we do and think the way we do ... harnessing reason is not just useful in all kinds of ways both personal and universal, but a wondrous property of being human.

Zoe Strimpel, Daily Telegraph