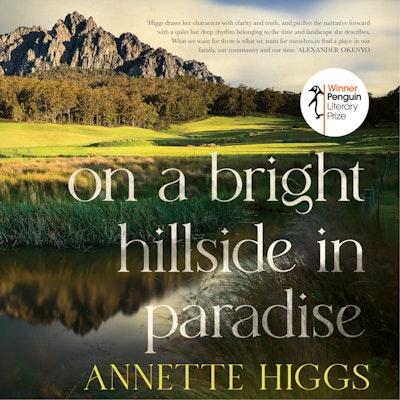 Published:

18 July 2023

ISBN:

9781761342592

Imprint:

Penguin Random House Australia Audio

Format:

Audio Download

Length:

9 hr 40 min

Narrator:

Ainslie McGlynn

RRP:

$32.99
On a Bright Hillside in Paradise
Winner of the 2022 Penguin Literary Prize
---
---
---
From the winner of the 2022 Penguin Literary Prize.
Told from five different points of view, each one revealing something different, On a Bright Hillside in Paradise, tells the story of a family of convict descendants in the back-blocks of Tasmania, on a farm in a place called Paradise. They lead hard-scrabble lives. The drama begins when strangers arrive, Christian Brethren evangelists who hold big revival meetings in local barns.
On a Bright Hillside in Paradise tackles big questions of faith and family but remains grounded in the dreams and strivings of its beautifully drawn characters. Higgs takes lives that history might have judged as small and imbues them with immense dignity and complex and compelling inner lives.

Avoiding the myth of the 'frontier pioneer' On a Bright Hillside in Paradise instead shows how these convict descendants wanted nothing more than to retreat to the bush to heal from their trauma, developing a deep love of the landscape in the process.
At its heart the novel is about a close-knit community, and home-making in the bush. Despite injuries, losses, deaths, and near-starvation the family survives.
Published:

18 July 2023

ISBN:

9781761342592

Imprint:

Penguin Random House Australia Audio

Format:

Audio Download

Length:

9 hr 40 min

Narrator:

Ainslie McGlynn

RRP:

$32.99
Praise for On a Bright Hillside in Paradise
FICTION OF THE WEEK The reader is taken into the tenuous lives of the Hatton family through the viewpoints of five characters. North-West Tasmania is spectacular and rugged and beautiful, but it is inhospitable too. Sensitive, richly imagined historical fiction.

Cameron Woodhead, The Age
The characters live and breathe through grit and hardship and magic. The Hatton family grabbed hold of my imagination and wouldn't let go.

Anton Enus
Higgs' Bright Hillside, beautiful country with a hard history, is a whole, vividly conjured world. From the novel's magical first line to its moving conclusion, we come to know and care deeply about a family trying to make a home amid a landscape, and life, of grief and wonder.

Belinda Castles
On A Bright Hillside in Paradise is a jewel of a novel: luminous, vivid, and deftly shaped. Annette Higgs has a special capacity for drawing us into the rhythms of the Hatton family's labours and devotions, so that we care and hope and grieve alongside them. I felt, as I read, that there was ordinary time, and there was Paradise time, and that I could have stayed forever on that bright hillside.

Fiona McFarlane
This is a quiet but tender book. I really really enjoyed this one! Would def recommend if you like character driven, family focused historical fiction.

Katie Reads Things
On a Bright Hillside in Paradise is a memorable and somewhat melancholy novel that will appeal to fans of Kate Grenville.

Elke Power, Readings
For the next novel in your book club, you should consider On a Bright Hillside in Paradise, the winner of the 2022 Penguin Literary Prize: an absorbing and intimate novel that, to my surprise, described evangelical revivalistic spirituality with sensitivity and insight. It is a challenge to portray religious experience in a way that is neither cynical nor sentimental. In On a Bright Hillside in Paradise, Annette Higgs—who is not, as far as I know, a Christian herself—succeeds exceptionally well.

Mikey Lynch, The Gospel Coalition Australia