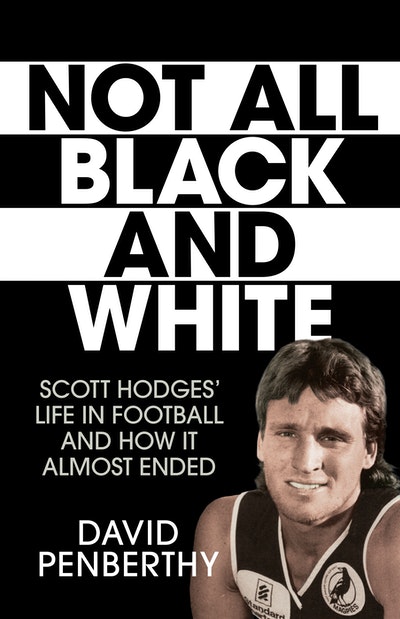 Published:

31 July 2017

ISBN:

9780143785132

Imprint:

Ebury Australia

Format:

Trade Paperback

Pages:

304

RRP:

$34.99
Not All Black and White
Scott Hodges' Life in Football and How It Almost Ended
Extract
When it came to footy my family and I were Port Adelaide people through and through. That's the Port Adelaide Football Club, the Magpies, the great working- class club established in 1870 which has won more premierships than any other team in the South Australian footy league, and which finally entered a team in the AFL in 1997.
In our family we always had black- and- white blood running through our veins. We were all Port Adelaide people. Dad played for Port in the 1960s, mainly in the reserves team, and after that he played a few games for Woodville in the western suburbs, but our hearts were always with Port. During the footy season, our week revolved around making sure that we got to every Port game. From the age of 12 onwards, I would get together with my mates from the neighbourhood and catch the train from Parafield Gardens to the city, then another one out to Chelten­ham, then walk to Port's home ground, Alberton Oval, to watch my beloved Maggies play. It was a 60- km round trip – a decent distance for a 12- year- old kid, but I wouldn't have missed it. If Port were playing at Football Park, at what was then the new stadium in West Lakes, we'd catch the train to the city and then catch a bus to the ground. We did it every Saturday. We were all members of the Port Adelaide Cheer Squad. Back then all the hardcore footy fans used to wear what were known as duffle coats. They were all the rage in the seventies, big black woollen jackets with three wooden toggle buttons. We'd decorate our duffle coats in our team colours and cover them with patches and badges of our favourite players and have the numbers of our favourite players stitched on the back. The sports stores in Adelaide used to sell large foam numbers in the colours of the different teams and kids would buy them and get their mums to stitch them onto their coats. I wish I still had my duffle coat today. It was a work of art.
Russell Ebert was my hero. The former Port captain is the only player to have won four Magarey Medals, the SANFL equivalent of the AFL's Brownlow for the best-and-fairest player of the season. Ebert also won six club best and fairests, and three premierships. He is far and away one of the best Aussie Rules players of all time, and was a huge part of those great premiership- winning Port sides of the 1970s and 1980s. I had Ebert's two numbers, 1 and 7, stitched onto the back of my duffle coat. I covered it with photo badges of the faces of all my other favourite players, and all their numbers too. After all these decades have passed I can still remember their numbers. The club's great full- forward Tim Evans was number 5, Stephen 'Bomber' Clifford was 3, Greg Phillips was 22, Bruce Abernethy was 12, David Granger was 18. We all had little autograph books and we'd run onto the ground after the game finished to get our favourite players to sign their names for us. I remember being so excited after one match when I got David Granger's signature. He was a brilliant player, but he had the nickname 'Grave Danger' because he could really blow up on the field. He ended up getting reported and suspended for ten weeks in his final game. Granger had to get escorted from the ground by the cops that day, after a final against Glenelg where he king- hit my future coach Graham Cornes and punc­tured Peter Maynard's eardrum. I loved Granger, though. I was so happy the day I got his signature. He signed his name right in the middle of my big black- and- white flag, so that it stood out. I treasured that flag.
Barracking for Port wasn't a casual thing; it was more like a religion. It meant everything to me, my family and my mates. We were all there at Football Park when Port won the 1980 and 1981 Grand Finals. I will never forget after Port won the 1981 premiership, Russell Ebert took us down to the clubrooms at Alberton and got us signed souvenir premiership T-shirts. I was there with Mum and Dad, and Dad was as proud as Punch because Russell remembered Dad from his playing days. You could see Dad's face light up and when he introduced Russell to Mum, she sort of buckled at the knees. There was Russell Ebert with his arm around my mum. It was such a good day. We did everything we could to get to these games, and it was always such a buzz.
We might have barracked for Port, but we didn't live in a big Port- supporting area. Adelaide's northern suburbs were the stronghold of another working- class SANFL club, Central Districts, the Bulldogs. Unlike Port, which started more than a century ago, Centrals was a new SANFL club that was founded in the 1960s and based in Elizabeth, the outer-northern suburb that had been built largely to cater for all the 'Ten Pound Poms' who came out after the war. With all the Poms in the area, Centrals' fans carried on a bit like English soccer fans. I have always hated Centrals. Hated them with a passion. Back then if you went to a Centrals' home game at the Elizabeth Oval, it sounded like you were at Wembley, with all those drawn-out chants of 'CENNNNNNN- TRAAAAALLLS', or 'COME ON YOOOO- UUUU, DOOOOO-GGGGGS'. As a young kid I was quite intimidated by their fans. I felt like I was walking into the lion's den. People say that Port fans are bad, but a lot of the Centrals' supporters were more like hooligans than fans. Some of them were just animals. They had some completely feral fans who would go around the northern suburbs killing magpies before Port games. True story. They would actually catch and kill these poor birds as some kind of threat or state­ment against Port Adelaide. As a kid growing up as a massive animal lover, I couldn't believe that anyone could do that kind of thing. How cruel is that? I lost so much respect for them over it. I already hated them, but that really made me hate them more. You'd go to a Port–Centrals game and there would be members of their cheer squad waving dead magpies on sticks. It was just sick.
There was a bunch of Central supporters over the road from our place and we used to have some massive stinks with them. We'd be playing our scratch matches at the end of the street between the gum trees and suddenly there were punches being thrown at what were meant to be friendly neighbourhood games. Everyone would go home in tears and a few days later we'd get back together and do it all again.
Footy wasn't the only cause of dramas in the area. There were a few young blokes who were always looking to start some­thing, always on for a fight. I don't know what it was – poverty, boredom, nothing to do, grog. Whatever the case, my brother, Darren, and I often found ourselves in the thick of it. You just had to look at someone the wrong way and they'd come after you. It affected all of us from time to time. It wasn't just fights. There were houses being bombarded with rocks, houses and cars getting broken into, vandalism, just stupid, antisocial things done by the same hard core of ratbags and shitheads in the area.
I remember one day going to a Port–Centrals game. Centrals won, and after the match my mates and I got on the train to head back home. One of the Bulldogs fans saw me in my black- and- white gear and started giving me a bit of lip. He would have been a good five years older than me – I was only 13 – but I thought I should back myself, so I gave him some lip back. I called him a Pommy bastard, that sort of stuff . He sat there staring straight at me on the train for the rest of the trip home. I thought he would eventually lose interest, but when I got out at my station to walk home, he got off too and started chasing me through the back streets. I ran to my mate Geoff 's house as fast as I could with this Centrals lunatic chasing me. I got to Geoff 's and was screaming and banging on the door for him to let me in. Unluckily for me there was no- one home. This arsehole had me pinned in the corner of the verandah and was laying into me. I copped a belting and went home with my wings well and truly clipped.
---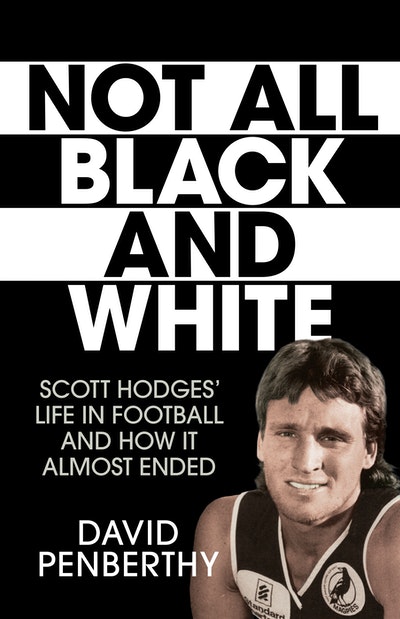 The one book on sport – and mental illness – that everyone must read
Buy now
Buy now
---