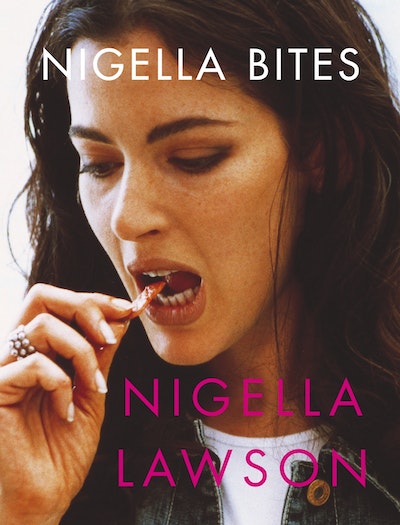 Published:

20 December 2011

ISBN:

9781448114610

Imprint:

Vintage Digital

Format:

EBook

Pages:

256
Nigella Bites
---
---
The ravishing, mouthwatering TV tie-in book by the new goddess of the kitchen and the silver screen - the book of Channel 4's new10-part series of 'Nigella Bites', starting 16 May 2001.
With the success of her two bestselling cookery books, HOW TO EAT and HOW TO BE A DOMESTIC GODDESS, and her first television series, Nigella has become a household name, symbolising all that is best, most pleasurable and least fussy about the place of good food - both making it an eating it - in our lives.Now she's back with this ravishing new book to accompany her brand new Channel Four television series, NIGELLA BITES. Full of mouthwatering recipes, including all those featured in the television series, NIGELLA BITES offers some recipes which are exciting twists on old favourites, others which are new and different, and all of them characteristic of Nigella and the ethos of her TV series - uncomplicated, orginal, fresh, and perfect for the way we live today. They're easy to produce after a busy day at the office, fun to linger over at weekends or to make with the kids, delectable to read about, dreamy to look at and delicious to eat. Included here are recipes for All-Day Breakfast, Party Girl, TV Dinners, Trashy Food, Slow-Cook Weekends, Rainy Days, and a host of other daily delights. Nigella wants her readers and her viewers to enjoy the pleaures of eating and cooking. With her, how could anyone resist?
Check out Nigella's Quick Collection app, a fantastic new way to cook, using your iPhone and iPod Touch. Now updated with 20 new recipes exclusive to the app PLUS 10 additional recipes adapted from Nigella's latest book, KITCHEN.
Published:

20 December 2011

ISBN:

9781448114610

Imprint:

Vintage Digital

Format:

EBook

Pages:

256
You can enjoy Nigella Bites in bed...or you can take it to the kitchen and be confident about turning out something seriously scrumptious

Weekend Australian