Introducing a striking new set of Peter Carey's entire fiction back catalogue.
In the forty-plus years since the publication of his first story collection, The Fat Man in History, Peter Carey has become one of the world's most celebrated literary voices. One of only four authors to win two Man Booker Prizes, he has also twice won the illustrious Commonwealth Writers' Prize, and has been awarded three Miles Franklins. Add to this dozens of other local and international awards and nominations, film and stage adaptations, multiple honorary degrees and fellowships, recognition as an Officer of the Order of Australia, and even an appearance on a postage stamp, and you assemble a picture of one of the most internationally recognised Australian authors of a generation.
A unique Australian perspective
Carey has been a resident of New York City for three decades. But through the settings, characters and themes of many of his fourteen novels to date, he demonstrates a deeply interrogative sense of, and affinity for, his country of birth. 1985's Illywhacker followed deceitful trickster Herbert Badgery around the continent; 1988's Oscar and Lucinda brought to life late-19th-century New South Wales; 2000's True History of the Kelly Gang gave voice to the infamous Victorian bushranger. 2017's A Long Way from Home cuts to the heart of atrocities committed as Europeans took possession of a timeless culture. And so on…
As we enter the new decade, one of the most Australian of all Carey's stories, True History of the Kelly Gang, is capturing the imaginations of a new generation of fans – this time via Justin Kurzel's 2020 screen interpretation. To help bide our time between Carey novels, we're thrilled to announce we've created a brand-new eye-catching redesign of Carey's entire novel back catalogue. (See below for the striking results.) Here we re-introduce each title, to jog your memories of the ones you loved, and alert your attention to the ones you may have missed.
A note from Penguin Random House Australia Creative Director Alex Ross:
'Peter Carey is a National Treasure. So it was a genuine privilege and unique opportunity to re-jacket his entire backlist of fiction works. The moment I was told about this project I knew I wanted to go in an almost purely typographic direction, with a very weathered printmaker style of artwork, while at the same time making these covers feel new and fresh. I wanted each one to feel like a poster you might have seen 100 years ago, and at the same time one that you might turn a corner and see on the street today.'
Bliss (1981)
Carey's first novel and first Miles Franklin winner, Bliss is a darkly funny and prescient fable about the idiocy of defiling nature.
Illywhacker (1985)
Herbert Badgery may in fact be the king of all con men. And this brilliant, hilarious, Booker Prize-shortlisted novel is the book that (rightfully) brought both Badgery and Carey to international attention.
Oscar and Lucinda (1988)
Love proves to be Oscar Hopkins and Lucinda Leplastrier's ultimate gamble, in this incomparable Booker and Miles Franklin Award-winning novel.
The Tax Inspector (1991)
When a beautiful and very pregnant agent of the Australian Taxation Office enters the lives of the Catchprice family, the resulting collision is a masterpiece of coal-black humour and compassionate horror.
The Unusual Life of Tristan Smith (1994)
In this allegory of imperialism, Carey tips our world on its head, with the moving, hilarious, spellbinding story of the doomed and severely afflicted theatre performer Tristan Smith.
Jack Maggs (1997)
In this Commonwealth Writers' Prize and Miles Franklin Award-winning novel, readers are transported to 1837, where ex-convict Jack Maggs has returned illegally to London from Australia – back into the realm of his torturers.
True History of the Kelly Gang (2000)
In Carey's stunning, Booker Prize-winning novel about Australia's most famous outlaw, Ned Kelly flees police while scribbling his narrative in semiliterate but magically descriptive prose.
My Life as a Fake (2003)
An Australian literary hoax lies at the core of this Frankenstein story of the art world, in which what is imagined comes to life and exacts its due.
Theft: A Love Story (2006)
When a mysterious young woman named Marlene walks out of a rainstorm and into the lives of the Boone brothers, she sets in motion a chain of events that could be the making, or undoing, of them all.
His Illegal Self (2008)
The precocious son of radical student activists, Che yearns for his famous outlaw parents. In a hippie commune in the Queensland rainforest, he slowly, bravely confronts the realities of his life, and the fact that all may not be as it seemed.
Parrot and Olivier in America (2009)
When French aristocrat Olivier sets sail for the New World, restless servant Parrot is sent with him, as spy, protector, foe and foil. Their adventures form the backbone of this dazzling critique of the American democratic experiment.
The Chemistry of Tears (2012)
In this story of love, loss and the birth of the machine age, grieving protagonist Catherine is tasked with assembling a nineteenth-century mechanical bird – a magical delight that contains the seeds of our age's downfall.
Amnesia (2014)
When Gaby Baillieux releases the Angel Worm into the computers of Australia's prison system, doors swing open – at home and in the USA. Journalist Felix Moore is determined to reach Gaby so he can tell her story and reveal her motives to the world…
A Long Way from Home (2017)
Set in the 1950s, this funny, brilliantly vivid and lively romp around Australia, by way of a car race, reminds us how Europeans took possession of a timeless culture – the high purpose they invented and the crimes they committed along the way.
Extract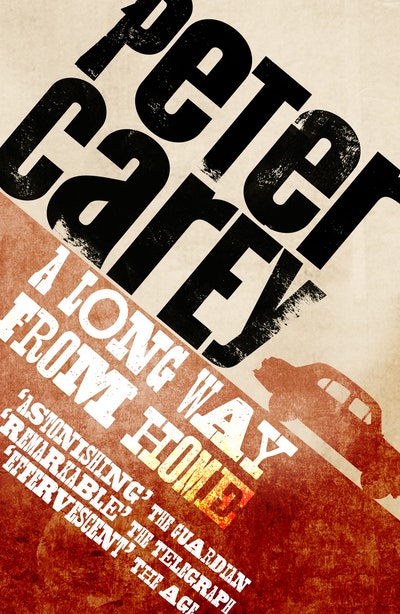 A Long Way From Home
For a girl to defeat one father is a challenge, but there were two standing between me and what I wanted