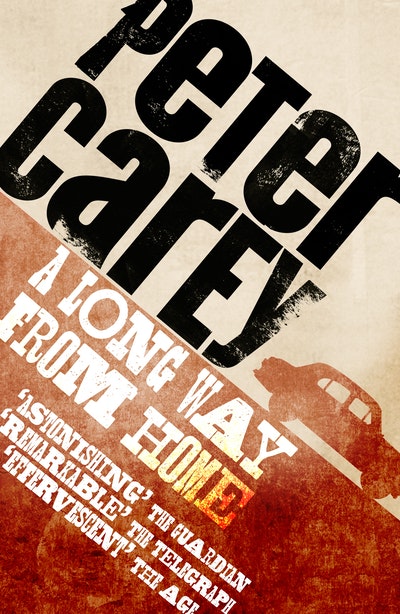 Published:

3 March 2020

ISBN:

9781760896379

Imprint:

Penguin

Format:

Paperback

Pages:

368

RRP:

$22.99
A Long Way from Home
---
---
---
Australia's master novelist takes us on the race of a lifetime.
Irene Bobs loves fast driving. Her husband is the best car salesman in western Victoria. Together they enter the Redex Trial, a brutal race around the ancient continent over roads no car will ever quite survive. With them is their lanky fair-haired navigator, Willie Bachhuber, a quiz show champion and failed schoolteacher whose job it is to call out the turns, the grids, the creek crossings on a map that will finally remove them, without warning, from the lily-white Australia they know so well.
Set in the 1950s amid the consequences of the age of empires, this funny, brilliantly vivid and lively novel reminds us how Europeans took possession of a timeless culture – the high purpose they invented and the crimes they committed along the way.
Published:

3 March 2020

ISBN:

9781760896379

Imprint:

Penguin

Format:

Paperback

Pages:

368

RRP:

$22.99
Praise for A Long Way from Home
An astonishing piece of work: so Peter Carey, and yet completely on its own . . . The places the book goes – well, it's just wonderful; it feels necessary.

Elizabeth Strout, The Guardian (Australia)
One of his best in recent years . . . a love letter to an Australia that no longer exists.

Stephen Romei, The Australian
A major work of fiction by the writer who will probably be regarded, in a hundred years, as the leading Australian novelist from the early part of the twenty-first century . . . Brilliantly iconoclastic . . . A highly enjoyable reading experience.

Paul Giles, Australian Book Review
A domestic drama on wheels, an inquiry into the metaphysics of race, and an antic vehicle for Carey's inimitable and lacerating wit . . . A Long Way From Home reminds us that great novels are not ideological – neither exploitative nor excessively well-meaning – but tough-minded, complex admissions of failure, guilt and confusion.

Geordie Williamson, The Australian
A Long Way From Home finds an ingenious way to reflect upon the original sin of dispossession and its ongoing consequences . . . Carey's enduring fascination with fakes and forgers takes on a new and potent meaning . . . Willie's experience of deracination and the novel's admirable undermining of its own nostalgia do not suggest any simple resolution, but they do lead to its necessary and humbling final recognition . . .

James Ley, Sydney Morning Herald
What a brilliant idea, to set a novel about discovering Australia and a self – and a self in relation to Australia – during the gruelling Redex trials . . . Carey is the writer to pull this off . . . [Y]ou can feel his delight in the power and vitality of Aboriginal English . . . not a word wasted, and yet as suited to the storytelling and mythic register, with the ability to range across space and time and compress epic events and tragedies into legend, as any Homeric verse . . . The book is beautiful, layered and resonant, and hard to put down . . . The stunning last sentence of Carey's novel indicates that there's a long way to go yet for non-Indigenous Australians in having any idea where we are, no matter what maps we try to make.

Claire Corbett, The Monthly
A funny, humane, and enchanting book that is among his finest.

Jon Day, The New York Review of Books
Of all the novels I've read by two-time Booker winner Peter Carey, this one is the best. I romped through it, trying fruitlessly to slow down my reading so that it would never end. Fast-paced, utterly engaging and full of trademark Carey eccentrics, A Long Way from Home is a comic novel which also reveals the slow dawning of Australia's recognition of its real history . . . Hilarious . . . The narration is inspired.

Lisa Hill, ANZ LitLovers LitBlog
His best novel in years, maybe decades.

Alex Preston, The Guardian (UK)
An ebullient comic caper . . . Intensely engaging in more ways than one, [a] high-octane novel.

Peter Kemp, The Sunday Times (UK)
Not since True History of the Kelly Gang has he seemed so on-song.

Andrew Dickson, Financial Times
Superb . . . A novel of startling scope and real moral and emotional depth . . . A wild, strange, magical ride of a book. (five stars)

Daily Telegraph
Captivating . . . We barrel along anarchically, marvelling at the elegance of Carey's plotting and the explosive joy of the storytelling . . . Carey turns the novel into a staging ground for his own merciless excavation of Australian history.

The Spectator
Peter Carey deserves the Nobel Prize in Literature for lifting the heart.

The Telegraph (UK)
He's long been concerned with illegitimacy in the form of (white) confidence tricksters and outlaws . . . but here it's culturally appropriated falsehoods that are called into question, and 'horrendous' deeds brought to light. (four stars)

Lucy Scholes, The Independent (UK)
On-the-road adventure, revisionist history and moral fable . . . a rich narrative stew.

Robert Douglas Fairhurst, The Times (UK)
Peter Carey's new novel is a pretty remarkable beast . . . Strange, tender, always somehow comical . . . A wild, strange, magical ride of a book.

Sam Leith, The Telegraph (UK)
A moving meditation on multiple forms of paternal failure and the culture of racism that have shaped modern Australia.To give away more would risk spoiling the genuine pleasures.

Patrick Flanery, The Spectator (UK)
A novel full of riches. The road race propels the plot along, but it's really a book about cultural identity, about family, about the ability to empathise with others. As such, it's hugely relevant for our times.

Arminta Wallace, Irish Times
I couldn't have imagined that a car race could be so enthralling.

The Guardian (UK)
This picaresque comedy goes thematically deeper as it heads into the Outback. The antic tone of this 14th novel by Australian-born Carey belies its serious ambition. The comic spirit slyly suggests Shakespeare, an inquiry into identity and the farcical human existence . . . Carey's novel raises issues of culture and race that carry a thoroughly contemporary charge. (starred review)

Kirkus Reviews
One of Australia's greatest authors . . . Carey employs both a multi-voice narrative and a continent-spanning car race to emulate the disparate voices and fits and starts that comprise Australia's history. Highly recommended. (starred review)

Library Journal (US)
The two-time Booker winner is in effervescent form . . . Carey excels in this fizzing, darkly comic novel.

Jason Steger, The Age
Here is the rich and ebullient characterisation that Carey does so well . . . The novel is full of noise and action and extravagant emotion.

Katharine England, The Advertiser (Adelaide)
A high-rev Illywhacker on wheels, both thoughtful and fun.

Jennifer Byrne, Australian Women's Weekly
What a delightful writer Peter Carey is, and how varied are the delights he offers. A Long Way From Home . . . displays many of the typically polychromatic Carey pleasures. There's the picaresque plot . . . the fascination with forgery and trickery, secrets hidden and revealed . . . the wedding of a deeply comic vision to an acute sense of how all history . . . is a record of barbarism . . . Above all, though, there's the supple and musical prose, possessed of a distinct rhythm and filled with flashes of poetic brilliance . . . It's one of Carey's best, and boldest, efforts yet.

Anthony Domestico, The Boston Globe
With all its inventive momentum, all its pleasurable beats, the fast pace of the race, the scenery unfurling, the novel [is] a journey into Australia's broken past.

Craig Taylor, New York Times
Each of Carey's previous novels [is] a milepost on the road leading to this beautiful, beguiling and at times heartbreaking book.

Toronto Star
Highly entertaining . . . an extraordinary ear for language and the ability to capture his characters' styles of speech.

Christian Science Monitor
A Great Australian Epic in picaresque form . . . A Long Way from Home is a frolic with depth, a flight of fancy with tough resonance.

Seattle Times
Carey has given history a face and made it personal . . . It's not often such an intelligent and well written book comes along, but this is a great one about a difficult subject.

Seattle Post-Intelligencer
Peter Carey's readers never know just where they will end up when they open one of his books . . . Everything Carey undertakes in A Long Way From Home is accomplished with clarity and elegance . . . A major work and an exciting one.

Helen T. Verongos, St Louis Post Despatch
ALS Gold Medal Award
Shortlisted • 2018 • ALS Gold Medal
CHASS Australia Prize
Longlisted • 2018 • CHASS Australia Book Prize
Indie Book Awards
Longlisted • 2018 • The Awards recognise and celebrate the indie booksellers as the number one supporters of Australian authors
Miles Franklin Literary Award
Longlisted • 2018 • Miles Franklin Literary Award
Prime Minister's Literary Awards
Shortlisted • 2018 • Fiction
International Dublin Literary Award
Longlisted • 2019 • International Dublin Literary Award
Walter Scott Prize
Shortlisted • 2019 • Walter Scott Prize
Article